People: Intelligent Conversation; Moneypenny; ANS Group; Hall Brown; Roxtec; Wild Boar Inn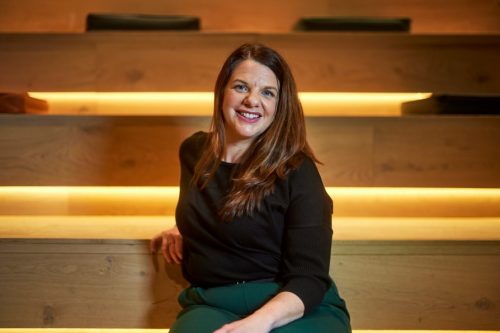 Manchester-based strategic PR, content and comms agency, Intelligent Conversation, has appointed Jessica Hardman as head of public information and consumer to grow the agency's specialist offering in behaviour change and intelligent consumer campaigns.
Jessica brings 18 years' PR agency experience leading consumer and B2B campaigns for brands and public sector organisations including the NHS, Quorn, Virgin Media and Makro. She has previously spent more than a decade at Leeds-based Finn, where she was operations director and played an instrumental role in the agency's management. At IC, she will be part of the five-strong, hands on management team around owner and managing director Fritzi Wemheuer.
IC's internationally award-winning behaviour change work – for United Utilities and Greater Manchester Combined Authority among others – provides the perfect platform for Jessica to grow the agency's offering in this space, alongside its strong presence in B2B and healthcare.
Jessica said: "IC has a fantastic reputation for its high value work, nationally and globally, and I am excited to join such an experienced team, telling the big global stories and tackling important issues with strategic, creative communications."
Jessica's is the second recent appointment at the agency. At the end of last year, Bethany Lee joined as senior consultant after five years in content strategy roles, most recently at Bruntwood. A creative writer at heart, Bethany brings a wealth of experience in combining creativity and analytical thinking to develop and produce multi-platform content. She is now working across the breadth of IC's client portfolio from global industry to healthcare tech, from business to education and consumer.
Fritzi Wemheuer said: "Our clients love having direct access to highly experienced, supersmart people who do the thinking as well as the doing. With Bethany and Jessica, we've found two more exceptional members of the team who will drive our clients' businesses – and ours – forward."
::
Call and live chat company, Moneypenny, has bolstered its growth ambitions in the US by appointing Richard Culberson as CEO of its North America operations. This new appointment will strengthen Moneypenny's rapid growth in the US and boost its plans to grow the North American business both organically and through acquisitions.
Culberson was previously general manager of GPS apparel at Gap Inc, and brings with him a wealth of experience in developing new business opportunities and helping companies scale by leveraging innovative technologies and launching differentiated products and services. His experience will be invaluable in leading the company to greater heights. He has also been lauded for his ability to manage complex organisations, and for his skills in developing strategies for growth.
Prior to his time at Gap Inc, Culberson launched and scaled the homelife business unit and associated suite of connected home services at Cox Enterprises in Atlanta. He has a wide range of experience in media, technology, retail and communications industries, and is passionate about serving the unique needs of both small and large businesses and helping them deliver outstanding customer experiences.
Culberson, who will be based in the company's Atlanta headquarters, said: "I am looking forward to taking Moneypenny North America to the next level in terms of developing our contact center teams provision and growing our business. The company is well known for its award-winning culture and has clearly enjoyed phenomenal success to date and is on an upward trajectory which I look forward to driving to even greater success."
Joanna Swash, group CEO of Moneypenny, said: "Richard's introduction is a really key appointment for Moneypenny at a time when we are turbo-charging our US growth and development, having acquired Alphapage in August 2022 and VoiceNation and Ninja Number in 2020. He brings some great experience, dedication and skills that will be an invaluable asset, complementing those of our fantastic US team, and we're really looking forward to working with him."
::
Digital transformation specialist ANS Group has appointed a new chief financial officer as it lays foundations to deliver on its growth ambitions.
Former Deloitte, DWF, Keoghs and Davies Group executive, Alex Hodgson, joins the Manchester-based tech firm with a brief to spearhead its financial operations with a strategic, data-based approach.
Hodgson comes with an impressive track record, following nine years at big four accountancy firm Deloitte and a spell at global law firm DWF, where he held the role of finance director as the company grew turnover from £80m to £180m in just five years.
With significant experience of overseeing acquisitions as well as rapid organic growth, the new CFO joins Richard Thompson (CEO), Toria McCahill (CPO), Qaiser Akhtar (CCO), Joe Wolksi (CRO) and Nicola Frost (general counsel) on ANS's group board.
Hodgson said: "ANS is a rare combination. A company that's already a winner in its sector, but is also seen as one to watch for the future. It's in a high growth market and customers speak incredibly highly of the services they receive.
"My role is to work hard for our people to create an environment in which everyone in the business can thrive and deliver the best possible service to customers. I'm also excited to work closely with our private equity partners, Inflexion, with whom we have a genuine two-way partnership."
The appointment comes shortly after ANS's acquisition of Preact, a 65-strong Microsoft Dynamics 365 CRM Partner and Power Platform Expert.
ANS CEO, Richard Thompson, said: "Alex is a fantastic fit for ANS and a brilliant addition to our leadership team. His huge range of experience and knowledge will be invaluable as we continue to deliver on our strategy and make true digital transformation a reality for our customers."
::
One of the founders of Hall Brown Family Law has been appointed to an influential Law Society advisory group.
Managing partner, James Brown, has already begun working with the Society's leadership, management and operations section advisory committee.
He is one of eight new members of the committee, which was set up to offer guidance on best practice and innovation to senior solicitors working either in-house or in private firms across England and Wales.
Mr Brown described his selection as "a privilege", adding that he hoped his experience in growing one of the country's leading family law firms would be of benefit to industry peers: "The law is an incredibly supportive profession and one in which we can always count on the lessons learnt by far more senior colleagues as a guide.
"At the heart of that process is the Law Society, so the chance to do my bit to help was too good to pass up. I would be delighted if the experiences which I have enjoyed over the course of my career were of use to others.
"In particular, when Hall Brown opened in 2016, we did so with a rather different approach to issues such as work targets, office culture and mental health which have since become immensely relevant elsewhere. They are also elements which I believe have been instrumental in our being able to attract, retain and develop a very capable group of lawyers and administrative staff."
The Society has described how committee insight is key "to developing resources, events, content and practical support, to help our members continue to thrive in their careers – from graduation to retirement".
Manchester-based Hall Brown now employs a total of 61 people, 47 of whom are fee earners. In the past full financial year, the firm saw its turnover increase from £4.1m to £5.4m.
::
Cable and pipe seal manufacturer, Roxtec, has appointed Riyadh Choudhury to the role of inside technical sales engineer as it looks to further develop its presence in the marine and offshore sectors.
Riyadh's role will see him supporting the company's sales teams in those specialist areas to help them deliver projects and seek out future business opportunities.
He brings with him a wealth of experience in procurement and sales roles, working for businesses across a range of engineering industries during his career. His appointment comes as Roxtec, which has its UK headquarters in Bury, Greater Manchester, is looking to grow its marine industries and offshore oil and gas order books.
Riyadh said: "What attracted me to Roxtec was the innovation that exists within the business and the range of creative solutions that it offers to clients. Roxtec has built its reputation on its engineering excellence and in the support that it delivers to its customers, and it is great to be taking all that forward."
He added: "There is plenty of scope for further growth in the marine and offshore industries. My new job is all about giving technical support to the team as it works to deliver projects, as well as looking at future opportunities."
::
A new head brewer has taken residence at a traditional Cumbrian inn to oversee the installation of new equipment and an increase in production of exclusive beers manufactured on site.
The Wild Boar Inn near Windermere has recruited 40-year-old Lukasz Zalewski from Staveley as the new head of its own Brewhouse microbrewery.
Formerly the head brewer for the Windermere Brewing Co, Lukasz has a wealth of experience in making beer and will take full charge of operations at the site which produces ales such as Mad Pig, Hogshead 54 and Smoked Porter.
The microbrewery has benefited from the installation of new brewing equipment including a new cask washer and the addition of 40 new casks. Following the latest modernisation programme, the aim is for the Brewhouse to produce around 800 litres of real ales every week. For the first time, all of its ales will be produced on site.
Lukasz said: "When I saw the job advertised on the Wild Boar Inn's website, I thought it was just the right job for me. I've always been fascinated by the brewing process and producing real ales on a larger scale. I'm really looking forward to fine tuning our production and seeing guests enjoy more of our own home-produced beers."
Originally from Poland and with a degree in mechanics and machining, Lukasz's previous roles have been as factory manager at the Windermere Ice Cream Co and a food and beverage assistant at two other local hotels. He has also attained qualifications in Cumbria along the way, including Food Hygiene, Safety in Manufacturing and HACCP for Manufacturing, all at Level 3.
Adam Bujok, from English Lakes Hotels Resorts & Venues, who manages the Wild Boar Inn, said: "Lukasz has a passion for brewing high quality ales and his qualifications and experience as a brewer make him an ideal fit for his new role. It's an exciting time for the Brewhouse as we bring all of our production in-house and seek to increase our output."