Key warehouse development recommended for approval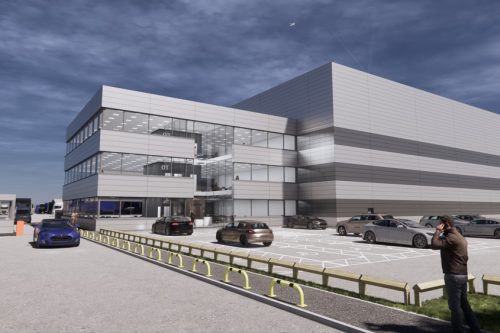 Liverpool city councillors have been recommended to approve plans for a new warehouse development in Speke, South Liverpool, at their planning committee next Tuesday (April 4).
The application, from AEW UK Core Property Fund, is for a warehouse unit comprising 18,561 sq m – 16,783 sq m warehouse and 1,778 sq m of ancillary offices over three floors, a hub office over two floors, gatehouse and transformer room – together with site access, car parking, servicing yard and external works and landscaping, at the HP Chemie Pelzer site on Speke Hall Avenue.
Chemie Pelzer is a car components manufacturer which vacated the land in 2019. The site has been part of the AEW portfolio since 2013.
The warehouse building would be positioned across almost the full width of the four hectare site, with the offices positioned in the north west corner to address the site entrance.
The vehicle entrance would remain as existing from Speke Hall Road with the main body of car parking at the front, western end of the building.
Servicing and dock loading bays would be along the northern side of the building where there would be 20 loading docks and parking for 34 trailers and van bays.
New landscaping and tree planting would be provided to the front of the building adding to planting in some existing areas and creating new landscaped areas.
The building would be 18.5m high to the ridge and built from cladding panels and curtain wall glazing, with a dual-pitched roof with the full height, three-storey offices providing a focal point of interest for the front entrance.
The site is positioned in an industrial estate located to the east of Speke Hall Avenue, north of Stockton's Wood and Speke Hall, and close to Liverpool John Lennon Airport.
The previous building on the site comprised a large concrete framed building that was overclad with steel panels.
There was a steel framed extension on the northern elevation and a number of small outbuildings around the site, substations and a security gatehouse at the front of the site.
Aside from the ground previously covered by buildings, the site comprises areas of grassland and hardstanding and is surrounded by further warehousing and the Speke Hall estate.
In recommending the scheme, planning officers say the development will add to the range of business accommodation offered within the city and contribute towards providing sustainable employment opportunities in the local economy.