Property round-up: Caddick Construction; Urban Splash; Footasylum; Momentum Group; Adlington Retirement Living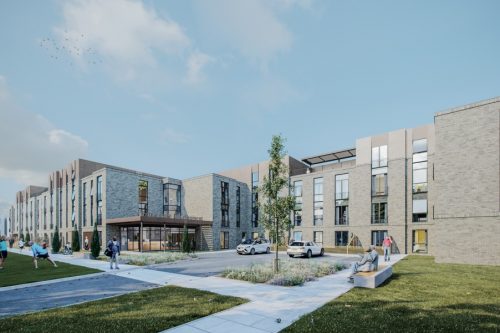 Caddick Construction has secured a £23m contract to deliver Lancaster's first extra care facility on behalf of Progress Housing Group. Groundwork has now begun on site with completion due in May 2025.
Building on Caddick's existing healthcare portfolio, this development will boost the provision of specialist residential care for those aged 55 and over in Lancaster, providing a safe and comfortable space for those requiring varying levels of care.
This project will see the construction of a 92-unit extra care scheme incorporating one- and two-bedroom apartments, with three of the one-bedroom apartments designed to be wheelchair friendly.
Two existing buildings will also be converted into 16 one- and two-bedroom general needs flats. Additional features such as assisted bathing, spa bathing, hairdressing facility, a games room, roof terraces and a laundry room will also be incorporated.
External work will include alterations and remodelling of the existing and stone boundary wall, landscaping, a car park with EV charging points, restoration of all historial sandstone buildings and the installation of external lighting.
Ian Threadgold, managing director of Caddick Construction for the North West, said: "Extra care facilities such as these are a vital necessity in any community and we're pleased to be bringing this much needed development to life, on behalf of Progress Housing Group. Caddick's extensive expertise in the healthcare sector is what has led our specialist team to this development and we're thrilled to form an integral part of this project."
Caddick's North West team includes more than 100 members of staff and operates from offices in Warrington and Kendal.
::
Manchester-based regeneration company Urban Splash has rounded off its first quarter with deals on more than 15,000 sq ft of space across its commercial portfolio – welcoming new tenants and extending leases with existing customers.
The bulk of the deals were completed in the company's North West portfolio which last year was refinanced as part of a £43m package with Aviva. Here, 7,000 sq ft of space was let, including more than 1,100 sq ft at the Schoolhouse at Trafford Park to recruiters, Pertemps.
In central Manchester at New Islington, where Urban Splash has regenerated the north eastern end of the city into new places to live, work and play, 774 sq ft of space has been let to dog groomers, Mutt Dog Club.
Further deals have been completed in Liverpool with Innovative Software Technologies taking 1,414 sq ft in the Ropewalks area of the city. In south Liverpool, soccer cards company, TFF Breaks and facilities manager, MPB-FM have both moved into Mersey House at the Matchworks.
Urban Splash director, Emily Jones, said: "We have invested heavily in our workspaces in Manchester and Liverpool in recent years as we strive to appeal to modern businesses looking for great design, and well-located hubs that meet the needs of a modern, hybrid workforce."
The company has also completed deals on space in Plymouth. It has spent the past decade restoring the former Naval supplies yard at Royal William Yard, transforming the Grade I and II-listed buildings into contemporary homes and workspaces. Among the businesses moving in this month are Welding Equipment Online and party supplies company, Amscan International.
::
Footasylum, the Rochdale-based retailer of fashion streetwear and sportswear, is planning a series of new store openings and upsizings across the UK in the year ahead.
The plans are being driven by the continuing strength of its branded streetwear offering, and in particular by a notable increase in demand for womenswear.
Footasylum will be targeting new store openings throughout 2023. The first of those to be confirmed is in Watford, Hertfordshire, which will be opened in the third quarter of this year. The new 6,000 sq ft store is to be located in the Harlequin shopping centre in Watford and will bring Footasylum's total number of stores to 60.
Other store openings will be announced in due course, and include plans for a high profile site in Central London.
The company is also upsizing a number of its existing sites. Stores being upsized include those in Westfield Stratford City, Leeds White Rose and Lakeside Shopping Centre in Essex. On completion, all of these stores will be significantly bigger in size and will provide a comprehensive mens, junior and womenswear offering.
The new plans follow the opening of a new Footasylum store in Cheshunt, Hertfordshire in December 2022, which was the company's first new opening since April 2021, and its first under the ownership of AURELIUS Group, which acquired Footasylum in August 2022.
Barry Bown, executive chairman and CEO of Footasylum, said: "We have exciting plans to develop even bigger and better stores to cater for the growing demand for our brands. Our expansion plans will help ensure that our extensive product offering is given greater prominence and availability across the UK."
::
The founders of a new esports venue in Liverpool have appointed The Momentum Group to help bring their vision to life.
Level Tap, on Hanover Street in Liverpool One, will be Liverpool's first base for gaming and esports spectating, as well as the hosting and broadcasting of live events from around the world.
Level Tap's Callum Wilson and Adam Rydings have commissioned Liverpool-based The Momentum Group for fit out and delivery of the 6,500 sq ft site, working to designs by Liverpool's K2 architects.
Co-founder Callum Wilson said: "This is our debut venue and it's vital for us to have the right people with the right experience alongside us to ensure we hit the ground running, glitch free. The experience, attention to detail, local knowledge and flexible approach that they are bringing is exactly what we need for this project."
Across two levels, the interactive, experience-led venue will feature 10 console stations, two racing simulators and 20 PCs. The mezzanine level will be where streamers or competing teams play with their gameplay broadcast onto projectors and TVs around the venue, with a lower level arena seating capacity of 100+.
In the lower level alongside gaming booths, will be a bar, dining area and a lounge designed as a 'decompression and social zone' where gamers can take a break from the screens and intense gaming environment.
Chris Renshaw, director and co-founder of The Momentum Group, which is also delivering Gravity in Liverpool One, said: "The mix of leisure and retail is rapidly evolving and there is a growing demand for more immersive experiences and pursuits.
"Level Tap is at the vanguard, not only in the city but also in the UK, by bringing a dedicated esports venue with food and drink to the high street. We are excited to have been appointed to deliver this project and help Level Tap on its way to what we are sure will be a successful addition to the city's scene."
::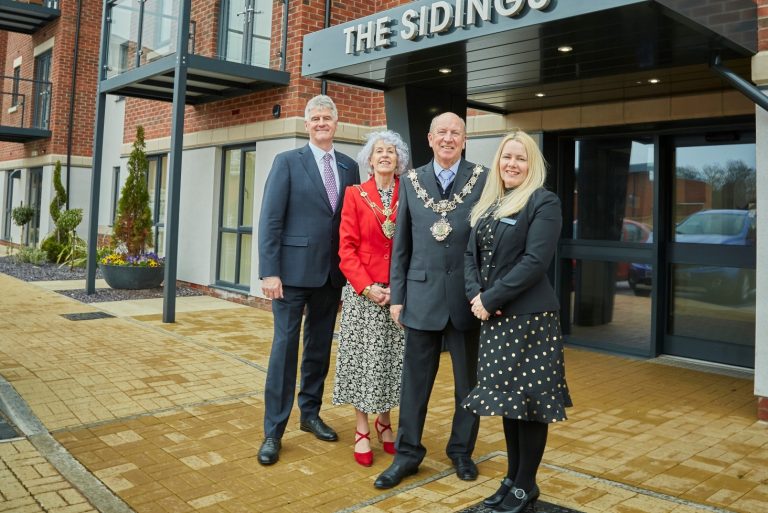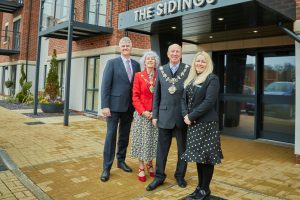 The Mayor and Mayoress of Fylde, Cllr Ben Aitken and his wife Ms Bernadette Nolan, have officially opened The Sidings, a new retirement community in Lytham.
Adlington Retirement Living's 65 stylish age-exclusive apartments are located next door to Booths on Wharf Street.
Cllr Aitken said: "It was wonderful to meet some of the new homeowners who have moved into The Sidings since it opened its doors in November."
Simon Crewe, director at Adlington Retirement Living, said "Health and wellbeing are at the heart of everything we do. We want our homeowners to thrive and feel their best and spend more time doing more of the things they love."
All apartments include quality, fully fitted kitchens with integrated appliances. Many feature en-suite shower rooms as well as separate bathrooms, and most have a private patio area or walk-out balconies overlooking the beautifully landscaped gardens.
Meanwhile, Adlington Management Services (AMS) is doubling in size as it takes on six more retirement communities this month, in addition to the six communities it currently manages.
From April 1, the management arm of Adlington Retirement Living has taken over from MHA at Adlington House in Otley, Adlington House in Urmston and Brooklands House in Stafford. The AMS team has also taken on the management of The Bridges in Macclesfield and The Chimes in Cheadle, and will manage The Spindles, Adlington Retirement Living's latest retirement community in Menston, West Yorkshire. The additions will take Adlington Management Services' portfolio to 12 retirement communities.
Dr Ed Gladman, CEO of Adlington Retirement Living, said: "In 2019 we formed Adlington Management Services as our own management organisation, to ensure the long term investment and sustainability of all future communities. By taking the operations in-house, we can provide a consistently outstanding service to our homeowners and be absolutely confident that we are delivering the lifestyle they chose when they moved in."
The growth of Adlington Management Services is part of the strategic expansion of Adlington Retirement Living.