Gone Dining: Thom Hetherington at The Alan Hotel

The Alan Hotel, 18 Princess St, Manchester M1 4LG.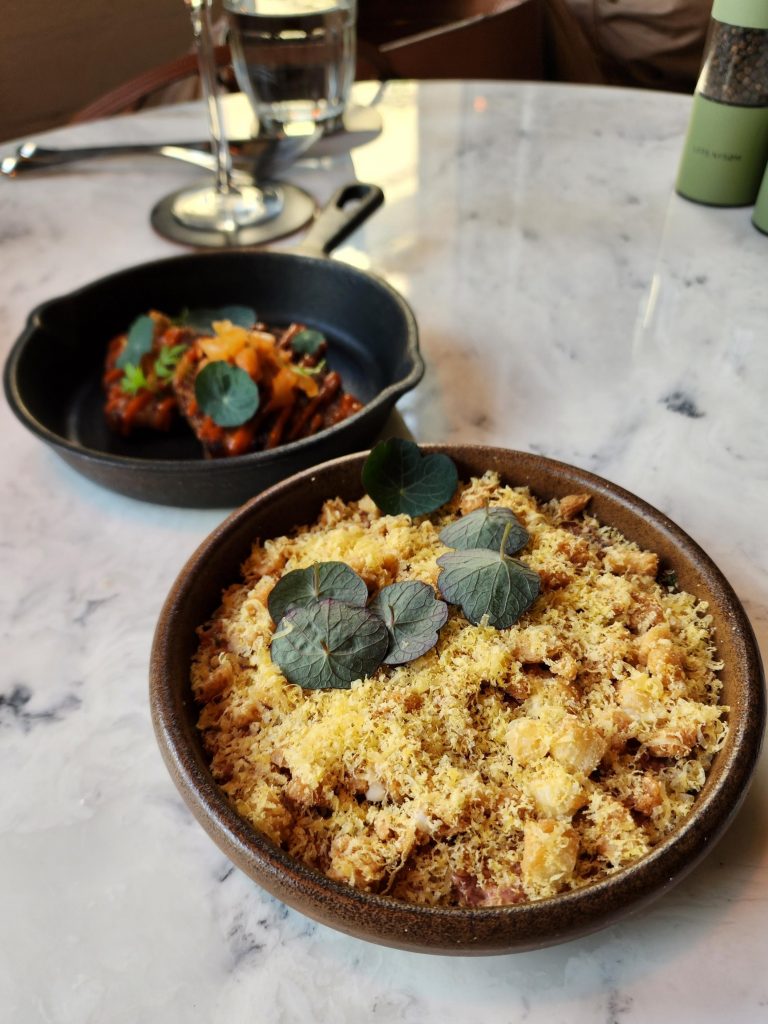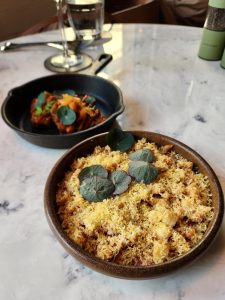 The holy grail for any business diner is dependable mid-week lunches to schmooze clients, reward team members or indeed to gossip with your peers. But alas post-Covid a combination of supressed demand and reduced staffing levels has left choices diminished, although in Manchester Hawksmoor, Erst and now Climat have become reliable standbys.
But there is another Mancunian option, which opens for lunch no less than seven days a week. Yet despite some glowing early reviews it somehow flies under the radar, at least judging by the relative calm I encountered at 1pm on a Thursday. Such under-utilisation is a crime against hospitality, so don your superhero capes fellow diners – maybe tucked into your shirt front as an impromptu bib – and help me to solve it.
The Alan is a newish and rather swish hotel, facing Manchester Art Gallery and Chinatown on Princess St, and its restaurant is arguably one of the most comfortable rooms in town. Tall sash windows flood the space with light, and a soothing palette of café au lait cream and brown knits together the exposed bricks and blocky terrazzo floor, softening even the network of Super Mario ducting running across the ceiling.
This particular weekday lunch was a perfect opportunity to share a banquette with Christine Cort, the force of nature behind MIF, albeit she left last year to pursue her own consultancy. Christine's previous role at Time Out has bestowed her with a keen eye for hospitality, making her the perfect plus one for my inaugural restaurant report.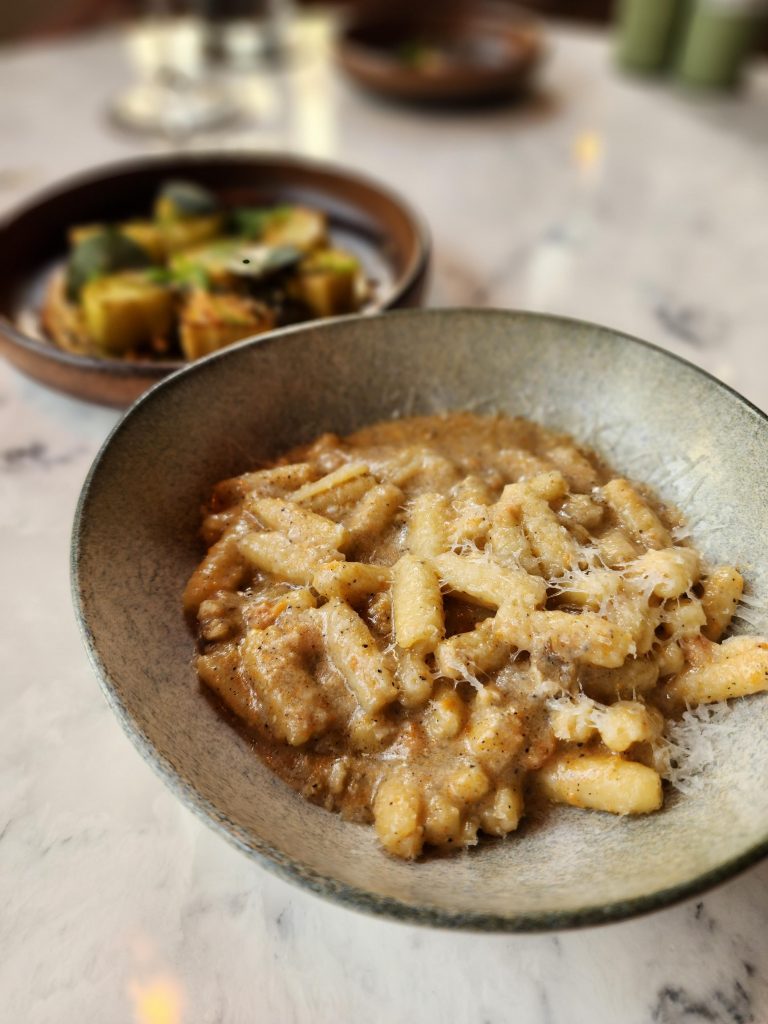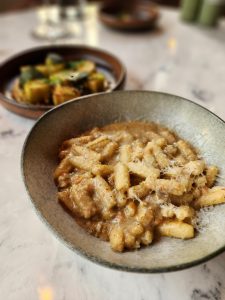 I knew the food at The Alan to be largely small plates, a phenomenon which has swept across our cities over recent years. (At its own pace, as is small plates' wont.) That's fine, as picking and sharing whilst chatting is exactly what the occasion demanded. But I also knew that since those early reviews the Head Chef, Iain Thomas, had left to set up his own supper club, 'Our Place', with David O'Connor.
Such staff turnover isn't unprecedented in a new restaurant, but it did rein in our expectations. At least until those first few mouthfuls left us blinking and momentarily silent, lost in an unexpected recalibration. For context, it generally requires the kind of solid object shunted by crash test dummies to derail Christine and I from our conversational flow.
Soft sheets of mortadella, a charcuterie so hipster it would have shopped at Oi Polloi, hinted at quality sourcing. And a bowl of butterbean hummus, slicked with blood orange purée and agave and scooped up with flatbreads, showed more balance and depth than the average red top op-ed. The Alan had our attention.
The small print on the menu explained four dishes marked with an asterisk, plus selected drinks, could be had for £25, at certain times. But never ones to be constrained by mere punctuation marks we picked on instinct.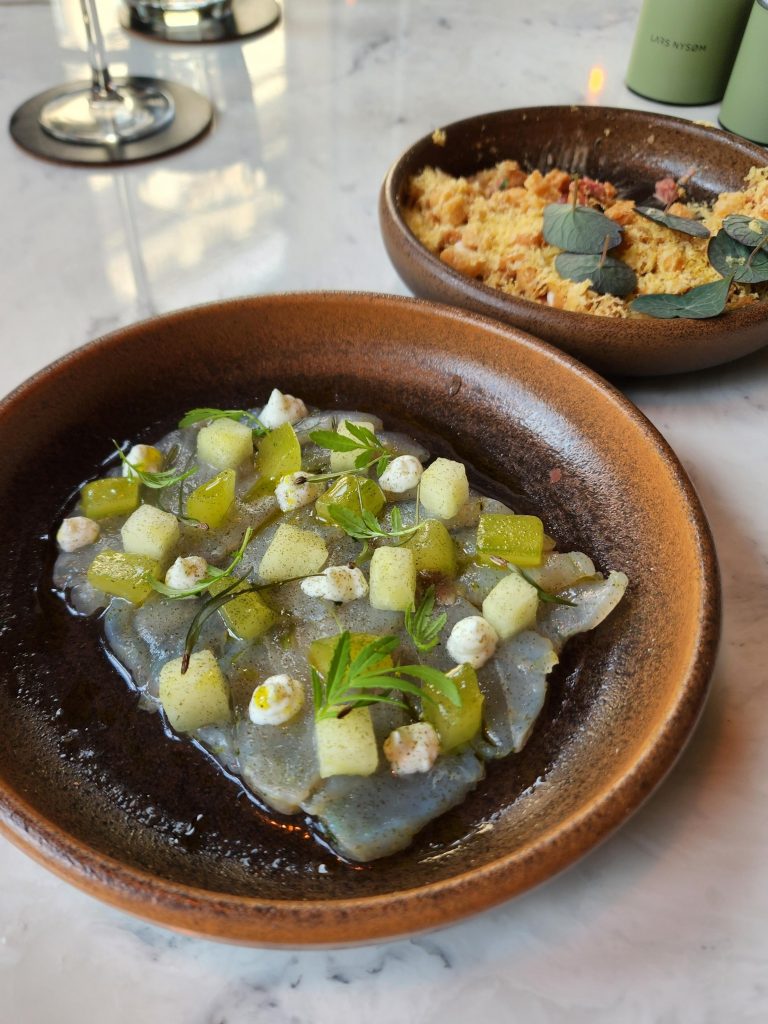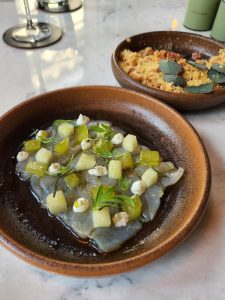 The seabass and the tartare arrived in quick succession; the former pretty as a picture, dotted with the freshness and zip of green apple, cucumber and yoghurt; the latter pleasingly prosaic, a crust of crumbs and croutons concealing whipped bone marrow and cured egg yolk amongst the aged beef.
All of these dishes, whilst not overcomplicated, were precisely executed. Each ingredient promised on the menu rang out, like hearing every note in a polychord. The leeks were charred and softened, holding their shape and their flavour, and the pungent crab pasta was also a hit.
Granted the iodine tang of the crustacean's brown meat isn't for everyone, but it is currently on cavatelli everywhere – I also ate it at Higher Ground that evening. The Alan's version, heavy on black pepper, was reminiscent of the legendary brown crab cacio e pepe from Manteca, which is no mean feat.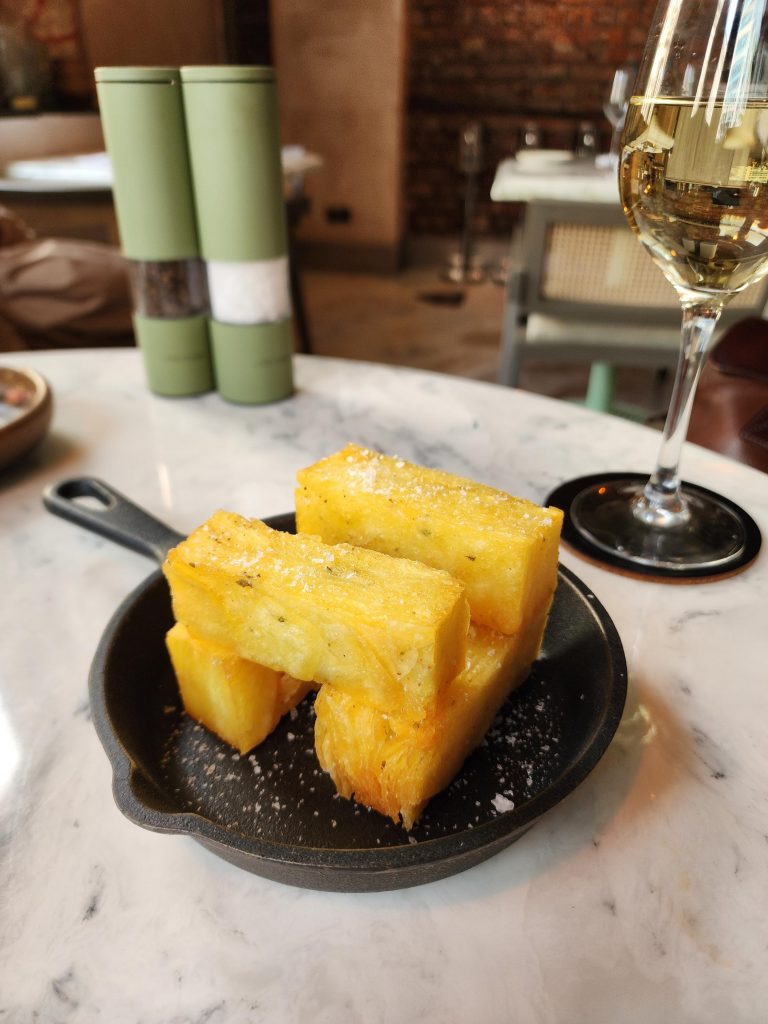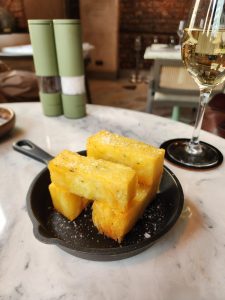 The confit potatoes meanwhile were a clear homage to Quality Chop House's iconic version, with finely mandolined potatoes baked in duck fat, pressed and chilled, and then sliced and fried until golden. They were very good but I'd have gone for a little more colour and seasoning, as personally I like my chips as tanned and salty as a Dead Sea swimmer.
I throw in the restaurant references above not to undermine what The Alan is doing (nor to puff up my own culinary creds, though hey, every little helps) but to point out that its kitchen is pitching admirably high.
Anywhere benchmarking itself against chefs of the calibre of Shaun Searley and Chris Leach garners respect by showing its workings. Under chef James Hulme The Alan is a quietly accomplished gem in the heart of the city, and offers the flexibility of co-working and event spaces to boot.
Christine and I covered furlongs of conversational ground, like thoroughbred racehorses galloping effortlessly through a field of anecdotes, and emerged energised and refreshed. The Alan should be added to your list of regular haunts, not least for conducting mid-week business. Let's hope the case of the quiet lunchtime is now closed.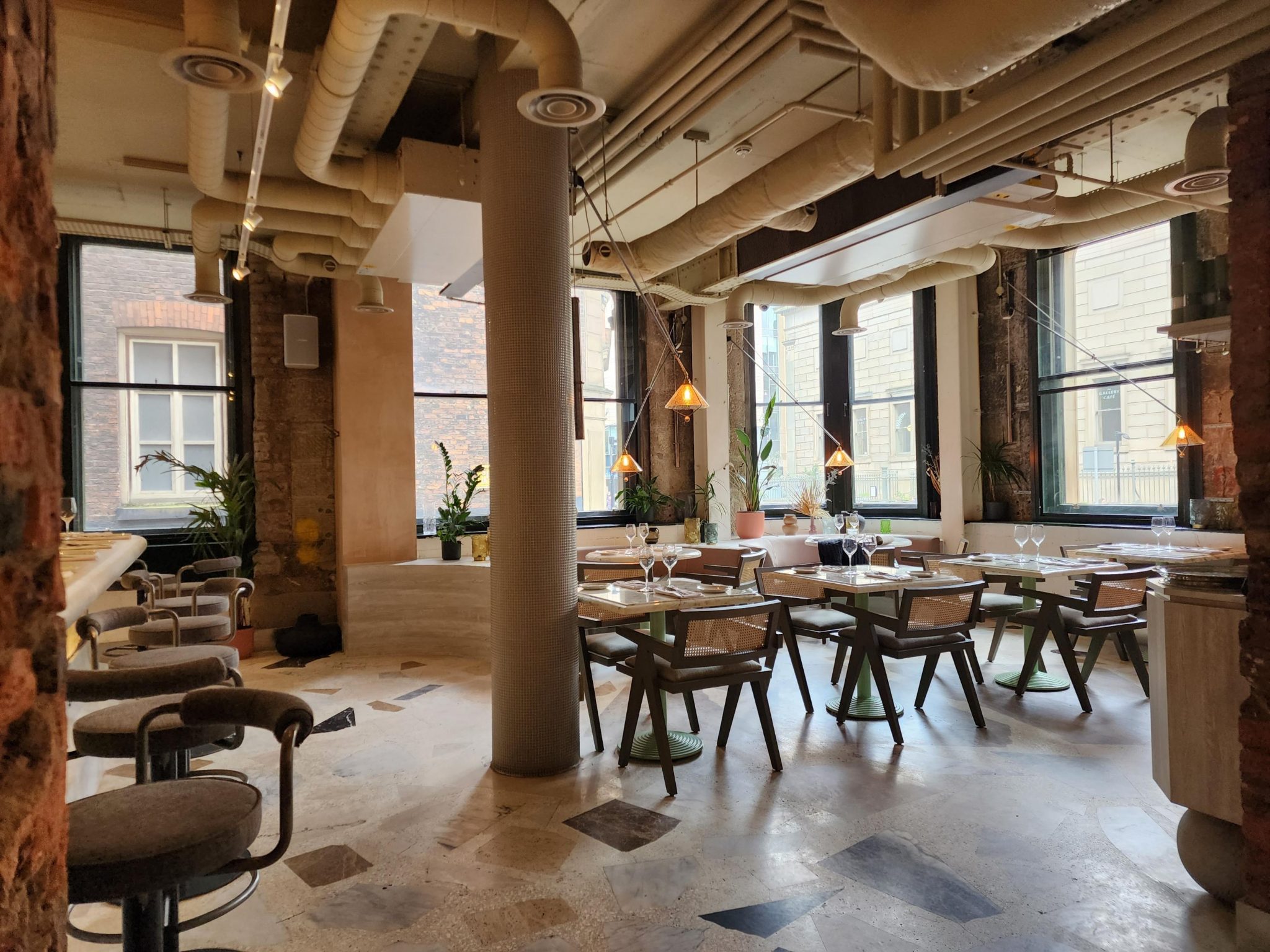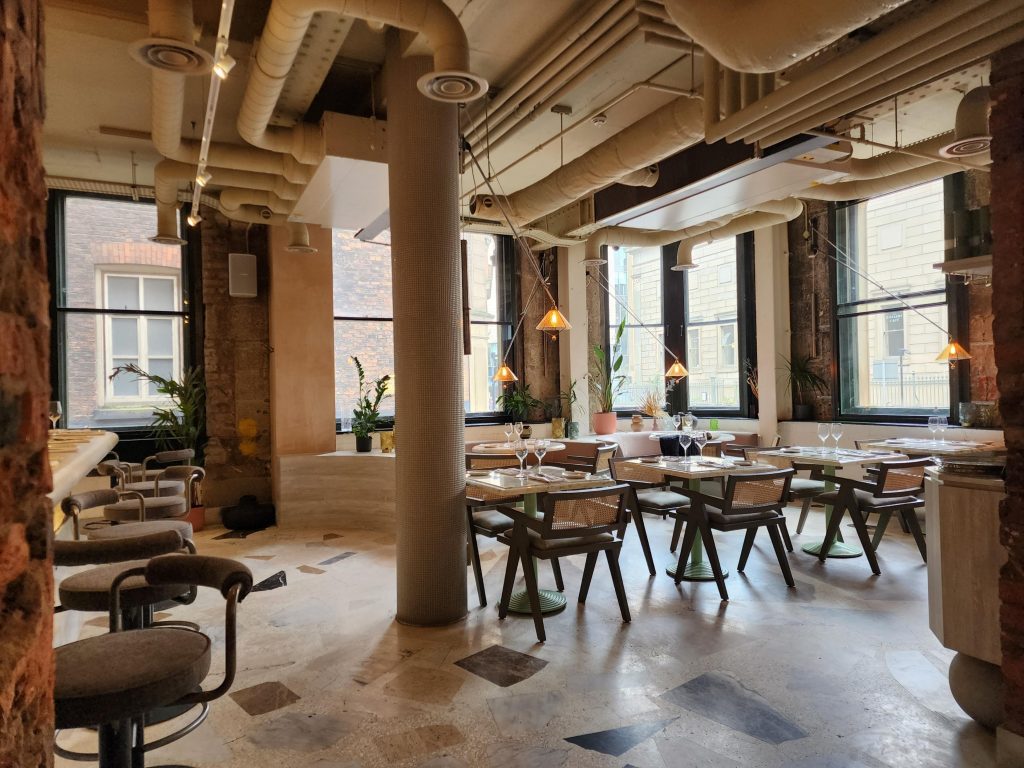 Petit Fours
Thom Hetherington: 
twitter @thomhetheringto
instagram @thomhetherington