Airbus reports strong Q1 demand, but sales and earnings decline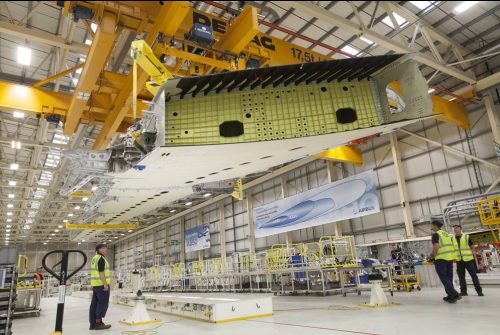 Aircraft manufacturer, Airbus, reported its first quarter results for the period ending March 31 2023, which showed strong demand for its products, particularly its commercial planes, but saw falls in both revenues and EBIT levels.
The group employs around 4,500 staff at its plant in Broughton, near Chester, making wings for all its commercial aircraft.
Consolidated revenues in the quarter decreased slightly to €11.8bn, compared with €12bn in the same period a year ago.
Reported EBIT suffered a 73% slump, from €1,429 the previous year, to €390m.
The decrease reflects lower deliveries, a slightly less favourable hedge rate compared with Q1 2022 and investments for preparing the future. Q1 2022 included the positive impact from retirement obligations partly offset by the impact resulting from international sanctions against Russia.
A total of 127 commercial aircraft were delivered in the quarter (Q1 2022: 142 aircraft), comprising 10 A220s, 106 A320 Family, six A330s and five A350s.
Revenues generated by Airbus's commercial aircraft activities decreased five per cent year-on-year, mainly reflecting the lower deliveries, partly offset by the strengthening of the US dollar.
Airbus Helicopters deliveries increased to 71 units (Q1 2022: 39 units), mainly driven by the light helicopter segment. The division's revenues rose 26%, mainly reflecting deliveries and a solid performance across programmes, favourable mix effects as well as a good start to the year in services.
Revenues at Airbus Defence and Space decreased six percent, mainly driven by lower volume in Military Air Systems and in Space Systems. One A400M transport aircraft was delivered in Q1 2023.
Gross commercial aircraft orders totalled 156 (Q1 2022: 253 aircraft), with net orders of 142 aircraft after cancellations (Q1 2022: 83 aircraft).
The order backlog amounted to 7,254 commercial aircraft at the end of March 2023. Airbus Helicopters registered 39 net orders (Q1 2022: 56 units) which were well spread across programmes. Airbus Defence and Space's order intake by value was €2.5bn (Q1 2022: €3.2bn).
The ramp-up on the A220 programme is continuing towards a monthly production rate of 14 aircraft by the middle of the decade.
On the A320 Family programme, the company continues to ramp-up towards a monthly production rate of 65 aircraft by the end of 2024.
The recently announced decision to add a second final assembly Line in Tianjin will increase global industrial capacity to 10 final assembly lines for the A320 Family, supporting Airbus's plans to produce 75 aircraft per month in 2026. The flight test programme of the A321XLR is progressing and entry-into-service is expected to take place in Q2 2024.
Consolidated free cash flow before M&A and customer financing was a deficit of €889m, against a €213m surplus the previous year, mainly reflecting the necessary inventory build-up as the company executes the production ramp-up.
The gross cash position stood at €22.4bn at the end of March 2023 (year-end 2022: €23.6bn), with a consolidated net cash position of €8.4bn (year-end 2022: €9.4bn).
The company's 2023 guidance, before M&A, is 720 commercial aircraft deliveries, EBIT adjusted of €6bn, free cash flow before M&A and customer financing of €3bn.
Guillaume Faury, Airbus chief executive, said: "The first quarter confirmed strong demand for our products, particularly for commercial aircraft. We delivered 127 commercial aircraft, which is reflected in the Q1 financials.
"The quarter also benefited from a good performance in helicopters."
He added: "We continue to face an adverse operating environment that includes, in particular, persistent tensions in the supply chain. Our 2023 guidance is unchanged with commercial aircraft deliveries expected to be backloaded. We remain focused on delivering the commercial aircraft ramp-up and longer term transformation."