Orders fillip for aircraft manufacturer Airbus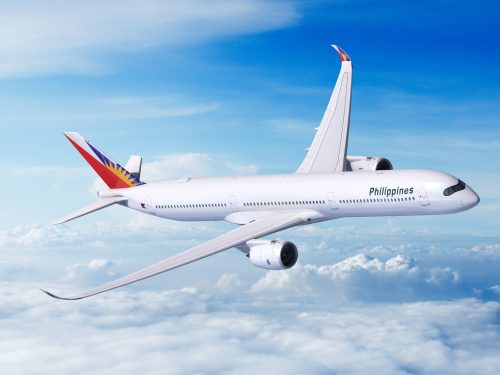 Aircraft manufacturer, Airbus, has confirmed an order from Philippine Airlines (PAL) for nine A350-1000s.
Under the Philippine carrier's Ultra Long Haul Fleet project, the A350-1000 will be operated on non-stop services from Manila to North America, including to the east coast of the US and Canada.
The new aircraft will join two A350-900s already in service at the airline and currently flying to destinations in North America, Asia and Australia. As with the A350-900, the PAL A350-1000s will be configured in a premium layout with separate business class, premium economy and economy class cabins.
Airbus employs around 4,500 staff at its Broughton plant, near Chester, which makes wings for all the group's commercial aircraft.
Captain Stanley K. Ng, president and chief operating officer of Philippine Airlines, said the range of the A350-1000 would enable the airline to fly non-stop transpacific and transpolar routes in both directions all year. These will include some of the longest commercial flights in the world, such as those linking the Philippines with New York and Toronto.
With an expanded A350 fleet, PAL will have the ability to once again provide a direct link from the Philippines to Europe.
He said: "The A350-1000 combines greater range capability with the higher capacity we need to serve future demand. It's the perfect aircraft to enable PAL to meet its expansion plans in a sustainable way, while offering passengers the highest levels of onboard comfort.
"We are committed to offering our passengers the best possible travel experience, and these state-of-the-art aircraft will enable us to do just that as we carry out our mission to connect the world, and grow trade and tourism."
Christian Scherer, Airbus chief commercial officer, said: "Flying passengers farther and in greater comfort, the A350 brings a step-change in fuel efficiency and an immediate significant contribution to reduced emissions. These are the attributes that have made the A350 the choice of leading airlines worldwide. We look forward to working closely with our long-standing customer Philippine Airlines as it moves forward with its long haul fleet modernisation programme."
Meanwhile, Jet2.com and Jet2holidays have celebrated the first of their new Airbus A321 neo (new engine option) aircraft coming into service this week, with a customer celebration at Manchester Airport.
To support their ongoing growth and to refresh their existing fleet, Jet2 plc has purchased 98 firm ordered Airbus A321/A320 neo aircraft, which could eventually extend to 146 aircraft. With a capacity of 232 passengers, the new Airbus A321 neo aircraft enables Jet2.com and Jet2holidays to grow more sustainably in line with the demand for flights and holidays.
Steve Heapy, CEO at Jet2.com and Jet2holidays, said: "The first of the brand new Airbus A321 neo aircraft to come into operation this week is a real milestone in the history of Jet2.com and Jet2holidays. As more of these new aircraft come into our fleet, they will play a huge role in supporting our continued growth, whilst providing more choice, comfort and quality than ever before for our customers."