Workspace addition latest milestone in Sale transformation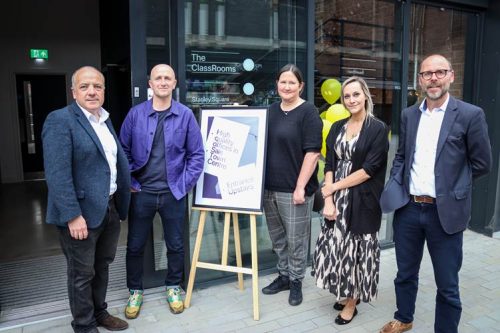 A new co-working space, The Classrooms, has opened up alongside the plethora of restaurants and bars to give a daytime boost to Sale town centre.
Located in the heart of Sale's transformed Stanley Square, the space comprises a collection of innovative commercial spaces. 
The launch marks a major milestone in the ongoing regeneration of Sale town centre.
The development was recently praised by Labour MP Mike Kane in the House of Commons and is the next phase of Altered Space's plans for Sale. 
The modern offices boast an array of amenities, including bike storage, showers, super-fast WIFI, and 24/7 security.
At the event, Kane said: "It's been incredible to see the regeneration in Sale town centre. The Stanley Square development and the work done by Altered Space has been incredible and brought significant benefits to the local community. The addition of The ClassRooms will help to foster economic growth by attracting new businesses to the area. I am confident that this development will further enhance Sale's reputation as a thriving business hub."
Over the past three years, Altered Space has refurbished more than 20 spaces and secured commercial lettings as part of the changes to Sale town centre. 
Michael Brown, Managing Director at Altered Space commented: "Our goal is to provide entrepreneurs and businesses with flexible, state-of-the-art office spaces that inspire creativity and collaboration in the community. The ClassRooms make use of what was empty space, to create environments that meet the needs of today's professionals here in Sale."
Elsewhere in the North West, Altered Space has submitted planning for extensive urban regeneration of Cockhedge, Warrington. The redevelopment there too aims to have a positive impact on the town and local economic growth.