Expansion of Birkenhead start-up container village unveiled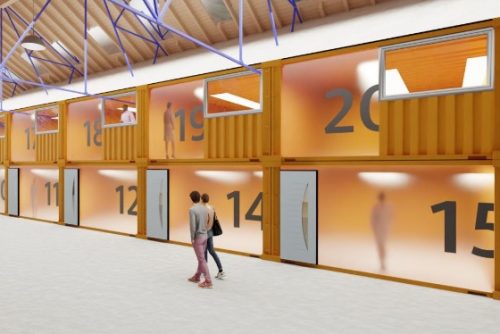 Plans for the second stage of a warehouse container village in Birkenhead have been announced by Start Yard.
The scheme will boost opportunities for start-ups and creative businesses in the town.
The expansion marks a significant milestone for the entrepreneurial ecosystem in Birkenhead and reflects Start Yard's commitment to fostering growth and collaboration within the local business community, it said.
Located next to Birkenhead's picturesque waterfront and adjacent to the historic Birkenhead Priory, Start Yard has quickly become a thriving centre for emerging businesses.
This expansion project, in line with the Wirral Council and Town Deal initiatives, will introduce 10 new state-of-the-art work pods, along with a range of new amenities tailored to support entrepreneurs and creatives.
One of the standout additions to Start Yard is the new meeting room called 'Pow Wow', which will provide a versatile space for brainstorming sessions, team meetings, and client presentations.
Additionally, there will be a photo studio, a green room for video production, and a dedicated podcast studio, all designed to cater to the evolving needs of the modern business landscape.
Chris Lee, Start Yard founder, said: "The expansion will offer exciting new opportunities for both growing businesses and early-stage startups in Birkenhead.
"We firmly believe that providing a collaborative environment and the necessary resources is crucial for entrepreneurial success, and this expansion project will enable us to support an even larger number of innovative ventures."
The new spaces are scheduled to be available starting this July.
Start Yard said start-ups and creative businesses will have the opportunity to benefit from affordable and flexible workspace solutions, extensive networking opportunities, and access to a supportive community of like-minded individuals.