North West business briefs: Alcedo Care; Together; Sellafield; CBRE; Geo Green Power; GMCA; Network Rail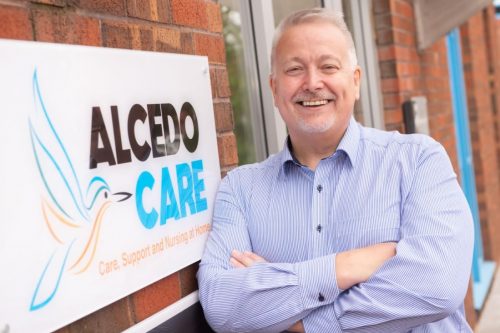 Alcedo Care Group, the North West home care provider, has created 25 job with its latest opening, this time in Crewe.
Located at Crewe Business Park on Westmere Drive, the opening involves an investment of £225,000 from the fast-growing home care provider. The new office will allow Alcedo Care to support clients in Crewe and the surrounding areas, offering up to 1,000 hours of care per week in 2023 alone.
Alcedo Care offers a portfolio of home care services as well as providing live-in care and children's complex care services.
Managing director, Andy Boardman, said: "We are continuing to expand across the North of England and Crewe was a strategic choice for our latest new office. Our range of exceptional care services, coupled with our talented team of nurses and carers, remains in demand with those wanting to stay in their own homes. We are confident our new office in Crewe will quickly make its mark in the region."
Alcedo Care Group now has 15 offices in the North of England and Wales including Blackburn & Darwen, Blackpool & Fylde, Bury, Chester, Lancaster & Wyre, Liverpool (Kirkdale), Liverpool (Speke), Preston, Southport, South Lakes, St Helens, Wigan, Wirral and Holywell.
Recently rated one of the Top 20 large home care groups for all ages for the third year running, Alcedo Care is an independent family-run business and is on track to meet its target of owning and operating 30 branches across the North of England and Wales by the end of 2025.
::
A community champion whose charity has helped hundreds of homeless and vulnerable people into stable accommodation has moved into her own offices – thanks to a loan from Cheadle-baed specialist lender Together.
Christine Hughes, founder and CEO of Cumbria Community Homes (CCH) secured the offices in Carlisle Street, Barrow, after agreeing short-term finance of more than £90,000 from the North West-based lender. The well known charity leader – whose uncle was former Liverpool and England footballing legend Emlyn Hughes – is now pressing ahead with plans to renovate the building's downstairs as offices. They will be accessible for people with mobility problems and accommodate CCH's maintenance and specialist care teams.
The care provider has also applied for planning permission to turn the building's first floor into architect-designed, self-contained flats to be used as short-term accommodation for vulnerable homeless people or victims of exploitation and abuse.
Christine, from Barrow, said: "It's fantastic to be able to move into our own offices in the town centre as a permanent base. We already have 450 tenants in rented properties who have been referred to us from councils across the North West, North East, Yorkshire and Humberside. We're now looking to strategically grow our own portfolio of properties in areas where there is a high demand for care services, to help people re-build their lives in a safe and secure environment."
Jamie Grimshaw, regional development director for the North West at Together, said: "Christine is not only vastly experienced in property and care but is an inspirational individual and a well-respected leader in her community. We are currently in discussions with Christine about her ambitions to build her social housing property portfolio across the North."
::
The North West Cyber Resilience Centre (NWCRC) has announced that Sellafield, the UK's facility that deals with the country's highest nuclear risks and hazards to safeguarding nuclear fuel, materials and waste, has joined its Guidance Council.
Chief information security officer, Richard Meal at Sellafield Ltd, will join the board of experts, dedicated to helping businesses across the North West protect against cyber crime.
The Guidance Council board brings its collective expertise and industry knowledge to work with the NWCRC in helping businesses across the region protect themselves against the growing threat of cyber crime. The NWCRC Guidance Council is led by Andrew Snowden, Police and Crime Commissioner for Lancashire. Existing Guidance Council members include leaders from Siemens, Irwin Mitchell, Northrop Grumman, Manchester Digital and Salesforce.
Richard Meal, chief information security officer, of Sellafield Ltd, said: "I hope that my experiences within nuclear, other industries and defence will be a valuable contribution."
Det Insp Dan Giannasi, head of cyber and innovation at the NWCRC, said: "As the threat of cybercrime for businesses grows, we are bringing businesses and experts together with the police and other public sector bodies to work together and share knowledge. Richard's experience and expertise of working at Sellafield will be hugely valuable to our Guidance Council and our members."
::
Craig Allen, CBRE estate manager at Heywood Distribution Park in Heywood, Greater Manchester, has teamed up with registered charity Medi Tech Trust to find a good use for surplus medical supplies.
A range of medical items left in a unit soon to be let will shortly be on their way to Malawi to support a variety of projects aiming to improve the availability of medical care to the people there.
Bob Lewis, founder of Medi Tech Trust, said "We are a UK-registered charity, dedicated to donating equipment and supplies to medical institutions, arranging training courses for surgeons in low-income countries, and advancing health care education in the community.
"So far £1.5m-worth of medical equipment has been donated to hospitals in the UK and overseas. More than a million items of surgical supplies have also been donated. This package of items will be joining others being readied to be shipped to Malawi which is a country new to our list of those we support."
Craig Allen spotted the items while inspecting a unit being readied for letting and felt they should go to a good home: "We very occasionally get items left behind by former tenants and on this occasion was particularly unusual as the items left consisted of all manner of medical equipment and disposables. It was clear that this could be put to good use if the right recipient could be found and Medi Tech Trust's work in Africa seemed an ideal cause to support."
::
A new solar energy system has enabled a state of the art training and conferencing centre in Cumbria to massively reduce its carbon footprint in line with national targets to clean up early nuclear sites across the UK.
National renewable energy company Geo Green Power worked with the seven-acre Energus site in Lillyhall, Workington, along Britain's Energy Coast, to create a solution that is set to reduce CO2 by 72 tonnes every year, the equivalent of taking 15 petrol cars off the road. The solution is set to reduce the company's energy bill by more than £4m over the next 30 years.
Opened in 2009, at a cost of £21.5m, Energus has become established as a corporate hub for skills, training, education and business support and is located in one of the UK's 17 sites that the Nuclear Decommissioning Authority has been tasked to clean up safely, securely and cost effectively. Energus worked with Geo Green Power to design and install a 250kW system, comprising 658 solar panels, across its roof space.
General Manager, Shaun Stanger, said: "We're seeing great benefits from the system already, particularly a reduction in our carbon footprint which was the main reason behind the project. I also find it really useful to have access to an online portal where I can track generation."
James Cunningham, Geo Green Power MD, said: "The scheme is set to save around £4m over the next 30 years but it's always more rewarding to work with businesses who are as focused on the environmental benefits as they are on the energy cost savings and that was certainly the case here."
::
Forty innovative projects which aim to improve ways of working in Greater Manchester's 'foundational economy' have been awarded a share of £400,000.
The projects chosen will receive £10,000 from Greater Manchester Combined Authority's (GMCA) Foundational Economy Innovation Fund. The first phase of funding will help projects develop their ideas for innovations in their sector or business, with recipients also receiving tailored support and advice to give them the best chance to succeed.
A second phase of funding – to be awarded in early 2024 – will provide 10 of the projects with £60,000 to progress their ideas further. The 'foundational economy' or 'everyday economy' refers to the parts of the economy people depend on for their daily needs, including adult social care, early education, childcare, retail, and leisure and hospitality. The fund aims to support a more prosperous Greater Manchester by helping these sectors become more resilient and profitable while improving the quality of jobs.
Projects being funded include Care and Repair Manchester, which helps older, disabled and vulnerable people across Greater Manchester to stay safe, warm and independent in their own homes for as long as possible. The charity will use its funding to help develop a digital portal to help hospital discharge staff connect people leaving hospital with quality local services that can support them when they get home.
Cllr Bev Craig, leader of Manchester City Council and GMCA portfolio lead for economy and business, said: "These projects have been selected because of their outstanding potential as we look for creative ways to improve Greater Manchester's foundational economy. After launching the fund last year we received a fantastic response, with more than 300 expressions of interest."
::
Rail passengers are being advised of a six-day railway closure between Wigan and Bolton from this Saturday (June 24) while work continues on the electrification of the line.
Network Rail is progressing with a £78m investment to upgrade the 6.5-mile stretch of railway to enable electric trains to serve the key North West towns in the future. In preparation for the installation of high-voltage overhead electricity cables, alterations need to be made to 17 railway structures along the route.
One of those is Ladies Lane bridge in Hindley, which needs to be taken down and a modern, more reliable structure rebuilt in its place. Work began in March when the road was closed but has taken longer than expected due to issues aligning the railway work with utility companies.
Now a further six-day railway closure is needed for engineers to demolish the old structure above the tracks without trains running beneath. To keep passengers on the move between Saturday, June 24 and Friday 30, replacement buses will run between Wigan, Westhoughton, Daisy Hill, Ince and Lostock.
People planning rail travel between Wigan and Bolton between those dates are being advised to check www.nationalrail.co.uk in advance and to allow extra time for their journeys. Claire Davis, scheme project manager at Network Rail, said: "We're sorry to passengers, residents and businesses in Hindley facing additional disruption due to challenges we've faced with the bridge demolition and reconstruction. We thank you for your continued patience and support while we carry out this major bridge upgrade, which will secure the town's vital railway link for generations to come."