DWF on the block for £342m after confirming talks with PE firm Inflexion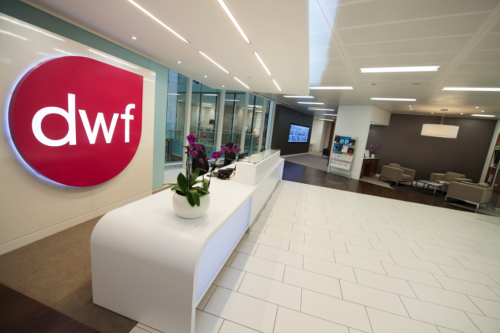 Manchester-based global law firm, DWF, is in talks over a possible £342m buyout.
The firm floated on AIM in March 2019, with shares opening trading at 122p, valuing the business at £366m.
DWF today responded to media speculation over a potential takeover by confirming it is in discussions with Inflexion Private Equity Partners regarding a possible cash offer worth a total of 100p per share.
Shareholders would receive a cash consideration of 97p per share, plus a dividend for the six month period ended April 30, 2023, of three pence per share.
DWF has confirmed to Inflexion that should a firm offer be made by Inflexion on the financial terms of the proposal, it would be minded to unanimously recommend it to DWF shareholders.
Shares in DWF were trading at 67p per share this morning, but soared to 92p on news of the potential buyout.
By lunchtime they were trading at 87.04p per share, giving the firm a market capitalistion of £297.67m.
The 52 week high for DWF shares is 101p per share, while the low is 47.13p.
DWF's statement to the stock exchange said: "Discussions between DWF and Inflexion are ongoing and there can be no certainty that an offer will be made, even if the pre-conditions are satisfied or waived."
Under stock exchange rules, Inflexion must make a firm offer to buy DWF by 5pm on August 7, or confirm it has no intention of making an offer, although this deadline can be extended with the consent of the Takeover Panel.
Inflexion manages around £8bn and specialises in mid-market deals, investing £10m to £400m per transaction.
DWF has offices across Europe, North America, the Middle East and Asia Pacific.
In March this year it announced a new structure, which went live on May 1, comprising commercial services, insurance services and legal operations.
Last December the firm revealed it had achieved revenues and profits increases in the first half period, to October 31, 2022, with turnover rising by 4.2% to £212.1m, while pre-tax profits of £12.9m represented a 17.1% improvement on the previous year.
In the same month senior management, including chief executive Sir Nigel Knowles and chief financial officer, Chris Stefani, made a presentation to analysts from investment bank Panmure Gordon, detailing the group's future strategy.
Analyst, Robert Plant, revealed that management believe more can be done to achieve structural growth by working closer with DWF's biggest clients.
At the time of the briefing, DWF's shares were trading at 78p. Panmure Gordon has set a 138p target.
Andrew Leaitherland steered the firm through its IPO in 2019, but in May 2020, he stood down as chief executive and as managing partner of DWF Law LLP and DWF LLP with immediate effect, with Sir Nigel Knowles assuming the role of group chief executive.