Property round-up: McGoff; Northern Quarter; Knight Frank; Maple Grove; Mill Gate Shopping Centre; CBRE; HAM; Union

Principal contractor, McGoff Construction, has handed over two new care facilities to Altrincham-based care home operator, New Care.
The schemes, located in Grappenhall (Cheshire) and Guiseley (Yorkshire), represent a combined value of circa £16m. They were completed at the end of June and early July, within just two weeks of each other, taking New Care's portfolio of 'new generation' care homes up to 14.
Part of the Altrincham-based McGoff Group, McGoff Construction worked in collaboration with its sister companies, including Panacea Building Systems and McGoff Group Facilities Services, on the delivery of the two schemes.
Over the course of the past five years, McGoff Construction has delivered 1,800 beds across the country for home care operators such as Barchester Healthcare and Care UK, as well as New Care.
Dean Johnston, group managing director of McGoff Construction Services, said: "We have successfully carved a niche within the UK care sector and are now the contractor of choice for several leading care home operators.
"From acquiring the land to designing the scheme, securing planning consent and build, we manage each project in its entirety before handing over state-of-the-art care facilities to satisfied clients. Ongoing aftercare is then taken care of by our related business McGoff Group Facilities Services."
Cath Fairhurst, chief operating officer at New Care, said: "Our partnership with McGoff Construction is perfect as we collaborate closely on all aspects of each and every care facility."
McGoff Construction is currently well under way with build at a New Care facility in Egerton (Bolton), which is scheduled to open at the end of the year, and will start on site at another setting in Bowdon (Cheshire) later this month.
::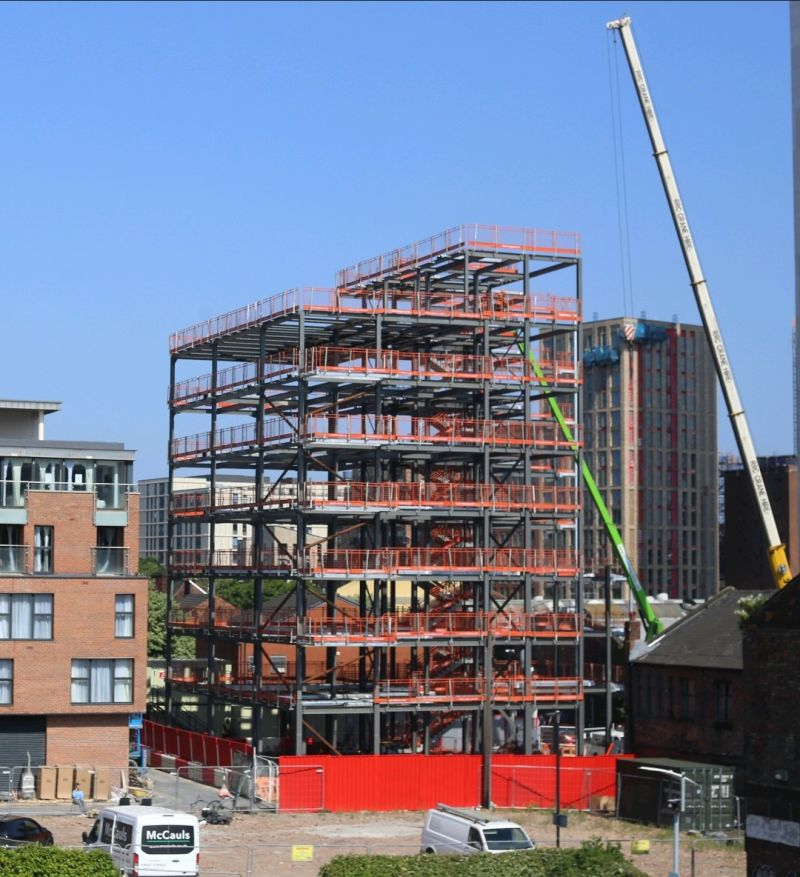 The eight-storey steel frame has now completed on the £12.5m Lomax development on Lomax Street in the heart of Manchester's Northern Quarter.
The 41-unit development, a joint venture between Urbano Property and Big Red Industries Group, is set for completion in 2024, and includes a rooftop patio for residents' exclusive use.
Jose Suare, of Shape Engineering, said: "The project is running very smoothly and we've been assisted by the city council with support around road closures, when needed.
"It's a tight site with no margin for error, given the proximity of adjacent buildings. We've used a piling solution for the foundations and needed to design it to minimise vibration, removing any risk to neighbouring buildings."
The development, which utilises grey bricks in a riff on the dominant warehouse architecture of the area, uses extensive fenestration and balconies to ensure light and airy homes. Two hundred tonnes of steel have been used in the frame's construction, with work having started on site in June 2022.
Mohammed Q Anwar, of Urbano Property, said: "Shape's engineering solution not only ensures we deliver on the architect's vision of light-filled homes, but it's helped us be a good neighbour, too. They've made the complex seem every-day."
The development, constructed by Big Red Industries Group, is being sold off-plan by LH1 Global, with only a handful of apartments remaining. Falconer Chester Hall is the architect, with Zerum providing planning advice.
Shape Engineering is based in Liverpool and works nationwide for commercial and housing developers, including Torus, Countryside Partnerships and Aspire Housing.
::
More than half the North West's warehouse space risks becoming unlettable by 2030 by failing to meet minimum energy targets, according to global property consultancy, Knight Frank.
On a national scale, approximately 128 million sq ft will fail to meet EPC grade C in 2027, tripling to 404 million sq ft when the tougher EPC B requirement comes into force three years later.
And the report warns that the prevalence of older, underperforming stock could further exacerbate the ongoing under-supply of logistics space, with development activity slowing and large multinational occupiers increasingly seeking more modern, energy-efficient facilities enabling them to meet ESG goals, reduce operational costs and embed technological solutions.
Bradley Norton, senior surveyor, Knight Frank Manchester, said: "Landlords who take action now to retrofit are already reaping the rewards. Occupiers are prioritsing more energy-efficient premises as they look to deliver on their own ESG credentials and with a slow down of new stock, second hand space has to be improved."
He cited Oakhill Trading Estate in Walkden as an example of good practice, where a programme of improvement works commenced circa two years ago to increase the green credentials across the estate. Works have been undertaken by Asset Managers Peloton Real Estate on behalf of BlackRock Industrial Trust.
Bradley said: "There was an agreed strategy to reposition this 1970's estate with measures to bring units up to EPC B rating and it has paid off. We have seen significant rental growth, with headline rents nearly doubling from £5 per sq ft to £9.50 per sq ft and we currently have significant interest in the newly available units in excess of £10 per sq ft.
"Other landlords need to take action now to help meet future occupier demand."
With online retail set to grow by 29.1% over the next five years, reaching £146.9bn in spending by 2027, ecommerce alone is set to create 45 million sq ft of warehousing space requirements during this period. While vacancy rates have risen slightly over the past six months, they remain very low, relative to historic levels, and much of the space currently available is in older, second-hand stock.
This shortage of energy-efficient stock is expected to see UK industrial rents increase, with growth of 3.1% per annum forecast over the next five years
::
Maple Grove Developments, part of the Preston-based Eric Wright Group, has started on site for the second phase of speculative development at Victoria Trading Estate in Oldham.
Located off Drury Lane, phase two, which is being built by Eric Wright Construction, will comprise approximately 14,000 sq ft across four trade counter units.
Phase one, comprising circa 40,000 sq ft trade counter accommodation, completed in 2016 and is fully let to national occupiers including Howdens, ToolStation, Sally Salon Services and Euro Car Parts.
James Scott, director at MGD, said: "We purchased the site in 2015 as a development opportunity and delivered the first phase of Victoria Trading Estate on a speculative basis. With the second phase now coming forward we will continue to improve our portfolio's green credentials, whilst enhancing its overall investment value. We will ultimately retain the asset within the group's property portfolio."
Paul Cook, senior director at CBRE, joint agents for the scheme, with Nolan Redshaw, said: "This speculative development will include high quality ESG elements including PV roof panels, EV car charging and a target EPC 'A' rating, all of which are high on the agenda for occupiers seeking new space. The take-up for phase one was extremely strong and, with a great tenant line-up already established on this exceptionally well managed estate, we are confident that this next phase will be equally well received."
The project team includes: C4 Projects (architect, project management and QS), XOsquare Consulting Engineers and KGA Engineering.
Work is scheduled for completion in spring 2024.
::
Manchester-based property group, Bruntwood, and Bury Council, are inviting the local community to join a public engagement event to share their thoughts on the future of Mill Gate shopping centre.
The event will take place at Schorndorf Square from 10am to 3pm, on July 21 and 22. For anyone unable to attend, the survey will be available online via the Mill Gate website from Friday, July 21, to Friday, August 12.
In partnership with Bury Council, the town regeneration pioneer is hosting the event to garner views from local people, town centre and neighbouring businesses, and other interested parties.The event will give everyone the opportunity to meet the development team and have their say about what they want to see in their town, including new housing, employment, retail and hospitality opportunities, transport, along with new health and education facilities.
Bruntwood and Bury Council will use the feedback to inform the development of regeneration plans for the 15 acre Mill Gate estate, which will transform the area into a vibrant and dynamic mixed-used town centre incorporating retail, leisure, hospitality and residential, with sustainability, education and wellness at its heart. It will also provide workspace, bringing further employment opportunities directly to the high street.
Chris Roberts, chief development officer at Bruntwood, said: "We're committed to revitalising Bury Mill Gate and the surrounding town centre as part of our long term partnership with Bury Council, and engaging with the local community is central to this."
Cllr Eamonn O'Brien, leader of Bury Council, said: "Our regeneration proposals for the town centre are exciting, ambitious and are intended to help Bury adapt and evolve, and most importantly, reflect the needs of our communities. We're in the early stages of the Mill Gate development, with a formal consultation to follow late in the year, but we'd encourage as many local residents, organisations and businesses from Bury and the surrounding areas to attend and share their thoughts, so they can be included in the conversation as the plans take shape."
::
CBRE Investment Management has completed the transformation of Solar120, Europa Boulevard, Warrington.
The refurbishment included the incorporation of several initiatives that focused on renewable energy and zero emissions in both build and future operations in addition to wellness features.
The building was officially opened by the Mayor of Warrington and Robert Swan, the first person to walk to both the North and the South Poles, and wh CBRE IM sponsored on his most recent sustainable expedition to the Antarctic.
The 120,511 sq ft (11,196 sq m) warehouse/production facility, with circa 9,000 sq ft of office accommodation, has a BREEAM rating of Excellent, one of the first BREEAM Excellent refurbished industrial buildings.
The refurbishment has incorporated several initiatives that have focused on all three categories within E, S, and G including onsite renewable energy, wellness initiatives, and certification. Throughout the refurbishment, the aim was to retain and re-use as much of the existing property to minimise the embodied carbon within the existing facility and the works required.
At acquisition, the building was emitting 435,342 kg of carbon dioxide per annum, but post-refurbishment and in operation, the building is projected to emit zero kg of carbon dioxide per annum. This reduction in carbon emissions has been achieved by retrofitting the building with heat pumps, LED lighting, the removal of gas supplies, and through a large amount of on-site, sustainable energy generation.
The building's name stems from the 85% photovoltaics (PV) coverage that has been installed on the roof. This solar array installation will supply up to 670K KWH of renewable and sustainable energy to any incoming tenant, and the energy supplied generates a carbon saving of 130 tonnes per annum over the grid and 3,250 tonnes of CO2 over the 25-year design life.
Wellness has also been considered throughout the refurbishment, with a multi-use games area, petanque, and an amenity block with showers and changing rooms now installed. The landscaping incorporates new fruit trees, garden seating, walking areas, and wildflowers to support the local ecosystem.
Rob Trevor, head of asset management logistics UK, said: "We are very proud of the refurbishment of this logistics warehouse. The standards set were very high to ensure we delivered a high performing, sustainable building that had a positive environmental and social impact."
The facility has 10 dock loading doors, two level access loading doors, 18 HGV parking spaces, and 88 car parking spaces. It is located between junctions eight and nine of the M62, within one of the North's most established business parks, and is well served by road, rail, and air.
::
Hurstwood Asset Management (HAM) has advised a private client on the acquisition of a development site in Dyce, close to Aberdeen airport.
Known as The Quad, the 10-acre site, which currently has a three storey office building, was bought for an undisclosed sum. On advice from the HAM team, the vacant building will be demolished with plans to redevelop the site to create a £35m industrial scheme comprising 200,000 sq ft of new build industrial warehouse units, ranging in size from 5,000 sq ft up to 30,000 sq ft.
In line with Manchester-based HAM's core strategy to create sustainable, energy efficient buildings, the new buildings will target an EPC A rating and be net zero in operation.
HAM director, Richard Bousfield, said: "This was an opportune purchase for our client allowing them to effectively acquire what we identified as a prominent development site at a favourable price. There is a real shortage of ESG compliant warehouses in the area and with demand high, the proposed scheme will provide significant economic benefits locally, too."
HAM has been retained to manage the development of the new scheme. A planning application is expected to be submitted in late 2023.
:::
Law firm Shoosmiths has secured a brief to advise German property investor Union Investments on its UK including the XYZ building in Spinningfields and the SAS Radisson Hotel at Manchester Airport. 
The firm will advise on asset management matters across the investor's English real estate portfolio – comprising a number of prime office and hotel assets focused within London, Birmingham and Manchester.
The Hamburg-headquartered investment manager has a total of €56.8bn of assets under management, with a portfolio of 493 properties located across four continents.
On the appointment, Liam Phillips, real estate partner at Shoosmiths, said:
"Union Investment is one of Europe's leading real estate investment managers. Its UK real estate portfolio, in particular, features a range of high-quality assets – many of which are Grade A, rated BREEAM Excellent, and home to a growing list of multi-national corporates.
"This appointment will see Shoosmiths' real estate team advise on asset management matters relating to Union Investment's English portfolio. Our focus is on helping the firm deliver its strategy, ensuring it is securing a steady and sustainable income during all phases of a property's lifecycle."