North West business briefs: UA92; Deralam Laminates; Equans; LSH Auto; Caramella; Civils & Lintels

The Moulding Foundation has agreed to support a new bursary scheme launched by Manchester education establishment, UA92 (University Academy 92), to support students from disadvantaged backgrounds.
The contribution, worth £250,000, will support 25 students from Greater Manchester with £10,000 grants over the next three academic years, supporting them throughout their higher education studies at UA92.
CEO at UA92, Sara Prowse, said: "We are extremely proud to have partnered with The Moulding Foundation to support more students and remove their financial barriers as they move through their higher education journeys. Progression in education is made infinitely more difficult if young people are priced out of their dreams due to a lack of financial support, social inequalities and accessibility. This funding, kindly led by Jodie Moulding, will support students in achieving the qualifications that they aspire to, irrespective of their backgrounds, boosting their life chances and equality as they progress throughout their careers."
The Moulding Foundation was established in 2020 by Jodie Moulding and her husband, Matthew, founder and CEO of Manchester-based online retailer THG (The Hut Group) to enable disadvantaged people and communities in the North of England to achieve their full potential.
In two years, the foundation has pledged more than £9m to charities and good causes.
Jodie Moulding, co-founder of The Moulding Foundation, said: "Removing barriers and creating equal opportunities is at the core of our mission, so we're delighted to support UA92's new bursary scheme. Through this partnership, we hope to enable students at UA92 to unlock their full potential and participate fully in university life."
::
A Wigan-based laminate surface manufacturer has reduced its carbon emissions with support from HSBC UK.
Deralam Laminates, a family-run business and nationwide distributor of worktops, has utilised a six-figure funding package from HSBC UK to acquire 402 solar panels and a biomass boiler. It has installed the solar panels to cover its 55,000 sq ft site in Standish. It is estimated the Longi solar panels will save up to 37 tonnes of carbon emissions per year.
In addition to the solar installation, a further HSBC UK funding package has been utilised by Deralam Laminates to acquire a biomass boiler system. The company expects to burn more than 600 tonnes of waste wood product per year, generating 3000MW/h of heat energy. The installation of the biomass boiler will reduce the amount of wood waste being sent to landfill and, in turn, the building will become self-sufficient for its heating energy.
Dave Hourigan, operations manager at Deralam Laminates, said: "Funding from HSBC UK has allowed us to embark on an exciting new acquisition of solar panels and a biomass boiler at our site in Standish. The new equipment will help us to become self-sufficient and meet growing demand sustainably."
Darren Done, relationship manager at HSBC UK, said: "We look forward to the positive impact this investment will have for the business and its sustainability ambitions."
::
Regeneration specialist Equans has donated surplus furniture from new build housing scheme 'Woodlands' to a local 'The Salvation Army' branch.
Woodlands, a 268-home regeneration project in the heart of Winsford, will see much needed one-, two-, three- and four-bedroom low-carbon homes constructed across 17 acres. Homes are available for open market sale, shared ownership and affordable rent tenures. Due to the nature of the show homes, some items of furniture previously on display are surplus to requirements.
Equans has a dedicated social value team with strong links in Winsford, meaning The Salvation Army was easily identified as beneficiaries of the furniture. The furniture, and furnishings, will be going to various families and individuals in need. The Salvation Army visited Woodlands earlier this month to collect their share, which was handed over by Equans' social value officer, Nicki Sorton.
Nicki said: "Equans now has strong roots in the area having delivered £223,661 of social value since work started last year, and it's great to see The Salvation Army being supported."
Gareth Dickens, commanding officer for The Salvation Army's Winsford corps, said: "This donation is greatly appreciated and will be used locally to support families and individuals we work with, including refugees from Iran and other countries looking to start a new life and contribute to the community here in Winsford. Thank you once again on behalf of those who will benefit from this generosity."
::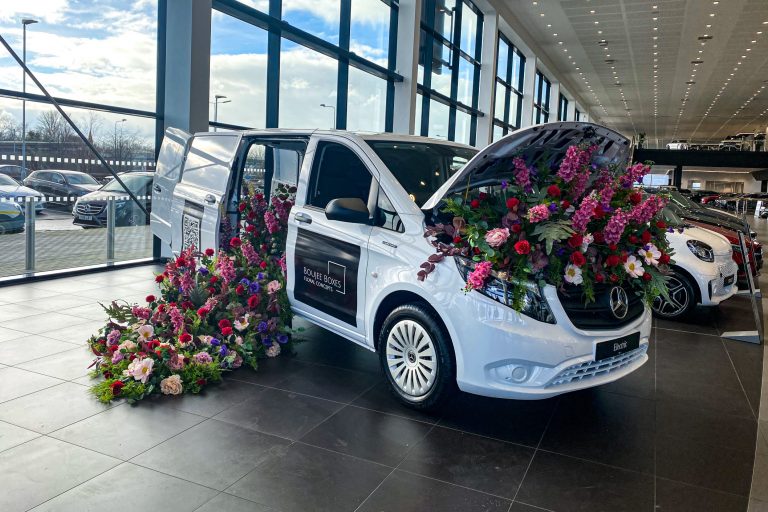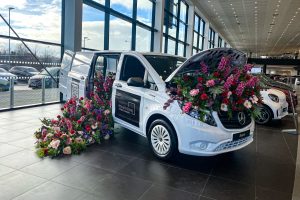 Cheshire floral design company, Boujee Boxes, has received its latest support from LSH Auto as the firm's official van sponsor, featuring a sign-written Mercedes-Benz Vito.
Rochelle Carrey, Boujee Boxes director, said: "We first visited Mercedes-Benz of Stockport as part of the Christmas market in December last year. Since then, we've worked with the LSH Auto marketing team to create showstopping floral displays for special events at Mercedes-Benz of Stockport and experiential pop-ups with their Mercedes-Benz and BYD vehicles at the Manchester Flower Festival and the Cheshire Show.
"Our new Vito is going to make a huge difference to our business. We've been really busy over the last 12 months, providing décor for 62 weddings and creating 130 corporate installations from permanent designs in bars and restaurants to special events and Christmas decorations. We're excited to be driving a van that's in keeping with the high end work that we produce."
Boujee Boxes launched in Stockport in 2019, and now has three directors and a team of freelancers from all over the North West. The business uses individual flower stems, either fresh flowers for celebrations or artificial flowers for permanent installations, to hand-make its designs.
Nikki Leonard, group marketing manager at LSH Auto, said: "The floral displays that Boujee Boxes created in our Stockport showroom have been really impressive. Flowers were interwoven with our electric vehicles for Valentine's Day and Mother's Day and the team created an amazing display with our G-Wagon ahead of a special AMG event we held. Every time we've worked together their creations have been really popular with our customers."
::
Merseyside fashion brand, Caramella, is taking over a pop up shop on Peter's Lane, in the heart of Liverpool One, alongside some of the biggest brands worldwide including Space NK, The White Company, Reiss, Ted Baker and Nespresso.
This will mark the brand's first Liverpool-based store where visitors can shop Caramella in person. Caramella, created by Mollie-May Cartwright, 25, in 2017 from her mum's kitchen table, is now a renowned fashion brand followed by 280,000 people on Instagram alone. Specialising in fashion-forward womenswear, Caramella is known for its trend-driven evening wear, loungewear and outerwear, as well as its own brand collections that are designed in-house in Wirral, with sizes ranging from UK6 through to UK18.
Popping up in Peter's Lane from Friday, August 4, until Sunday, August 27, Caramella will open with the exclusive launch of its end of summer sale. Mollie-May Cartwright, CEO and founder of Caramella, said: "I'm so excited to be popping up in Liverpool One – this is our biggest customer-facing opportunity to date.
"Myself and the team just can't wait to open the doors in the most fashion-forward city in the UK and meet our huge Liverpool customer base in person. For six-and-a-half years we've been a predominantly online brand. Having a presence in Liverpool One, alongside some monumental brands is huge for us."
Donna Howitt, place strategy director at Liverpool One, said: "I am thrilled to welcome Caramella to Liverpool One. This pop up store is a great addition to our womenswear offering. We are confident Caramella's unique style and exceptional customer service will become another brand favourite among our visitors."
::
Bolton-based Civils & Lintels, a steel lintel distributor, has completed a major investment programme to increase its capacity and enhance its service levels to the UK residential sector.
The business has committed more than £5m to create four regional distribution hubs for the lintels division of the company, including new facilities in Nottinghamshire and the South East. A new facility has been set up at Kirkby-in-Ashfield and a further site in Erith converted solely to a lintels platform alongside further investment in sites at Bolton and Westbury in Wiltshire with all sites offering a range of stock from all key manufacturers.
Civils & Lintels works with its many regional and national housebuilder customers to develop tailored delivery schedules and can also offer help and advice on the selection of the best lintels for each development. The lintels hubs can also offer plot-banded deliveries if requested. In addition to the technical knowledge that the teams have, Civils & Lintels can also offer bespoke fabrication services through its sister company, Harvey Steel Lintels.
This fresh investment ensures that the business always has £30m-plus of stock available to meet any needs customers may have.
Phil Sheldon, head of residential from Civils & Lintels, said: "This investment reflects the ambition that Civils & Lintels has as a business in the UK housing sector. We are already the largest distributor of steel lintels in the country and this investment will not only mean that we can continue to offer the best products, but we can also be even more efficient and flexible with our service proposition."