Gone Dining: Thom Hetherington at Higher Ground

Higher Ground, Faulkner House, New York St, Manchester M1 4DY
"Cobnuts!" exclaims Joseph, a triumphant grin upon his face, before I've even settled myself at the bar.
It's an unusual greeting in any restaurant, but chef Joseph Otway, one of the softly evangelical trio behind Higher Ground, has taken an unusual delivery and is excitedly shaking a large box of Organic North's finest, still in their leafy husks.
"What are you going to do with them?" I ask. "No idea" he says gleefully, "But I'll work them in for you!"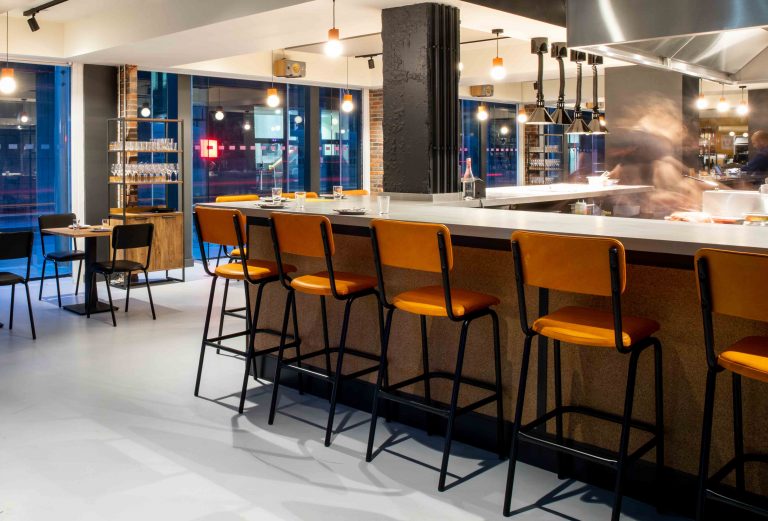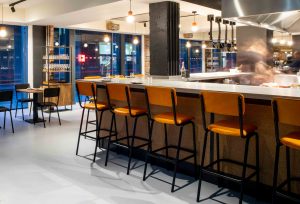 Such freewheeling responsiveness to the vagaries of seasonal British produce is emblematic of Higher Ground, a restaurant which identifies itself as a "thoughtful, modern bistro".
But is this a genuine show of self-awareness and copywriting fit to earn respectful nods from both Descartes and Don Draper? The three founders here bring a global pedigree – Copenhagen's Relæ, Simon Rogan's Fera at Claridges, Noma – so surely there's a chance.
Poetically, Higher Ground forms the third prong of the triumvirate's hospitality trident. It follows on from Flawd, the small plates/natty wines bar which was launched as a meanwhile project when Covid put plans for Higher Ground temporarily on the back burner, but which became a permanent and much-loved fixture in its own right, whilst both venues are powered by the exceptional produce from their own organic farm, Cinderwood.
In the plus one seat for this particular visit was a visibly giddy James Eden, the founder of Salford's Private White V.C., one of the world's most respected menswear brands, which dresses everyone from David Beckham and Tom Hardy to, erm, me.
James is a delightfully garrulous dining companion, and within seconds of entering the room had cryptically declared himself "as game as a bagel" for the whole reviewing experience.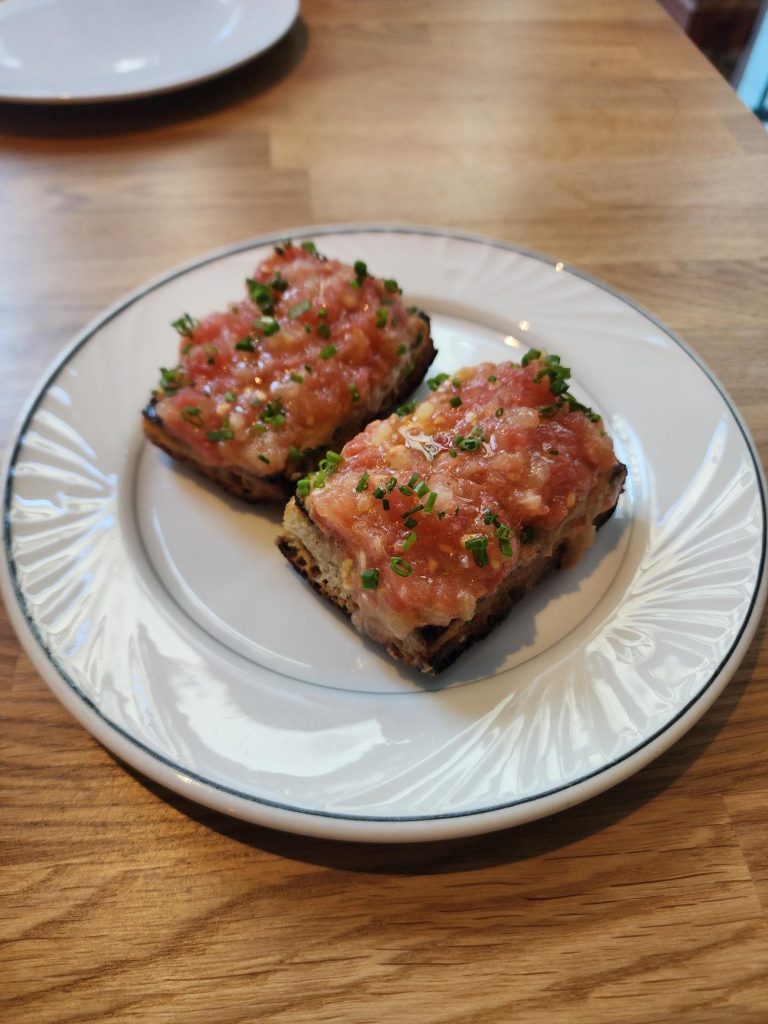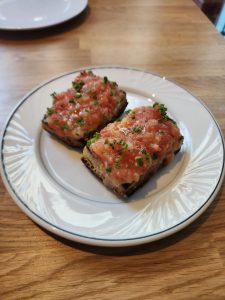 We were met by front of house impresario Richard Cossins, the second of the HG trio. I'd happily watch a TikTok compilation of Richard welcoming guests on loop; he should be Life President of The Greeter's Guild.
Following a glass of Loire crémant, ably delivered by the third founder, Sommelier Daniel Craig Martin, we slid around the bar into the dining space which is more window than wall, with a pleasingly soft and textured utilitarianism.
From an all natural and low intervention wine list (if you think you don't like such things, Dan is the man to convince you) I picked a modish Luc Baeur 2019 Altesse from Savoie. Try it if you like Riesling or Pinot Gris.
Then the menu itself, a missive as warm as a hand-written note, which gets updated so frequently you're expecting the words on the page to magically writhe and change beneath your gaze, as if Dumbledore or Gandalf themselves were on the stoves.
Dishes are listed in order by their varying sizes, meaning you can have a full tasting menu, indulge in free-range small plates grazing, or construct a kind of a la carte three-courser if 'dadcore' dining is your vibe. The latter was certainly ours.
First up, heirloom tomatoes and brown crab on toast, like a pimped-up pan con tomate, with sweetness, sharpness, softness and crunch. Then a superlative Pitchfork cheddar and yellow bean tart. Joe had made a signature of this loose, short pastry, seemingly held together by willpower alone, which melts on the tongue like a savoury digestive. Along with the beans, devoid of squeak yet still with snap, and the rich cheese it was as finely balanced as a gyroscope.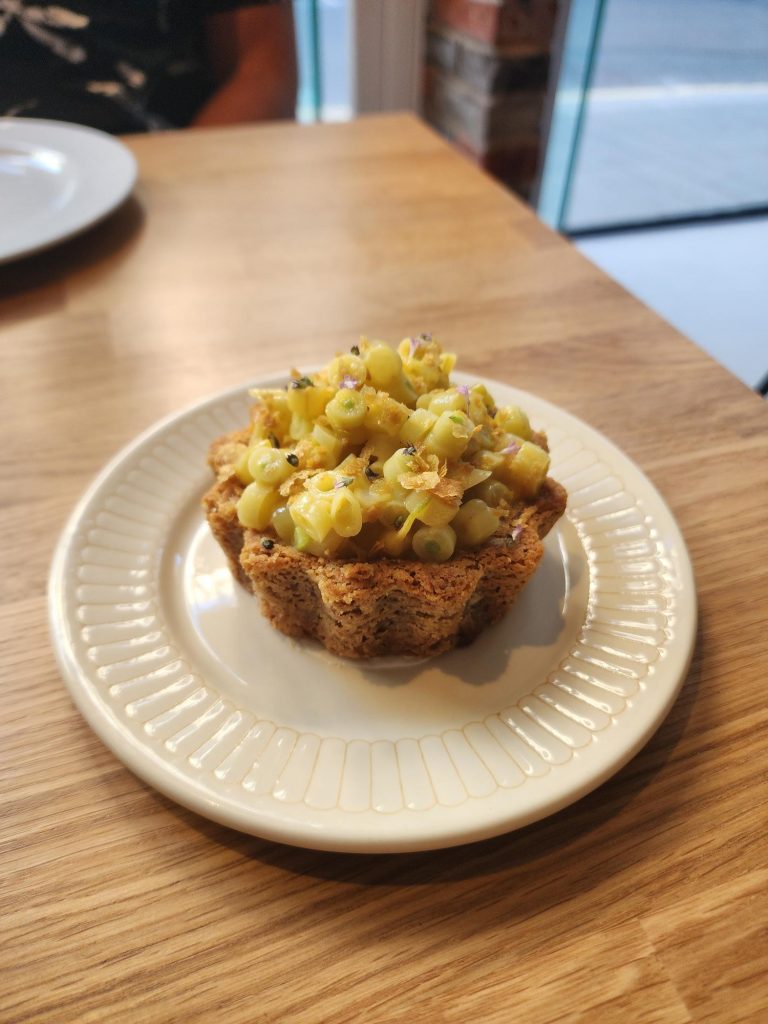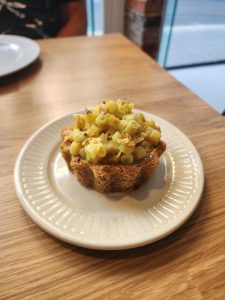 Next, golden beetroots with sour cream, borscht on its best behaviour, draped under their own leaves with salted rhubarb adding some zing. And a bowl of marinated Sungold tomatoes, bobbing like buoys in a "burnt vegetable dressing".
Finally, a stunning steak tartare – superb beef, roughly cut and hiding a scoop of equally nubbly potato salad, beautifully seasoned and topped with preserved pine needles and tiddlywink slices of fresh cobnuts adding a soft crunch. 
Yes, those cobnuts. 
You can't fail to notice from the photographs that every dish here is a deft aesthetic delight, like someone so confident in their natural symmetry and golden ratios that they simply roll out of bed looking effortlessly, minimally perfect. Fibonacci plating. But of course, to paraphrase Dolly Parton, we all know it takes a lot of effort to look this casual.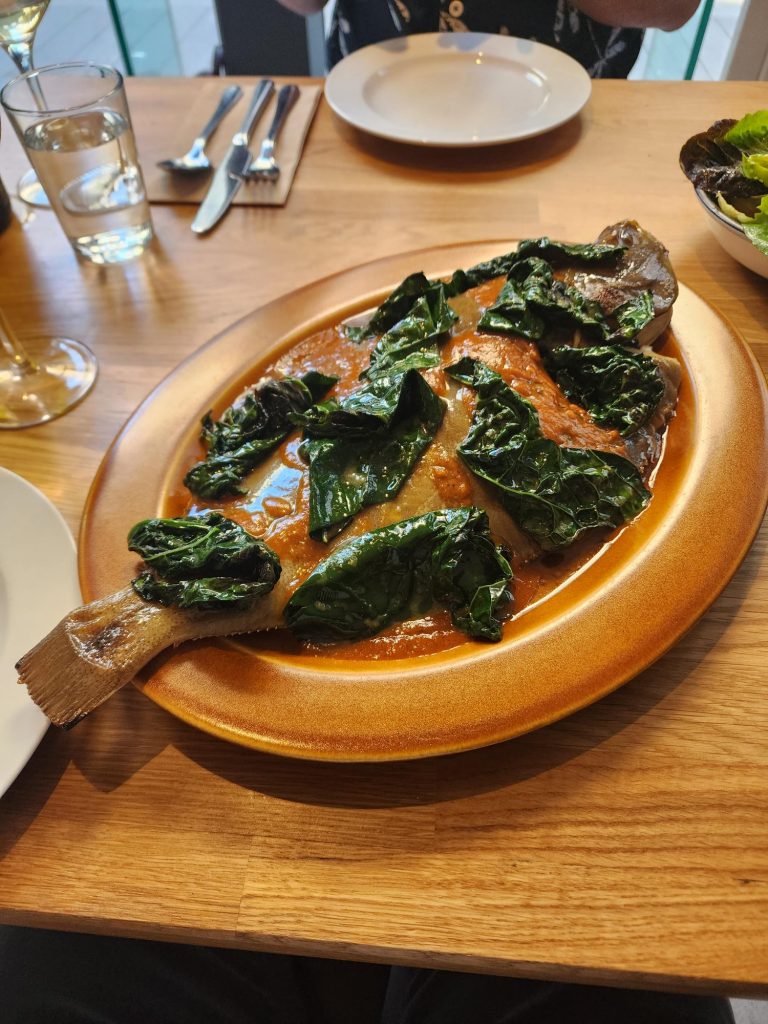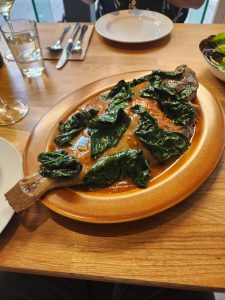 We dithered over some fine sounding steaks, numbers limited as the chefs work their way through full carcasses from Jane's Farm, but felt the whole plaice might challenge the kitchen more.
Roast in a KOPA charcoal oven, it arrived languidly lolling across a rich sauce of tomato and seaweed, fronds of kale hiding its modesty like an Italian nude. The flesh slid easily from its bones, meaning even a ham-fisted amateur like me could fillet it without appearing to have used a strimmer. 
As we'd eased through the Altesse, Dan shimmered back alongside our table to recommend a glass of Domaine Mataburro Macabeu from the Languedoc. The service here happens just when you want it and just where you need it, rich in knowledge and guidance, which is lightly worn and gently delivered. Like being waited on by an entire squad of synchronised Jeeves.
For desserts, a quenelle of sharp outdoor rhubarb striped with bay leaf oil, a muted blush rather than Barbie pink, was a zingy refresher, and opal plums, poached in red vermouth and served with a Nantwich milk ice cream, were magnificent. Desserts as a soothing high to finish a superb meal, rather than merely functioning as sugary punctuation.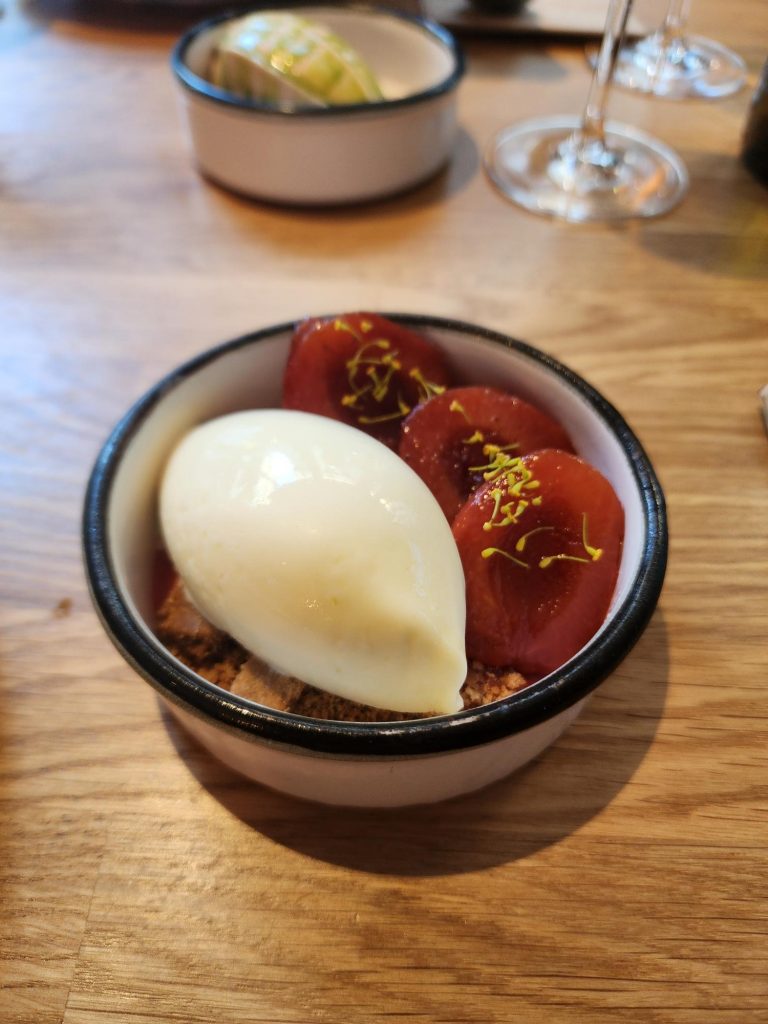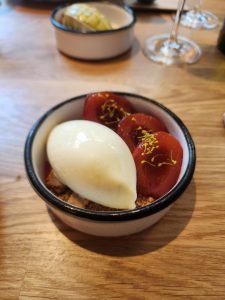 An old friend, legendary hospitality maven Jacqueline Hughes-Lundy, arrived at the next table, and as we exchanged gossip the conviviality in a now thrumming room cranked up another notch.
I seldom come here without seeing an off-duty chef, restaurateur or food writer tucking in, and take it from me, as an indicator species, such people are a sure sign of a good time.
Higher Ground itself may have taken its time coming, but like a long-proven sourdough it has risen to produce something complex and layered yet comforting and deeply delicious.
It's uncompromisingly contemporary but rooted in the fundamentals of hospitality. It is indeed a 'thoughtful and modern bistro', and it left James and I feeling as game as bagels.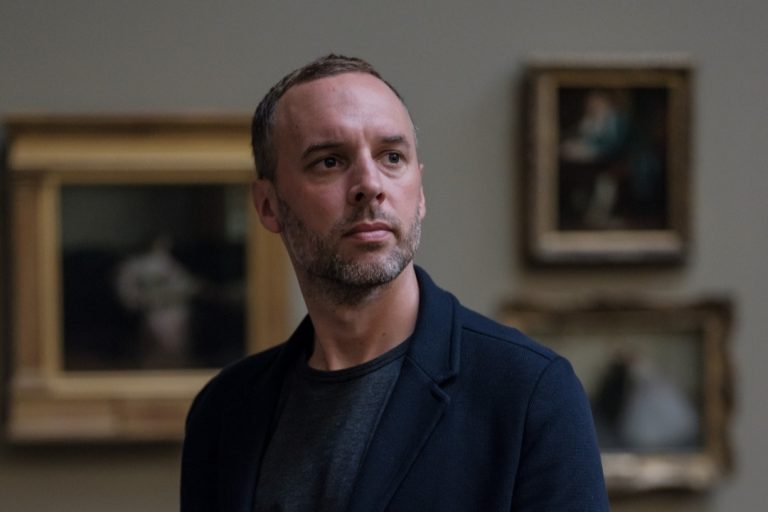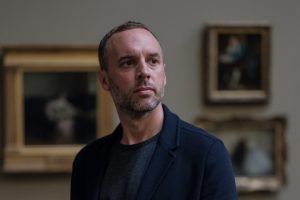 Thom Hetherington: 
twitter @thomhetheringto
instagram @thomhetherington


*Can't be used on Voyage products or sale items.
Petit Fours