Liverpool-led consortium to build world's first zero-emission electric support vessel

Match-funding of £20m has been awarded to a Liverpool-based consortium to build the world's first zero-emission electric Service Operation Vessel (eSOV).
The announcement by the Zero Emission Vessel Infrastructure (ZEVI) competition was made today (September 11) at London International Shipping Week.
Bibby Marine, part of Liverpool-based Bibby Line Group, is leading the consortium of Port of Aberdeen, Offshore Renewable Energy (ORE) Catapult, Kongsberg, DNV, Shell and Liverpool John Moores University.
The vessel will be used to provide safe accommodation and transport for technicians working on offshore windfarms. Its construction will be a huge step towards achieving the marine industry's net zero ambitions.
No decision has been made, yet, on where it will be built.
The eSOV, with a powerful battery system and dual fuel methanol engines for back up, along with associated shore-charging facilities, will showcase leadership in UK content and design, deliver emission and cost savings.
Bibby Marine CEO, Nigel Quinn said: "We are excited to receive this funding and to work with our partners to launch the world's first eSOV – the first new vessel for Bibby Marine in five years.
"This project is the natural progression of our decarbonisation journey, which began in 2019, to find the right solution to achieve our net-zero goals."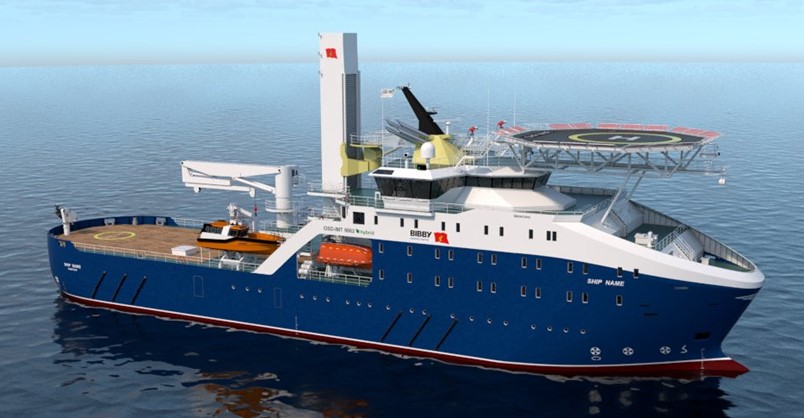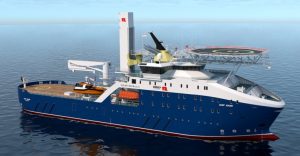 He added: "Designed in the UK, the vessel will be a game changer for our industry – supporting its ambitions to turn the UK into the world's number one centre for green technology, create jobs and accelerate our path to net zero, by harnessing the best of British technologies. The vessel also offers the opportunity for customers to increase local content and will shine a light on UK innovation."
The ground-breaking project has far-reaching implications for the industry. With nearly 40GW of new offshore wind capacity to be added in the UK alone by 2030, equating to between 62 and 149 vessels, there is a clear need to develop and implement innovative solutions.
The eSOV will help accelerate the transition to a low-carbon economy and learnings from this project will help inform and shape the learnings for the rest of the industry.
Mr Quinn added: "We strive to be the UK's clean and most committed SOV operator, and our commitment to innovation and sustainability drives us towards these zero-emission solutions.
"This project is a crucial part of this vision and is in keeping with our own Environmental and Social Governance framework and net zero targets. The project will catapult our efforts for our own green future, resulting in Bibby Marine having one of the most advanced, efficient, and environmentally-friendly SOVs on the market."