JD on course for billion profit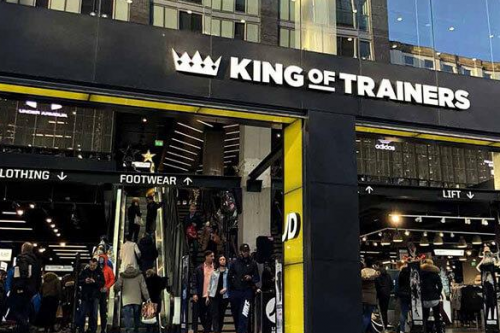 Sports fashion retail powerhouse JD Sports has brushed off market doubts over exposure to the rocky US retail market with strong half year profit and sales growth.
Reporting half year pre-tax profits for the 26 weeks ended 29 July 2023 this morning (21 September) of £375.2m on top line sales income of £4,783.9m, the Bury-headquartered retailer said growth in the premium UK Sports Fashion retail stores grew revenue by 8% to £1,202.5m.
For the 12 months to the end of January, JD said it was on track to post annual pre tax profit of £1.04 billion, up 5% on last year.
In August, JD shares dipped on nothing more than market speculation surrounding thefts and declining sales in rival American sports retail and sank to 132p. TheBusinessDesk.com reported at the time that this was based on a misreading of US trends that wouldn't affect the business to the same extent.
The business also confirmed it is on track to add over 200 new JD stores globally by January 2024 and ended the half year period at 448 premium Sports Fashion stores, up four since the start of the period. 
The UK remains an opportunity for selective growth – new stores in the period included Derby, which was the 400th JD store in the UK and the 100th to open on a retail park, and planned upgrades at the Trafford Centre in Manchester and Stratford in London.  
There were 969 premium stores in North America at the period end, up a net 14 versus the start of the period. 24 new stores were opened of which 16 were conversions from Finish Line to JD. Including Canada, JD now have 168 JD stores in North America, as they continue to grow the JD brand presence in the region. 
It would appear that JD's typically younger customers have kept spending over the last two years, shrugging off the impact of rising inflation, eager to buy JD's often exclusive sportswear fashions.
Commenting on the results, Régis Schultz, Chief Executive Officer of JD, said: "We have delivered a strong first half to our financial period with organic sales growth of 12% and profit on track for the full year. In line with our strategic plan, growth is being driven by our premium Sports Fashion business with an impressive performance in Europe (+27%) and North America (+15%), supported by a strong performance in our more mature UK market (+8%). This performance continued in the important back to school period.
"We have made good progress delivering on our strategic pillars, focusing on expanding the JD brand and we will open more than 200 JD stores worldwide in this financial period. We are going to accelerate JD brand growth in Europe through purchasing the non-controlling interest in both ISRG and MIG, and the acquisition of GAP stores in France. This is alongside the proposed acquisition of Courir in the region, which will, when completed, enhance the Group's existing portfolio of complementary concepts, bringing into the company its market-leading focus on the female customer. Meanwhile, we are building and investing in talent and infrastructure to support future growth.
"Our first half performance would not have been possible without the efforts of our people across the world and I am extremely grateful for their continued hard work and commitment. I would also like to thank outgoing CFO Neil Greenhalgh specifically for his support since I joined and for his years of service to JD. I look forward to working with Dominic Platt, who will start as our new CFO in October 2023.
"Our partner relationships are as strong as ever. We are Nike's key global partner, while we are Adidas's biggest global partner for the 'terrace' category, within which we've seen a great performance from Gazelle and Samba. Alongside the larger brands, through our scale and global reach, we are well placed to support the global development of fast-growing brands and in H1 we saw particularly strong growth from New Balance and On Running.
"Looking ahead, our core consumers remain resilient in the face of the ongoing global macro-economic challenges. The JD brand continues to strengthen its global presence, supported by our strategic partnerships with much-loved brands and our strong balance sheet."
Russ Mould, investment director at Manchester investment platform, AJ Bell, said: "It's a tough place for consumer-facing companies given the uncertain macro backdrop. Consumer confidence remains fragile even though there are signs of a slowdown in the rate of inflation.
"Selling trainers and tracksuits can be big business and many people aspire to own the latest products. That said, these items aren't cheap and so just because someone wants something doesn't mean they can always afford it. JD Sports is aware of this situation and rightfully doesn't assume its goods will continue to fly off the shelf at pace.
"While it is good practice to be cautious, JD Sports' results still show a business in good health. Sales, profits and dividends are all up, it is investing in the business to support geographic growth, and it is finding new ways to keep customers happy and on its side.
"That includes a loyalty scheme trial in the UK for 10 stores in Manchester which involves customers collecting a virtual JD currency that can be used towards future purchases. These initiatives can be easy wins for retailers."