Business community quick to voice support for new West Midlands Mayor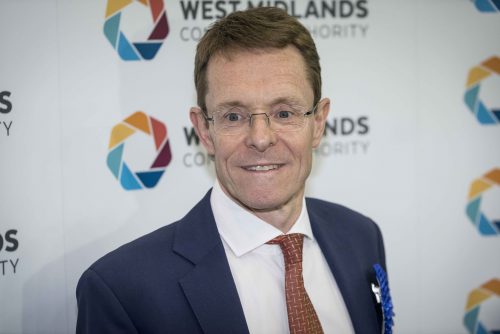 The business community of the West Midlands has been quick to congratulate Andy Street on his election as the region's first Metro Mayor.
Local Enterprise Partnership
Steve Hollis, the man who replaced Mr Street as chair of the Greater Birmingham and Solihull Local Enterprise Partnership, said the result – close as it was – heralded an exciting new era for the region with the real transfer of powers from Whitehall to the West Midlands.
"The new Mayor will be an important figure in the bid to increase productivity and drive prosperity in the region, putting us even more firmly on the international stage," he said.
"We congratulate and look forward to working closely with Andy Street to ensure the region reaches its full potential.
"Having worked closely with Andy during his time as chair of the GBSLEP, we have no doubt that he will do a fantastic job as Mayor, working with the Combined Authority and key partners across the private, public, academic and voluntary sectors to lead the West Midlands successfully in continuing to increase economic growth and improving the well-being of residents across the whole region."
Chambers of Commerce
Greater Birmingham
Paul Faulkner, chief executive of the GBCC, said he was also looking forward to working with the new Mayor on his plans for the region.
"Partnerships will be crucial in order to ensure the Mayor and the WMCA achieve their aims – both cross political party partnerships (there are both Labour and a Conservative local authority leaders on the WMCA board) and cross sector," he said.
"While the General Election is understandably taking a significant amount of media and political attention at present, we would urge the new Mayor not to lose time in their relatively short three-year term and get straight to the business of establishing their office and delivering for the region."
Black Country
"The Black Country Chamber of Commerce is looking forward to working with Andy to help drive forward the West Midlands economy by creating first class infrastructure, excellent skilled workers and businesses selling their goods all across the globe," said chief executive Colin Crane.
"Andy has been a tireless campaigner over the last few months and we will make sure that they get the support they need to help local business grow and create jobs."
Coventry & Warwickshire
Louise Bennett, chief executive of the Coventry and Warwickshire Chamber of Commerce, said growth, jobs and prosperity should be at the heart of Andy Street's focus for the region.
She also urged him to stay true to his pre-election promise of backing Coventry's bid to be UK City of Culture in 2021.
"We congratulate Andy on his victory and, as a chamber, we look forward to working with him in the coming weeks, months and years to help shape the regional economy to get the best for the people and the businesses on our own patch," she said.
"This is going to be a key role for the region so it's now absolutely vital that our voice is heard in Westminster and we are always striving to secure the best possible deal for Coventry, Warwickshire and the wider region – and that means ensuring we get the funding we need to grow.
"With every decision that is taken by the new Mayor, investment and jobs for our patch must be at the heart of it. Whether that's around improving infrastructure or upskilling our people, economic growth is going to be key to the overall wellbeing of the West Midlands."
During the campaign, the three Chambers of Commerce united to produce a business blueprint for the new Mayor.
'The Business Priorities 2017: Vision for a West Midlands Metro Mayor' sets out the priorities and actions the chambers want the new Mayor to deliver. The headline areas are:
•       Providing vision, leadership and promotion
•       Making the West Midlands the best possible place to do business
•       Developing world-class transport infrastructure
•       Ensuring a skills ecosystem fit for the future
•       Fostering a greater place to live, work and visit
•       Leading the region through Brexit
It was written in partnership between the three chambers and developed in consultation with members.
Property
David Smeeton, partner and head of Cushman & Wakefield's Birmingham Investment team, said: "The outcome of the Mayoral election was always going to be a close run affair with the polls indicating little between the two principal candidates.
"However, few thought that Andy Street could actually pull off a victory here and his win is hugely significant for the region going forward.
"As stated by the Centre For Cities, the Mayor will need a 'vision for the city region with clear strategic decisions to meet it'. Andy's manifesto has clear aims and objectives which perhaps will be achievable over a period of his three-year term."
In the short term, he said Mr Street would need some quick wins and thwre were several key areas to focus on.
"Transport is key. Moving everybody and everything we produce more efficiently has to be improved as our regional economy continues to grow. Andy's close links to the Prime Minister will make him our voice both nationally and internationally and he has to hit the skills agenda hard forging improved links between businesses, schools, universities and all the other higher education facilities," added Mr Smeeton.
Geoff White, policy manager for RICS (Royal Institution of Chartered Surveyors), said: "Mayor Street has published an ambitious manifesto to restore 'pride in the West Midlands' and as a former chief executive for the John Lewis Group he fully recognises the vital role that land, property and construction will play in his plans.
"Transport and digital infrastructure are high on his agenda and he has promised to eradicate youth unemployment, build 25,000 new homes, tackle rough sleeping and reduce anti-social behaviour. These are all issues on which built environment professionals, such as chartered surveyors, can make a huge difference in delivering the schools, colleges, universities, homes, offices, factories and infrastructure that we need.
"Mayor Street will find the region's RICS professionals  – there are more than 5,000 of them – eager to support his plans, especially working with key economic sectors to generate more high-paid jobs and to create places for individuals and businesses to flourish."
He added that the Government – before it was dissolved – had highlighted the importance of the West Midlands to the success of its Industrial Strategy Green Paper.
"The West Midlands is an economic powerhouse with massive potential to develop existing sectors such as advanced manufacturing, automotive, life sciences, professional services, construction, low carbon, transport and healthcare. Working with the new Mayor, RICS professionals will help to make that happen," added Mr White.
Ian Anderson, executive director at planning consultancy Iceni Projects, said: "Andy Street's election victory comes at an exciting time for Birmingham and the wider West Midlands region. Street isn't a traditional politician – he is a business leader who has the opportunity, in his role as Metro Mayor, to renew investment across the West Midlands.
"As the former managing director of John Lewis, Street knows how to get things done. At the top of his list will be infrastructure, namely introducing a network that rivals other city regions in the county. Street is in control of the largest investment fund of any Metro Mayor at £1.1bn, let's hope he can use his business savvy to put the money to good use.
"If his manifesto is anything to go by we can expect big changes to the land and development sector. Street's campaign placed a clear focus on brownfield development, with the aim of protecting green belt land. To achieve this goal we can expect some innovative policies out of Street, including a tax levied on owners of vacant buildings and a push to convert unused industrial buildings. Whether this approach will be set out through a Mayoral Development Corporation or through local councils we will have to wait and see."
Financial
Sara Fowler, senior partner at EY in the Midlands, said the region would now look to Mr Street to strengthen the devolution agenda and secure the maximum amount of funding for the West Midlands.
"Local businesses will be looking for the Mayor's reassurance that the WMCA's future economic growth plan considers their needs," she said.
"We would also look to the Mayor to champion the Midlands Engine to ensure it remains attractive, competitive and connected."
Manufacturing
Charlotte Horobin, EEF Regional Director for Midlands and East of England, said: "Andy Street now has a critically important role to improve economic outcomes and ensure that WMCA region is recognised nationally and internationally as the place for manufacturers to prosper."