Apartment scheme for former Jewellery Quarter nightclub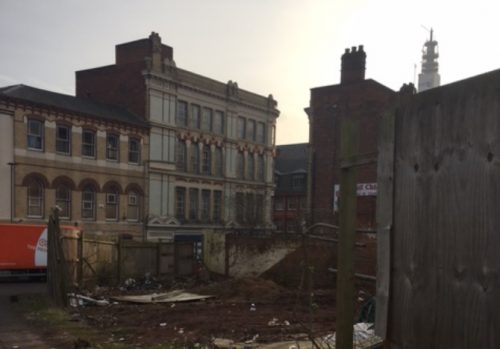 The residential regeneration of Birmingham's historic Jewellery Quarter is set to continue with the city council set to approve plans for a four-storey development.
Queensbridge Homes has applied for permission to develop a vacant plot on corner of Hampton Street and Henrietta Street which used to be the site of a nightclub.
The completed would provide 32 new apartments comprising a mix one, two, three and four bedroom units. These would be split between five one-bed, 22 two-bed, four three-bed and one four-bed units.
The site has been vacant for a number of years following the demolition of the club and a previous residential scheme that was never followed through.
Due to land levels, the proposed development would be three storeys facing onto Bond Street and increase to four storeys as the development wraps around Hampton Street and Henrietta Street. The proposed scheme would be developed up to the back of pavement and an internal courtyard is proposed to the rear of the site. The main entrance to the building would be on the corner of Hampton Street and Bond Street.
There is no parking provision within the scheme but 32 cycle parking spaces would be provided.
The council has recommended a developer contribution of £230,000 towards an off-site affordable housing provision.
A report to Thursday's planning committee states: "This proposal would result in a good quality residential development that would have a positive impact to the character of the Jewellery Quarter Conservation Area."