Aston Martin offers tantalising glimpse of new £2.5m hypercar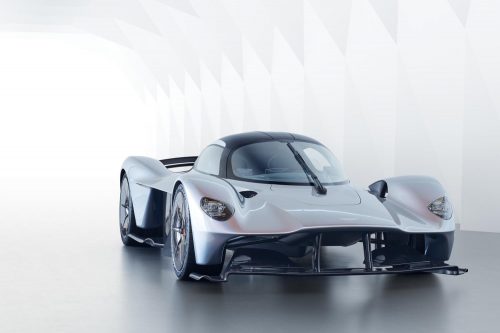 Aston Martin has offered a further tantalising glimpse of its new £2.5m hypercar, the Valkyrie, which is set to feature an array of F1-inspired technology.
The Warwickshire firm is developing the new car, first unveiled in July last year, in partnership with Red Bull Advanced Technologies and F1 designer Adrian Newey, plus AF Racing.
The past year has seen the various partners further develop the Valkyrie's aerodynamics, body styling and cockpit packaging.
The car's styling is designed to generate large amounts of downforce to keep it stable at high speeds, while the Aston Martin team has also been hard at work creating the optimum position for the car's driver.
To maximise interior space, seats have been bolted to the cockpit tub, with occupants adopting a reclined 'feet-up' position reminiscent of today's Formula One and Le Mans Prototype race cars.
Aston Martin said this ensured both driver and passenger were extremely safe, perfectly supported and completely at one with the car. A four-point harness comes as standard, while an optional six-point harness will be offered for those who intend to do more track driving.
The Aston Martin Design team have been keen to keep distractions to a minimum and focus the driver on the road ahead. To this end, all switchgear is located on the steering wheel – just as it is in an F1 car, with all the vital signs shown on a single OLED display screen. The steering wheel is also detachable – again a measure adopted from today's Grand Prix racers, both to aid ingress and egress, and to serve as an additional security device.
To avoid any unwanted aerodynamic disturbance or stylistic 'clutter' traditional door mirrors have been replaced by discreetly mounted rear facing cameras in each of the Valkyrie's flanks. These feed two displays which are positioned at the base of each A-post to mimic the view provided by conventional door mirrors.
The all-enveloping bodywork and roof-mounted engine air intake means there is no rear window, negating the requirement for a rearview mirror.
Matt Hill, Aston Martin Creative Director of Interiors, said: "It's been a tremendous challenge to make the interior packaging work. We've embraced Red Bull Racing's Formula One ethos and approached from a different angle than conventional road car design.
"In this instance, we've started from a position where you think something is impossible and work at it until you find a way to make it work. We've been fighting for millimetres everywhere, but the battle has been worth it, as it's been fantastic seeing customers try the interior buck for size. They love the ritual of getting in and how it feels to be sat behind the wheel. They're also genuinely surprised at how the car just seems to swallow them. You really do have to sit in it to believe there is genuine space for two large adults."
While the essence of the original Valkyrie exterior design remains unchanged, Adrian Newey's pursuit of downforce and aerodynamic efficiency has driven many detail changes to the bodywork.
The Aston Martin Design Team has ensured these requirements have been faithfully incorporated into the current design.
Miles Nurnberger, Aston Martin Creative Director of Exterior Design, said around 95% of the Valkyrie's exterior design work had now been completed.
"The remaining areas of non-structural bodywork are still subject to evolution and change as Adrian [Newey] continues to explore way of finding more downforce," he said.
There is no word yet on when the vehicle will be ready for launch, nor on its eventual price tag.
Aston Martin is limiting production to 150.