Eurostar train makes final journey to Birmingham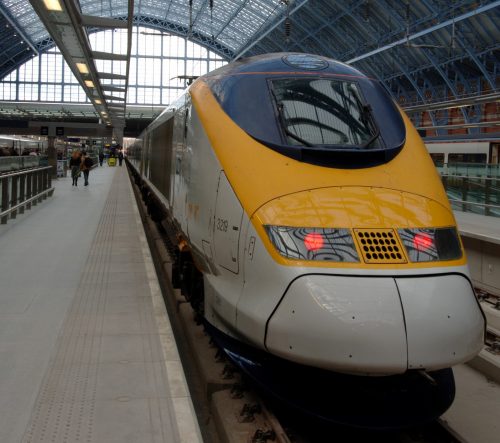 A former Eurostar train arrives in Birmingham today – but not by the conventional route.
Train manufacturer Alstom, in collaboration with Eurostar, has donated the original e300/ Class 373 – or Trans Manche Super Train power car – to the new National College for High Speed Rail.
The gift is intended to allow students studying at the college to get hands-on experience of a real train, an experience which could prove vital to their eventual careers – which could involve working on the latest generation of high speed trains ahead of the start of HS2.
A similar donation has been made to the college's sister campus in Doncaster.
The power cars are the instantly recognisable 'nose' and 'tail' of the train that ran between Paris, Brussels and London.
Prior to being retired from service, the trains have carried more than 160 million passengers travelling between London, Paris and Brussels.
Alstom has spent the months since their retirement refurbishing the vehicles so they are ready for use by the students.
The new college begins its first courses next month.
Students will receive the specialist training, skills and qualifications that will be required to build HS2 and future rail projects.
Jason Baldock, HS2 Director at Alstom, said: "HS2 will bring huge benefits to passengers, but even more crucial is the legacy of skills, apprenticeships and jobs it will create, all over the country. This is why Alstom and Eurostar are donating these two trains to the National College for High Speed Rail."
Clair Mowbray, Chief Executive at the National College for High Speed Rail, said: "This generous donation of two power cars allows us as a world-class college to offer our students the opportunity to develop real-life skills using industry-leading technology. Support like this is crucial for us to ensure that we can properly train and prepare the future workforce for the rail and infrastructure industries."