Leisure Quarter plans set to create hundreds of jobs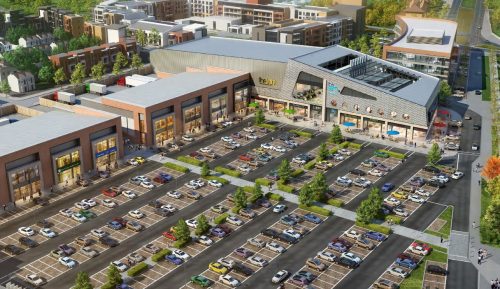 Plans for a massive new leisure scheme at the heart of Longbridge Town Centre – and the scores of new jobs it will create – have been welcomed by councillors.
The plans, submitted by developer St. Modwen, form phase three of its new town centre and include a two-storey nine-screen cinema – to be operated by The Light, a gymnasium – operated by The Gym – and half a dozen new restaurants.
St. Modwen said the intention was to create a 'leisure quarter' to help sustain the town centre concept.
Birmingham's planning committee backed the recommendation of their officers to approve the scheme.
Committee members said the 140 jobs pledged for the development would be a benefit to the local area.
The application site extends to a total area of 0.66 hectares and is bounded to the north by Austin Park, to the west by Austin Avenue, the project's Phase Four site and the roundabout that links the A38 Bristol Road from the M5 towards Birmingham City Centre with Lickey Road, to the south by the soon to be completed Extracare retirement complex and a site proposed for family housing.
To the east, there will be a new town centre surface car park, with the western half of the parade taken up by large format retail units and their associated service yard.
The proposals, submitted in July, attracted several comments during a public consultation, many questioning whether another cinema so close to an existing multiplex in Rubery was really justified.
Several members of the public said they would prefer to see further retail development in the area.
Many said they favoured the presence of retailers such as Next, New Look, River Island, Top Shop, H & M, Primark or Matalan, or large space occupiers such as IKEA, Debenhams and Homebase, and specialists such as Pets at Home and Body Shop.
However, St. Modwen said such a move might fall foul of planners because it could jeopardise the viability of existing town centres such as that of Northfield.
Responding to concerns about the cinema, St. Modwen said the operator was confident there was a local market for the total number of screens that would become available. It added the Longbridge scheme was also proposed to be of a higher quality in terms of comfort, audio and visual standards, as well as catering, than existing rival facilities.
St. Modwen said attracting a cinema to a centre such as Longbridge should be regarded as a significant coup.
Likewise, it said the health and fitness market – particularly in the 24-hour / value sector within which the proposed occupier operates – was growing rapidly, and is highly competitive.