Apartment plan submitted for site next to Mailbox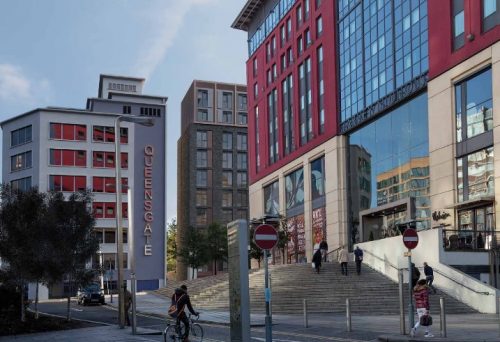 Developers have submitted amended plans for a new apartment building next to Birmingham's showpiece retail and leisure scheme, The Mailbox.
The application, submitted by Birmingham-based Prosperity Developments, would see a seven-storey block with an additional two storeys on top within a smaller footprint, built on a small site in Severn Street, sandwiched between Queensgate House and the Grade II listed Athol Masonic Building, known as The Masonic Hall.
The block would house 30 apartments, with a ground floor retail or office use.
The pre-application design process dates back to 2015 when the proposals were first suggested to the city council.
That scheme was for a higher building with more apartments. The amended plans have included a reduction in the building's height and the number of flats. The smaller two-story block at the top of the building has also been redesigned to give the annexe a more cohesive and unified appearance.
In terms of comparative heights, the top of the seven-storey element aligns with the main facade and cornice line on Queensgate House. The additional two storeys on top are no higher than Queensgate House, which is approximately two metres higher than the proposed scheme.
The proposed building would dwarf the Masonic Hall, with the difference in height being 18 metres.
The 0.071-acre site is currently occupied by a small car park and a building previously used as a photographic studio and office.
The land was set to be used for the £75m mixed-use scheme known as Queensgate. The development (see below) was approved by the city council in 2010 but never progressed.
Planning permission for the development, which was to feature a 25-storey hotel with a nine-story apart-hotel, has now lapsed.