Weekender: Developers reveal plans to convert old offices to new apartment scheme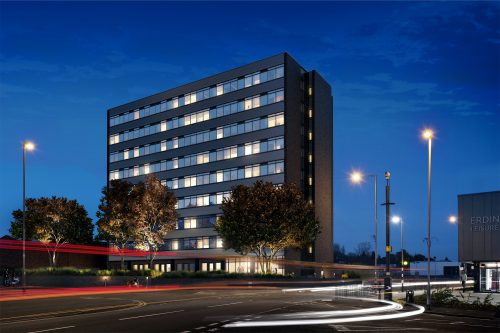 Developers have revealed how they plan to transform a block of former council offices in Birmingham into a new apartment scheme.
Birmingham-based developer SevenCapital is behind the scheme to convert the nine-storey former Honeywell House block in Erdington into 84 apartments.
The scheme went through on the nod at a Birmingham City Council meeting last month as the conversion is permitted under Government planning legislation which aims to reuse existing offices for residential use to ease the demand on new homes.
However, many councillors on the committee were critical of the scheme, claiming the apartments would be tiny and the conversion would make existing parking problems in the area even worse.
Nevertheless, SevenCapital said it was confident the undersupply of apartments within the city would have ripple effect, luring buyers into the suburbs.
The scheme, which will be called Nexus Point, is the first stage of a wider regeneration plan for the site which SevenCapital acquired in late 2017 following the collapse of a supermarket development.
Nexus Point will comprise 64 one bedroom apartments, with 16 two beds and five studios (see below).
Andy Foote, director at SevenCapital said: "The popularity of city centre apartment living in Birmingham has grown significantly over the past five years, and with a continued undersupply versus demand for housing in the city, this will start to cause a ripple effect into surrounding suburbs, such as Erdington.
"Nexus Point is our first planned step towards regenerating this area of the town since we bought the site from Sainsbury's last year and will offer all the luxury of a SevenCapital city apartment. Being just a 12-minute train commute from the centre of Birmingham means the development will be ideal for commuters who prefer to live away from the hustle and bustle of the city as well as those who desire a city centre style apartment with affordable pricing."
Nexus Point apartments ent on sale yesterday (Thursday). The conversion and fit-out is anticipated to complete at by the end of 2019.