Developer reveals plans for exclusive new Jewellery Quarter apartment scheme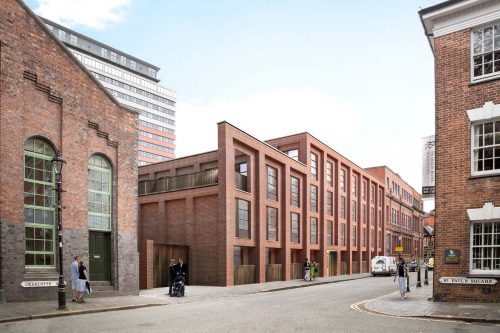 A property group behind some of Birmingham's most exclusive residential schemes has acquired a high-profile site in the city's Jewellery Quarter.
The site is a stone's throw away from Elevate Property Group's offices in St Paul's Square; occupying the car park behind the city's former Assay Office in Charlotte Street.
It has acquired the land from TCN, the creative workspace developer, which had in turn, acquired the site from the hallmarking body when it closed its offices in Newhall Street in 2014 ahead of a relocation to a new site in Icknield Street.
TCN has since refurbished the former office building into new workspace, which it has renamed Assay Studios.
The car park site, which Elevate has dubbed Assay Lofts, is one of the last remaining pockets of land in the Jewellery Quarter.
Assay Lofts will eventually comprise 32 units and upon completion, the new scheme is expected to have a gross development value (GDV) in excess of £8m, with the premium units expected to achieve values of up to £500 per sq ft.
The conceptual scheme, which has been designed by Glenn Howells Architects, comprises a mix of 18 one-bed and 14 two-bedroom apartments.
The scheme will be Elevate's fourth project in the Jewellery Quarter, and tenth in the city overall.
Richard Pearce, CEO of TCN, said: "I'm very pleased to see this final piece of the Assay project coming to fruition. It brings together the two elements of the scheme, Assay Studios and Assay Apartments, in what has been a four-year vision for the site."
Steve Dodd, managing director of Elevate Property Group, added: "Elevate is delighted with its latest acquisition. St Paul's Square is proven to be the best and most sought after residential address in the city."
He said work was likely to start in June with completion in summer 2019.
TCN was advised by Knight Frank's Birmingham office.
Will Jordan, of Knight Frank's Birmingham based Land team, said: "This is another exciting acquisition by Elevate Property Group. With the refurbishment TCN carried out on The Assay Office directly next door, we expect the two schemes to complement each other and further enhance this corner of the city.
"Being the last pocket of land overlooking St Paul's Square, which is one the most prestigious residential addresses in the city, we believe it will perform extremely successfully in this market."