Construction begins on latest phase of Paradise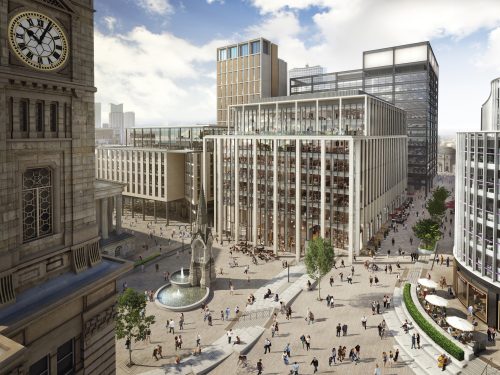 New construction work is set to start at Birmingham's Paradise development – more than a month after the collapse of Carillion.
However, the latest phase of work has nothing to do with the stalled development of the One Chamberlain Square scheme – the new headquarters building being constructed for PwC which has stalled since Carillion's liquidation on January 15.
The new phase of work will see constructor BAM begin work on the site's second major building, Two Chamberlain Square.
The striking 183,000 sq ft contemporary office building will join One Chamberlain Square in fronting the enhanced new public realm that will complete the first phase of the Paradise development.
Between them, the speculative buildings will eventually offer more than 350,000 sq ft of office and retail space, forming one of the city's most prestigious commercial addresses.
The building is due to be completed in late 2019.
BAM, which was appointed contractor last year, will oversee a team of more than 200 construction workers.
The early stages of the scheme will see the erection of two new tower cranes that will arrive on site in April to aid construction. The two basement levels have already been created as part of the site enabling works and therefore the building frame will soon start to take shape.
Designed by Birmingham-based Glenn Howells Architects, Two Chamberlain Square is an eight-storey building. Large open floorplates of approximately 24,000 sq ft make up the upper floors, complemented by 16,000 sq ft of retail space at ground level with access to both Chamberlain Square and Centenary Way. It will also feature a panoramic terrace on the sixth floor offering views across to the Grade II listed Museum & Art Gallery and Council House and the Grade I listed Town Hall.
Rob Groves, Regional Director of Argent, Development Managers for Paradise, said: "The start of work on Two Chamberlain Square, our second speculative office building, underlines the momentum gathering around Paradise and marks yet another milestone for the city's most vibrant, mixed use development.
"Two Chamberlain Square will be an exceptional building, leading the way in modern workplace design and performance. As it takes its place on the city's ever-changing skyline over the next year, it will deliver a prestigious commercial address at the civic heart of Birmingham."
Chris Taylor, Head of Private Markets at Hermes Investment Management, added: "Paradise continues to transform the centre of Birmingham with striking new buildings and enhanced public realm. BAM's start on delivering Two Chamberlain Square is a clear indication of our confidence in the region and our commitment to delivering this remarkable new development."
Argent has previously worked with BAM on several projects both in Birmingham and across the UK. BAM built seven of the eleven buildings at Brindleyplace, as well as buildings at King's Cross in London.