Developers unveil £100m city centre regeneration scheme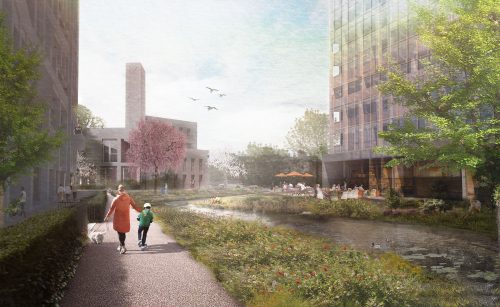 The vision for a £100m development that could regenerate a key part of Coventry city centre has been launched at the world's largest property development and investment show.
Complex Development Projects (CDP) – the company behind Fargo Village, Electric Wharf and the Telegraph 1950s retro hotel project – used the MIPIM property exhibition to unveil plans that could see more than 700 new homes built on land off Abbotts Lane.
The regeneration specialist bought the 5.5-acre site from National Grid a year ago and is working with Coventry City Council on ambitious proposals which are likely to be submitted for planning approval in the summer.
(See images below)
CDP is launching the proposals at MIPIM to seek UK and international investor partners to deliver the project.
The project is one of several major opportunities being promoted by the Coventry and Warwickshire MIPIM Partnership, which is made up of more than 20 companies and organisations representing the area at the four-day event in Cannes.
The development includes a central landscape feature which opens up the Radford Brook as a linear park. This could link directly under the city's ring road to the Belgrade Theatre and the central shopping area.
Ian Harrabin, of CDP – which has offices in Coventry and London – said the development would not only provide much-needed housing for Coventry residents, but would also expand the benefits of the city centre out to the surrounding community.
He said: "This is a very large site and provides an opportunity to develop a new district outside the collar of the ring road. Coventry city centre is really on the up but the ring road remains a barrier for local community access.
"Most other major city centres in the UK have seen a renaissance led by new urban communities which have revitalised shops and restaurants and brought in more offices.
"That is the next step for Coventry, where new housing developments for people who can walk to work will balance the recent surge of new student developments. The continued improvements by the council to the public realm along with the new swimming pool complex and retail regeneration are making the city centre a much more attractive place to live."
The former industrial site is currently derelict but is considered ideal for an environmentally sustainable development which cuts down on car use.
Cllr Jim O'Boyle, jobs and regeneration cabinet member on Coventry City Council, said: "This is the largest site that we have designated for housing close to the city centre and the council welcomes proposals to bring forward a high quality project.
"The city needs many more housing units and I'm also very interested in the wider community benefits of a linear park improving access to the city centre for local residents."