MIPIM investors urged to support performing arts college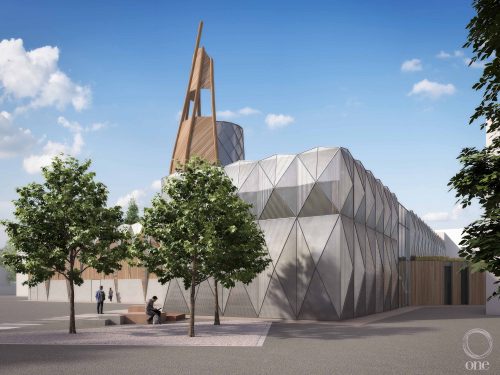 A Worcestershire academic facility promoting music and the performing arts has attracted significant private investment just weeks after securing planning consent.
The Christopher Whitehead Language College (CWLC) and Sixth Form in Worcester is set to provide students with a wealth of opportunities – some of them unique in a state school.
Worcester-based One Creative Environments, which has designed the new facility, revealed that £750,000 had already been secured from private means towards the £5m cost of the building.
The announcement was made at the MIPIM property conference in Cannes, where One is part of the Midlands delegation.
Investors attending the property exhibition are being targeted to help meet the funding shortfall, although a sponsorship package and promotional document are being developed, along with a tender pack to RIBA Stage 4, for distribution over the next few months.
It is hoped that once funding is secured then building work can start in 2019.
The design of the contemporary and innovative building (below), which is complete with a distinctive bell tower, was inspired by the movement of dance and how a dancer can be held effortlessly in the air.
Teaching will combine music, drama, dance and vocational studies, while it will be equipped with a radio station, booking office, hair salon and small kitchen and servery. Marketing of events will also provide opportunities for students to understand more about business promotion.
The addition of the bell tower, which is known as the Ballerina Tower, as an iconic entrance will enable the teaching of bell-ringing.
Stunning views will also be provided across Worcester from the viewing platform of the tower, which includes the historic Cathedral, with local overlooking avoided by the careful positioning of opaque screening glass.
Neil Morris, headteacher of Christopher Whitehead Language College and Sixth Form, said: "This entire performing arts centre will make an incredible difference to our students and the breadth of what we can offer through the curriculum."
Mark Martin, director of One Creative Environments – and the designer behind the building, said: "We are delighted with the response from the private sector. We are developing 'sponsorship' options, however, this investment has been secured even before the formal funding process has begun which is great news.
"As a company we have attended MIPIM, Cannes and its London counterpart, MIPIM UK, for many years and seen great success in securing investment for clients and work for our integrated building design company."
"This is another wonderful educational project for One to be involved in."