Nominations sought for Wolverhampton awards dinner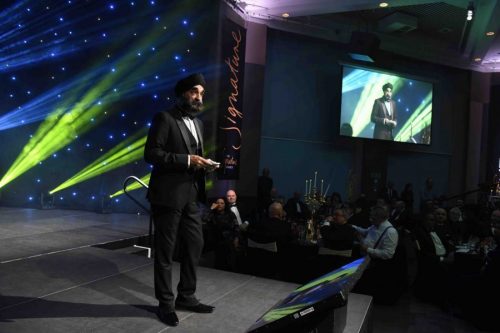 An awards dinner in Wolverhampton plans to shrug off the gloom around political events in London and celebrate the best in business in the region.
Nominations are open until May 12 for awards in a range of categories with the winners announced at a black-tie dinner event on June 28 at Wolverhampton racecourse.
Ninder Johal, who runs production company Nachural and is a board member of the Black Country LEP and West Midlands Growth Company, said: "This event will reflect on the positive news around the region, with Birmingham winning the Commonwealth Games, Coventry winning the City of Culture Bid and the Black Country confirming its position as one of the leading areas of inward investment and economic growth.
"This is in contrast to the outlook for global trade which has dampened because of the potential trade warfare between China and USA, with the EU also continuing to lag. In the UK the future is uncertain because as yet we do not understand the full implications of the ongoing Brexit negotiations and as to whether we are looking at an array of options which includes both a hard and soft Brexit.
"The UK and the region continues to show strong export performance against a backdrop of falling unemployment and rising wages against an environment of steady inflation. The region and the country are entering an interesting and uncertain period."
Award categories include Business Start up, Small Business of the Year, Entrepreneur of the year, Community Excellence, Regeneration, International Trade/Enterprise, Business Woman of the year, Customer Service business of the year, Diversity and Inclusion, Business Person of the Year and an award for promoting apprenticeship.
Johal added: "The awards seek to celebrate and highlight the ever increasing importance of the business community and its great contribution to the local, regional and national economy. The profile of the awards is increasing year on year.
"We feel it is important that the Black Country and the wider region continues to celebrate its achievements and in the current climate it is easy to forget the contributions of businesses in the area. From start ups to established employers in the area, the Black Country and the wider region has much to boast about.
"What has also been very interesting development in recent years, is the number of submissions from national players who are seeking to promote their business in the region."
Sponsors for the event include Vision Print, Wolverhampton University, Cobra Beer, East End Foods, Pathway Group, FBC Manby Bowdler Solicitors, Falcon Insurance, Baldwins Accountants, Oxbridge Home Learning, Capital Care Group, Guest Motors, Rational FX, Hollywood Monster and Mercedes Benz.
The nomination form can be downloaded from www.nachural.co.uk. For more information about the awards, contact Nachural on 0121 526 3141 or ninder.johal@nachural.co.uk.