West Midlands companies honoured in Queen's Awards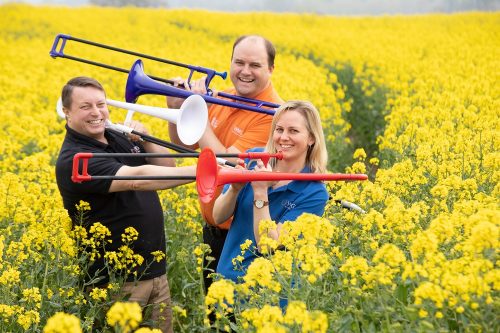 Seventeen West Midlands companies have been recognised in this year's Queen's Awards, with strong performances in the innovation and international trade categories.

Announced to mark Her Majesty The Queen's 93rd birthday, more than 6,000 British businesses have received a mention on the prestigious Queen's Award lists.

This year, three quarters of the total are SMEs, 30 of which have fewer than ten employees.

In the West Midlands, six companies were mentioned in the innovation category and 11 in the international trade sector.

Business Secretary Greg Clark said:"These awards recognise the innovative products and services being provided by British businesses that are in demand across the world, as well as the sheer determination and hard work that comes with starting and running a business.

"Many of these winners are small businesses – the backbone of our economy – and we are backing them to grow, increase their productivity and create more jobs and opportunity across the UK through our modern Industrial Strategy."

Those named in the 2019 awards are:

Innovation

Warwick Music. This company employs just eight people, but has "saved the trombone from extinction" through the development of a plastic trombone. They redesigned the inner workings of the trombone to enable it to sound like a traditional brass version. They have been so successful that they are branching out into other instruments.

Steven Greenall, chief executive of Warwick Music Group, said: "Our aim was simple – to create a quality instrument that made the joy of music accessible and fun, to help more people to enjoy making music together – and to be able to start at whatever age they might choose.

"We believe in the transformational power of music and that everyone should have the opportunity to make music. By thinking differently, we have made a real difference in the world; we are delighted that the passion, creativity and hard work of our small team has been recognised."

Prometheus Medical. Based in Herefordshire, this company supplies pre-hospital emergency medical equipment and training. With 38 employees, it is one of the 201 SMEs on this year's list. It has developed its own devices, including a pelvic splint which helps stabilise patients with pelvic injuries.

Semantics 21. Based in Staffordshire, this 3-person company has developed software for law enforcement, to enable them to investigate images, video and multimedia for child sexual abuse. It uses artificial intelligence and specially-developed algorithms to help with identification of perpetrators.

Spectra Group. Also based in Herefordshire, Spectra develops technology to enable military and emergency services to extend their communication range to thousands of miles through the use of satellites. The 35-person team developed an alternative to line-of-sight communications using a compact unit which can be used in any environment.

Synectics Solutions. Synectics develop products that prevent fraud in the online finance industry, including technology which can detect and identify new methods of fraud. 120 major financial services brands use Synectics' technology, and it's estimated that the Newcastle-under-Lyme company has helped to prevent £3bn in fraud. The Staffordshire Company has 354 staff.

Thorlux Lighting. Worcestershire-based Thorlux developed Smartscan, which is a wireless web-based lighting management system, helping to minimise energy consumption. It also allows testing and monitoring without the presence of an electrician. The company has a team of 566.

International Trade

Allett. Based in Hixon, Staffordshire, Allett designs and manufactures specialised mowers for sports and "high-end" lawns. In 2018 they moved to larger premises, after seeing overseas earnings grow by nearly 300% to £2.254m over a six-year period. They export to Russia, the US, France, Germany and Spain. This 39-person company has won the Queen's Award for International Trade for Outstanding Continuous Growth in overseas sales.

Aviation News. This Staffordshire-based company specialises in aviation finance and leasing. It owns and runs conferences and two global exhibitions, and has seen overseas sales rise from £403,000 to £2.3m. Established in 2010 and based in Trebt Vale, the company employs just eight people, but 88% of its business is international. Its top five markets are Ireland, USA China, Germany and France. It has recently entered new markets in the UAE and Israel.

C Brandauer & Co. Launched in 1862, this Birmingham-based company which started manufacturing pen nibs. It now produces high tolerance metal pressings and stampings for customers in the automotive, aerospace, electrical and medical sectors and has 57 employees. In 2014 it started to expand internationally, and won a major US contract and a five-year deal in Italy for a solderless connector. In the last five years it has expanded to eight new markets, increasing overseas sales by 43%.

Implementra Ltd (trading as Conversion Rate Experts) Conversion Rate Experts was awarded the Queen's Award for International Trade for Outstanding Short Term Growth in overseas sales over the last three years. In that period, the Rugeley-headquartered company has entered new markets in Israel, UAE, Sweden, Hong Kong, Cyprus, Holland, Belgium, Luxembourg, and Indonesia. Overseas sales have risen year on year by a total of 86% and overseas sales now account for 80% of total sales.

JMDA. John Martin Design Associates was established in Stourbridge in 1991. The company of 12 is now located in Pershore Worcestershire, and specialises in the design of child car safety seats and produces 90 different seats for companies across the world.

Leeson Polyurethanes. Based in Warwick, this company manufactures adhesives, binders and coatings. Launched in 1986, it has since expanded its range to include insulated panels, decorative coatings and waterproofing products. It now trades in 56 companies through a network of distributors. Its main markets are Turkey, Australia and Ukraine. They recently entered China and the US. Overseas sales have grown by 67% over a three year period, making up 24% of total sales.

Proto Labs. Based in Telford, Shropshire, Proto Labs was founded in 1999 and manufactures custom prototypes and on-demand production parts. It has three locations across Europe and 12 throughout the world. It was previously awarded both the International Trade and Innovation Awards in 2013. The company's exports have grown from £13m in 2015 to £27.7m in 2017.

REPL Group Worldwide. This Henley-in-Arden company employs 208 people. It specialises in consulting on technology organisation in workforce management and the supply chain for the retail industry. Overseas sales have grown from £1m to £10m in the last six years. Export now makes up 47% of total sales.

Cerys Johnson, CEO, REPL, said: "Winning the Queen's Award is one of the highest honours we could ever wish to have. It's great to have something that acknowledges those businesses that have been brave, bold and big on ambition and have been prepared to put in the extra mile in order to achieve something exceptional."

Seada Technology. Seada was formed in 2013 and employs just three people in Redditch. It provides video wall display technology. Their technology is used for digital signage and they are also branching out into conference solutions. Exports have grown by 246% in the last three years. Main markets include Italy, the Netherlands, Thailand, Indonesia and Russia. They have plans to expand into Vietnam, Hong Kong, South Africa and India.

The Helping Hand Company. Family-owned, founded in 1965 and based in Ledbury in Herefordshire, the company employs 163 people. It supplies support services for the environmental sectors, and has seen export revenues expand from nearly £139,000 to £1.1m over the last six years. It has worked on charitable partnerships such as Keep Northern Ireland Beautiful and the Marine Conservation Society. It has similar partnerships in Denmark, France, Ireland, and Australia.

The Lawnton Tube Co. Based in Coventry, this company started trading in 1918 and now has 100 staff. It manufactures copper tubing for a huge range of applications including heating and refrigeration. Its main markets are in the Middle East and Ireland. It has entered 16 new markets recently and overseas sales have grown by 93% in a three year period. It has won the Queen's Award for International Trade Outstanding Short Term Growth.