People: The Mailbox unveils new senior management team; Grant Thornton strengthens corporate tax team with director promotion; and more

The Mailbox has announced its newly appointed senior management team
Andy Jackson joins the Birmingham shopping, dining, lifestyle and office destination as estates director. Jackson brings over 22 years' experience in the retail sector to his new role at the Mailbox, having previously held positions in centre:mk in Milton Keynes and The Gracechurch Centre in Sutton Coldfield.
As facilities manager, Jason Wandless is responsible for the management of security, guest services, maintenance engineering, housekeeping, reception and waste management across the centre.
Mike Atherton has been hired as operations manager and is accountable for setting and maintaining operational performance across the estate.
The new recruits join David Pardoe, the head of marketing, retail and tenant engagement.
Jackson said: "We're delighted to announce the new executive management team. Our current leadership structure puts us in a great position to be able to respond to the dynamic and ever-changing world of retail thanks to the breadth of our backgrounds, and we're looking forward to working towards our aspiration of providing our occupiers and guests with the best experience possible."
The Mailbox is home to a number of exclusive fashion brands including Harvey Nichols' 45,000 sq ft flagship store, Tommy Hilfiger, Calvin Klein Underwear, BOSS, Emporio Armani, Paul Smith, and Gieves & Hawkes.
Elsewhere in the centre, guests can also expect to find Ribble Cycle's flagship showroom, The Wedding Club, Fine & Country, a three-screen boutique Everyman Cinema, Malmaison, AC Hotels and the Mailbox's canalside bars and restaurants.
Nash Bond, Avison Young and Shelley Sandzer are leasing agents for the Mailbox.
:::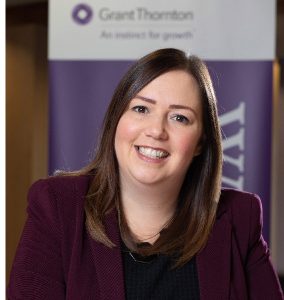 Business and finance adviser Grant Thornton in Birmingham has strengthened its senior corporate tax team with the promotion of Jess Fountain to director.
Fountain joined Grant Thornton in 2017 and advises growing organisations on a wide range of corporate tax including all aspects of compliance, international tax, structuring and the implications of buying and selling businesses, on which she leads the Birmingham corporate tax team.
David Hillan, practice leader and head of corporate tax at Grant Thornton in Birmingham, said: "Jess's promotion is very well deserved. She has a huge amount of experience in providing our ambitious clients with proactive, commercially sensible advice. Her newly-expanded role as a director will enable us to develop our corporate tax practice in the West Midlands even further.
"The world of tax is becoming increasingly more complex and is therefore increasingly significant for business owners and directors. Jess is highly proficient in working closely with clients to solve their tax issues, using specialist skills in helping those with existing overseas operations or who are looking to expand overseas for the first time."
Fountain added: "For every growing business making sure they are compliant with all aspects of corporate tax before they take the next steps is critical, but equally important is to take advantage of the full range of tax reliefs available to them. R&D tax relief is a classic example; many businesses believe it doesn't apply to them, which means they could be missing out on valuable cash savings that could benefit the business."
:::
A lawyer who initially trained at Thursfields 15 years ago has been attracted back to a senior position at the company's Kidderminster office.
Lorna Tipple studied law at Lancaster University, the University of Birmingham and the College of Law before starting her training contract at Thursfields.
She went on to work at Higgs & Sons, Harrison Clark Rickerbys, Irwin Mitchell and also ran her own firm, Horizon Family Law, before joining niche family lawyers Benussi & Co in 2017.
Tipple has returned to Thursfields as an associate director in the family law department.
Shane Miller, director of the family law department at Thursfields, said: "We're thrilled to have attracted Lorna back to the company.
"She is a top family lawyer with a wide and varied experience including running her own law firm, and she will help strengthen our Family Law services from the Kidderminster office."