Staffordshire chocolatier to expand following six-figure investment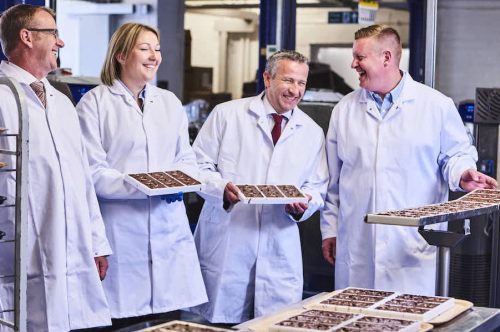 Family-run chocolatier Daniel's Delights is set to expand its Stoke-on-Trent premises thanks to a £440,000 investment from Lloyds Bank Commercial Banking.
The investment will allow the business to buy its existing four-storey premises, the former Royal Doulton works in Fenton, along with the property next door to allow space to expand its team of 22.
Launched by Ken and Jen Harrison at their kitchen table 12 years ago, Daniel's Delights, named for their son, has doubled its turnover to almost £2m in the past two years by developing new products and is aiming for sales of £5m within the next four years.
As well as developing its product line to include a Colombian chocolate range, the company has secured a string of supply deals with large retailers, and its partnerships include several supermarkets as well as Mr Simms Olde Sweet Shoppe.
Ken Harrison, chief executive officer at Daniel's Delights said this was an ambitious expansion period for the company and the team at Lloyds Bank understood their entrepreneurial thinking.
"At the core of our business is a passion for creating luxurious but affordable chocolate that is a bit different from the offerings of the biggest players in the market," she said.
The couple started making their first products in their home but now have a large, modern production facility.
"We're taking a very strategic approach to achieving our aims for the years ahead, and that means being able to invest in the systems, infrastructure and processes that will support that growth."
The funding, which forms part of Lloyds Bank's commitment to lend £1.3bn to businesses in the North West during 2019, will support the firm's plans to achieve sales of £5m within the next four years.
Neil Smith, relationship manager at Lloyds Bank Commercial Banking, said: "Daniel's Delights is a fantastic success story, growing in just 12 years from a husband-and-wife operation to a business that employs a growing team and contributes significantly to the local economy.
"We're proud to be playing a part in the company's ongoing expansion and supporting Ken and Jen in their ambitions to maintain the rapid growth they've achieved so far."