Creative studio expands with PR division and staff from collapsed agency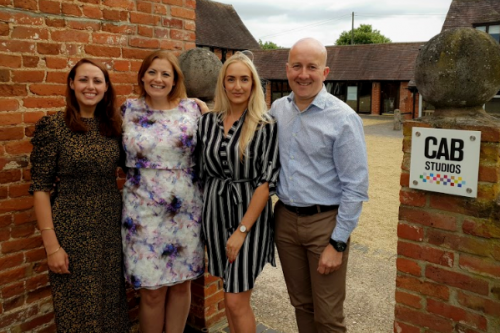 CAB Studios, a creative, digital and marketing agency based in Alcester has teamed up with four PR professionals from recently collapsed firm Superdream.
The move sees the company, which also has offices in London, launch a new division, CAB PR, to offer an additional service and a fully integrated marketing approach to both existing and future clients.
CAB PR is to be led by Laura Quigley as Managing Partner alongside PR Account Director, Jon Perks and Senior PR Account Managers, Allyson Loots and Olivia Gould.
All four were left shocked on Friday 5 July when they turned up for work at the Superdream offices in Bromsgrove only to be told to collect their belongings and leave.
They were subsequently told by mail that weekend, along with 19 other staff, that their contracts of employment had ended and found out on the Monday that the company had gone into administration, which was reported first on TheBusinessDesk.com.
Since then Superdream founder, Jason Manning, has not been contactable and staff have had to file claims with HMRC to recover monies owed.
"We thrived as a team at Superdream, so it was only natural to continue working together and build on our extensive PR knowledge and experience," said Quigley.
"We are really excited to begin our new venture at CAB Studios and to offer a new dimension to both CAB's current and future clients.
"PR and content are integral parts of any campaign, and we will be working closely with the wider team at CAB to collaborate and maximise every possibility."
CAB Studios is based in Longbarn Village, a key Midlands creative hub that includes brand creatives, strategists and technologists offering a variety of planning, tech and marketing services over many sectors.
Al Allaway, Co-Founder and Group Partner at CAB Studios, said: "This is a fantastic opportunity for CAB Studios to extend our offering to clients and completely fits with our unique Group approach to building specialist studios in environments that allow talent to maximise its full potential and realise their true value."