Digital services firm pledges to make 100 hires in Birmingham in the next year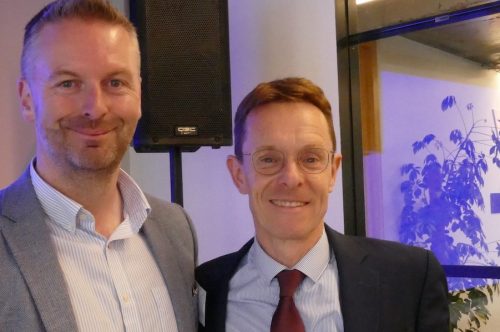 Leading provider of digital services and platforms, Kainos has said it plans to appoint a further 100 employees in Birmingham within the next financial year.
In the past year, Kainos has hired 479 people globally, including 80 in Birmingham, where it has as its base in Alpha Tower.
Kainos's said its expansion is well aligned with West Midlands Mayor Andy Street's economic strategy, which includes an ambitious target to create 29,000 digital and creative jobs by 2030.
Since opening offices in the Midlands, with two staff in December 2017, the company has grown from six desks in the city-centre office block to one-and-a-half floors.
While in Birmingham it has created major new deals with five government bodies –Department for Environment, Food and Rural Affairs (Defra), HMRC, HM Land Regulation, HM Courts and Tribunal Service and the DVSA – as well as the West Midlands Combined Authority.
As well as making these government departments and agencies more digitally user friendly, Kainos has also been able to save them money. This has included moving DVSA off the main frame and on to the cloud, as well as other improvements to its systems, resulting in a £100m saving.
The work that was carried out in Birmingham and Crewe for Defra was for its European Exit Programme to create a fresh import system around areas such as chemical movements.
"We delivered a hard programme for Defra and they were prepared for exit on 29 March and the Brexit extension has given use more time work on solutions with them," said Russell Sloan, Digital Services Director.
Kainos, which was set up through a Queen's University of Belfast business incubation hub in 1986, delivers digital services and platforms to government, healthcare and the private sector. As well as its headquarters in Belfast it has a offices around the UK, a European hub in Gdansk, established in 2008, and Birmingham is shaping up to be its first UK mainland hub.
"For us having a mainland UK hub was a really important step and out of the 100 staff we intend to recruit in the next year one fifth will be drawn from our graduate scheme from local universities," said Sloan.
These graduates will have studied computer science, software engineering and design to allow them to work with the senior team at Kainos on projects that will develop digital transformation and a better user experience.
A number of the students hired were identified through the Kainos Academy – a training and recruitment programme offering a range of courses and work placement opportunities, which has helped more than 5,000 people since its launch.
"This gives us the talent to offer the same digital experiences on government services as you would expect on say Facebook or Google, so it's about putting the user at the heart of the digital experience."
Earlier this month Kainos's chief executive, Brendan Mooney announced an £8m investment in a new research and development project to help build the company's reputation in global software solutions and was keen that Birmingham takes a central role in its future.
"Mayor Andy Street's plan embodies the kind of forward-thinking that we need from public leaders to ensure all cities in the UK – not just London – can compete, by making sure the needs of the digital sector are considered, and delivering the infrastructure that can help business succeed, so you can imagine our delight that he is able to host our event," he said.
"Birmingham is buzzing, a real hotbed of talent and we are excited to be growing the team here. We see a huge opportunity in the region to grow our client base too.
"Over the coming years we want to build on the success of our regular AI Camp and CodeCamp events to develop even stronger relationships with leading universities, local schools, government departments and other businesses – to ensure we are all doing as much as we can to educate children about potential careers in IT and retain talent in Birmingham."