Cosy Club announces Brindleyplace opening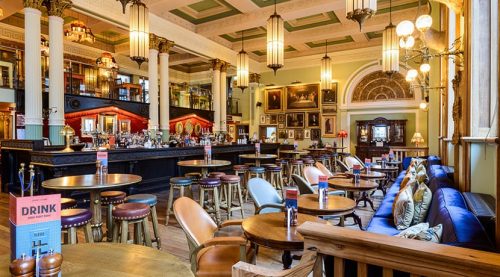 The Cosy Club has announced it is to open a venue in Brindleyplace Birmingham.
The restaurant, the second Cosy Club to open in Birmingham, will open on Tuesday 24 March, creating 40 jobs.
Cosy Club, a bar and restaurant chain owned by Loungers, will be located in the heart of the Canalside development, taking over the 6,000 sq ft first floor space previously occupied by The Smoke Haus which closed in January 2019.
The opening follows the launch of its first Birmingham venue on Bennetts Hill which opened in 2015.
Amber Wood, managing director for Cosy Club, said: "At Cosy Club, we give everyone a rather fabulous experience. There's a real sense of theatre with a heavy dash of nostalgia – it's like being at a terribly good house party, in a mansion, owned by a somewhat eccentric relative.
"The opulence of our surroundings and jolly atmosphere are topped off with our excellent food and drinks. The charming personalities of our teams and top-notch service are what makes the experience tremendously special."
Stacey Muir, marketing and events executive at Brindleyplace, added: "We are delighted to welcome Cosy Club to Brindleyplace and further expand our great range of bars and restaurants. This is great recognition that we remain Birmingham's favourite place to meet friends, socialise and enjoy. There is always something new to discover at Brindleyplace and we look forward to experiencing Cosy Club's exciting and unique new venue."
Once open, Cosy Club Brindleyplace will be donating funds from the sale of each coffee and burger sold to charity organisation, Independent Age. The charity provides free information and advice for older people and their families on care and support, money and health and mobility, along with friendship services to relieve loneliness.