People: Law firm appoints new head of growing corporate team; Penningtons Manches Cooper spearheads growth with four hires
A Midlands law firm has appointed a new head of its corporate department.
mfg Solicitors, which has offices in Worcestershire, Shropshire and Birmingham has appointed partner and corporate law specialist Clare Lang as head of department.
Lang, who joined the 31-partner law firm in 2018, will now lead the team which specialises in mergers and acquisitions, business disposals, management buy outs, reorganisations, and a series of business-related commercial and finance matters.
She will work alongside corporate and commercial partners, Stephen Wyer and James Hayes.
Maynard Burton, partner and chairman of mfg Solicitors, said: "When Clare joined us two years ago I said how she was a first-rate and hugely admired corporate and commercial law specialist. During that time she has added significantly to our Corporate offering and has been a key driving force behind the department's growth, both regionally and nationally.
"Now as head of department she will play a key role in developing the department further."
Lang added: "I'm thrilled to be appointed as head of department following two years of really impressive growth in the team.
"I am ambitious to continue to grow and develop our corporate offering and client base further. Despite these difficult times, we are continuing to make deals for our clients and completed five major transactions in the first half of June alone.
"I anticipate a variety of restructuring work in the next few months as businesses impacted by the Covid-19 crisis make changes to their corporate structures. Commercial contract work is also buoyant and our clients in the health and medical, food and distribution sectors are performing well within new markets created by the current situation.
"I am very positive about the potential for further growth and excited to be leading the team going forward."
:::
The Birmingham office of law firm Penningtons Manches Cooper, which was established by real estate partner Joel Kordan last year, has recruited four specialist lawyers to spearhead the growth of its housing corporate and governance practice nationally who will all be based in the city.
Gemma Bell, Rose Klemperer, Ellen Damlica and Sharon Thandi join from local firm Anthony Collins.
Their arrival is a notable step forward for the Birmingham office, the firm's first location outside of its traditional stronghold in the South East.
Kordan said: "Following a highly encouraging first 12 months in which we've won some significant mandates across the private and public sectors and expanded our team in various disciplines, I'm absolutely delighted to be welcoming Gemma and her team to help us drive forward our growth strategy in the Midlands and beyond. Their particular skills and experience will complement our wider real estate, public sector and corporate governance services and they also bring specialist expertise in areas such as charities and not for profit organisations."
He added: "I'm especially pleased that, despite the pandemic and its related challenges, we were able to push forward with bringing them all on board. The team is highly rated in the housing sector both locally and nationally, with a client-centric approach that reflects our own. I am very much looking forward to working closely with them to build further momentum in the market."
Partner Gemma Bell said: "We're thrilled to be joining Penningtons Manches Cooper and to being part of the Birmingham and social housing teams. We've worked really hard over the years to build a specialist practice that our clients really value and trust and having direct access to the skills and experience of the wider group here means we can offer them even more. Social housing is a vibrant sector that doesn't stand still and which has a strong reputation for innovation; coming together expands our capability to grow with our clients, ensure their needs are anticipated and the best solutions are delivered."
:::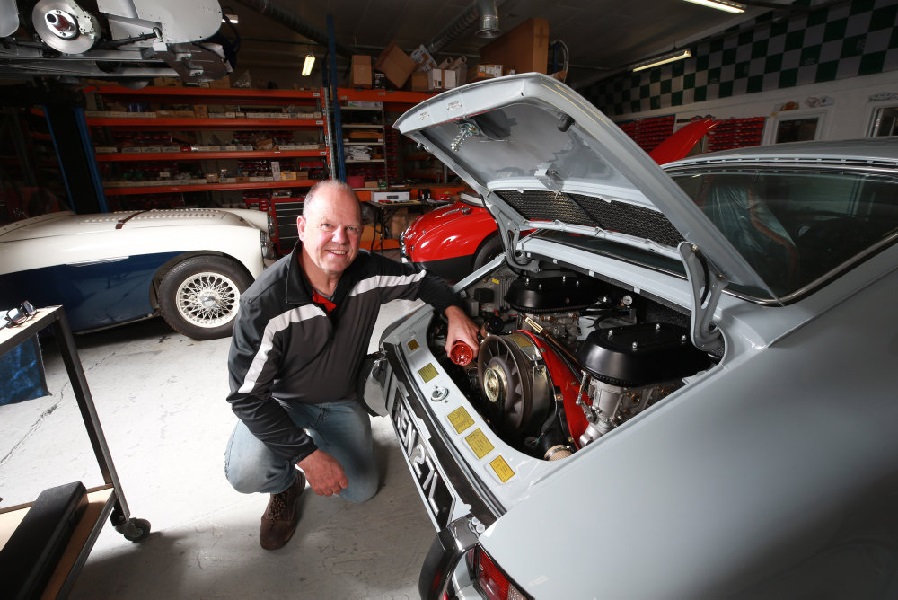 Redditch-based classic car restoration specialist Cape International has hired Porsche specialist Andy Tatlow in a move designed to broaden its offering in the service and maintenance of classic cars.
He joins the business, which belongs to Liberty Engineering Group, as Porsche technician and will provide the business with valuable expertise as it looks to increase its focus on service and maintenance in addition to restoration.
Tatlow in well know in the West Midlands automotive business community and has experience of working on Porsche models after owning his own specialist Porsche business called FlatSix in Singapore.
Cape international was founded by managing director Steve Norton in 1993 initially as an Austin Healey restoration specialist and over the years has branched out to restoration of classic Porsche models.
Norton said: "I'm delighted to welcome someone as experienced in Porsche as Andy to Cape. His knowledge and expertise will help us improve and expand our offering, providing additional capacity that will hopefully lead to further expansion of the business in due course."
Cape International was acquired by GFG Alliance's Liberty Engineering Group in 2018 to complement the group's specialism in automotive parts and accessories including its leading brake specialist business and systems manufacturer Shiftec (Leamington).