Chancellor reveals new jobs support scheme and cashflow support for businesses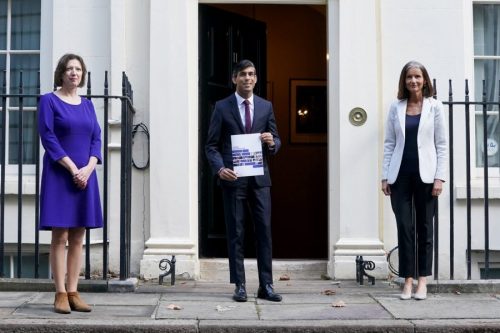 Chancellor Rishi Sunak has revealed his plans to support businesses and jobs through the winter.
He revealed a new jobs support scheme and the relaxation of some tax and loan repayments for businesses.
Sunak, who only became Chancellor in February, acknowledged he "cannot save every business, cannot save every job" but said he wanted to deal with the problems businesses are facing now.
He said: "Our task is to move to the next stage of our economic plan, by nurturing the recovery by protecting jobs through the difficult winter months.
"The primary goal of our economic policy remains unchanged – to support people's jobs. But the way we achieved that must evolve".
The jobs support scheme "will support viable jobs", the Chancellor said, and is being brought in as a follow-up to the furlough scheme which ends next month.
However he said it is "fundamentally wrong" to keep people in jobs that only exist because of the furlough scheme.
The jobs support scheme will require employees to work at least one-third of their hours and to be paid as normal, and the Government and employers will cover the remaining two-thirds.
The scheme can be accessed by all SMEs and by larger businesses that have seen their turnover fall during the Covid-19 crisis, even if they haven't previously used the furlough scheme.
The Chancellor is also extending the self-employed grant "on similar terms and conditions" to the new jobs support scheme.
There were also measures announced to help businesses with cashflow.
Tax bills which had been deferred to March 2021 will no longer need to be paid in full by the end of the financial year, but can now be spread over 11 smaller repayments.
There was also targeted support for the hospitality and tourism sectors. The lower 5% VAT rate will now be extended from January 13 to March 31, 2021.
Bounceback loan repayment periods will be extended from six to 10 years, with repayment holidays available. The Government guarantee for CBILS loans will also be extended to 10 years, giving lenders flexibility.
He also revealed there are plans for a successor loan programme that is set to begin in January.
Gregory Taylor, head of financial solutions at MHA MacIntyre Hudson, says the Chancellor has failed to address the fact that lending is still too restrictive: "The Chancellor's largesse is fine as it stands but still fails to address the long-standing flaw with the Covid-19 loan schemes. Of the four Covid-19 loan schemes (CBILS, CLBILS, BBLS, & The Future Fund) only the Bounce Back scheme (BBLS) is particularly effective at getting help to where it is needed. For the other schemes lending practices are too restrictive, and even good companies with solid growth prospects can't get a look in.
"Across all schemes the overall approval rate is 63%, but this number is skewed by the Bounce Back scheme, which is running at an 82% approval rate. The Bounce Back scheme however only provides loans of up to £50,000 and the more substantial CBILS scheme, which larger SMEs desperately need access to, has a much lower approval rate of 49%.
"One of the best moves government could make to increase approval rates would be to allow banks to make loans at four times a company's EBITDA. This is the tolerance non-bank lenders employ, and would allow many more businesses to benefit. Banks are currently only making loans up to a value of 1.7 times EBITDA, so many businesses are missing out on the support they need.
"The Chancellor's new plan also poses a few questions businesses may be wondering about. Businesses can apply for a six-month freeze on loan repayments but who gets to decide whether this is allowed, the lender or the British Business Bank? Finally, although the Chancellor has permitted businesses to extend the period over which a loan can be repaid to 10 years, we need clarity as to whether this applies to existing loans or just to those taken out after this announcement."