Buying or selling a business during a pandemic – all you need to know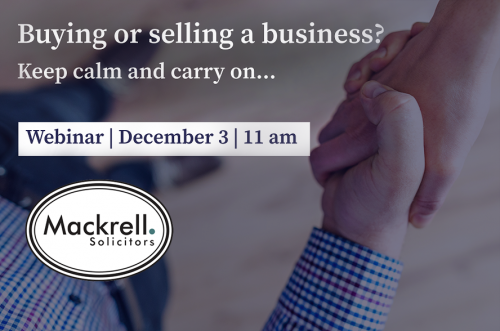 The Covid-19 pandemic has caused untold disruption to every aspect of business life – but what should business owners do now if they were just about to start the process of selling – or buying – a business?
This webinar, at 11am on Thursday 3 December will gather experts from across the deal market to discuss how those looking to divest or acquire can keep their plans on track amid the economic turmoil and how, in reality, there is no better time than now to get a deal across the line.
Our panel will map a plan towards deal completion, using progress markers along the way, as well as offering expert advice on how to prepare your business for sale, how to make sure your due diligence is second-to-none if you're acquiring – and if you choose to dispense with due diligence how you can still protect the capital you've deployed.
We'll also hear from business owners who have recently been through the deal process and find out what it takes to complete a successful deal and what steps they've taken around wealth management, post-deal.
Our panel includes:
• Guvvy Sandhu, corporate lawyer, Mackrell Solicitors
• Mark Sapsford, founder, Cap Equity Advisors
• Jeremy Gardner, director and founder, JGA Group
…with more to be announced