Hidden river set to be centrepiece of huge Birmingham redevelopment plans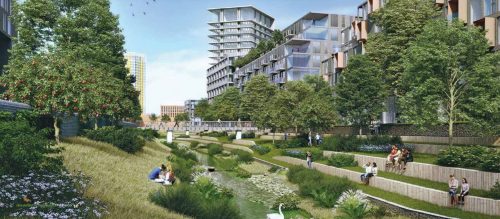 New proposals for the next phase of the 'Big City Plan' in Birmingham have revealed details to bring forward 5,000 new homes, a green corridor and a river running through the city centre for the first time in over a century.
The new plans will see the area around China Town and Digbeth completely transformed into five separate neighbourhoods – together the Rea Valley Urban Quarter
The River Rea has been hidden from public view and is described in newly-published Supplementary Planning Document as "arguably one of Birmingham's biggest secrets." The river has been confined to a modest brick lined channel, far below street level.
As well as residential development, the new vision for the area set out scope for healthcare and education facilities as well as local amenities and employment opportunities.
A new document features a foreword by city council leader Ian Ward, which says: "Central to the area's future success will be the delivery of high quality infrastructure including a network of high quality public realm, green spaces and pedestrian routes. The centrepiece of this network will be a reimagined River Rea. Running through the heart of the area, the River Rea will be transformed into a green corridor with an environment which is adaptable, resilient and ecologically rich. Together with a rejuvenated Highgate Park, these two spaces will play a key role in supporting health and well-being benefits for local communities and achieving our overall aim for improved green infrastructure in the city centre."
The city council is yet to commit to any timescale for the proposed development.