'Look after your clients, your staff and your suppliers as well as you look after your own business'
X

Register for free to receive latest news stories direct to your inbox
Register

James Ackrill is the chairman of Centrick, the Midlands-based property group established in 2005 as a block management operation.  Its team now delivers a friendly, efficient and professional service for all aspects of residential property; from sales and lettings, through to commercial property and block management.
---
We constantly have to innovate – that's best part of my job. I work with the amazing Centrick team to provide our customers with the best service possible in the industry. We operate across a broad spectrum of services – both commercial and residential property – meaning we constantly have to innovate to exceed expectations. It certainly keeps it interesting!
Our chance to shine. In a difficult financial environment, people are always looking for value for money and with our experience that is something we can deliver. It will undoubtedly be tough; however, I'm confident that it won't impact our growth and will allow us to shine in the market.
In the residential property market, fire safety is even more paramount right now. With legislation changes and new requirements set to be cemented in the new year, we've been doing all we can to keep ahead of the curve. We invested heavily over a year ago and now we have the tools and expertise to allow our customers access to government funding and the best possible advice in the market.
You can never rest on your laurels. Like I said, fire safety has had a huge effect in the wake of Grenfell. The Tenant Fees Act that came into effect in June 2019 also rearranged the entire model of our lettings businesses, both across the Midlands and nationally. Finally, we can't ignore the impact of Covid-19, of course. It has had unprecedented effects on every business and industry. However, with each of these challenges, it has inspired us to innovate and evolve, which keeps the business sharp and successful.
"Work Hard, Play Hard" has been a core mantra for the team. We throw ourselves into every aspect of our business with 110% effort; in doing so, we believe that hard work should pay off and the team should be rewarded as such.
Plug the gaps with the best you can get. Understand what you're good at, and what you're not, then surround yourself with brilliant people to plug those skills gaps. Once you've found them, the next step is to work hard to build a team that pulls together as one.
My Dad was an inspiration – in more ways that one. My late father, Rod Ackrill, who was former chairman of Birmingham Chamber of Commerce, a leading figure in the Midlands' property sector (not to mention, in a former career, the first person to introduce the crab stick to Britain!). He taught me that business means everyone makes money; so look after your clients, your staff and your suppliers as well as you look after your own business.
---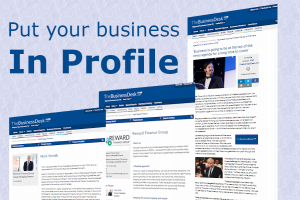 Appear in your own In Profile feature by signing up for a Business Profile on TheBusinessDesk.com.
The company and individual profiles on TheBusinessDesk.com are designed to help our clients build corporate and individual awareness within the regional business community and benefit from TheBusinessDesk's traffic and visibility in the business community and the search engines.