Prime Minister plots roadmap out of lockdown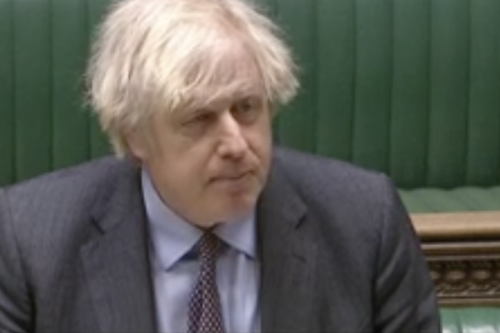 Prime Minister Boris Johnson has outlined his "roadmap" to the great unlocking of the UK economy.
Speaking in the House of Commons, the PM stated that there was "no credible route to a zero Covid Britain" and as such "we cannot persist indefinitely with restrictions that debilitate our economy, our physical and mental well being, and the life chances of our children.
According to the "cautious" plan, schools in England will reopen on 8 March and people will be allowed to meet one other person from outside their household for outdoor recreation. This will be followed by further relaxations from 29 March including two households or up to six people being allowed to meet outside and the end of people being legally required to stay at home.
The unlocking of lockdown will happen in phases and be dependent on four conditions including the continued successful deployment of the vaccine, evidence the vaccine programme is reducing deaths and hospitalisations, no risk of infection rates surging and that any new variants do not change the risk level.
According to Johnson's latest parliamentary address which will be followed by a news conference at 7pm, schools will open, with outdoor after school sports and activities allowed from 8 March. On 29 March outdoor gatherings will be allowed between two households and organised adult and children's sport will be allowed.
Johnson outlined that there will be at least five weeks between each step and that in step two which will be no earlier than the 12 April, non essential retail as well as leisure facilities and gyms, holiday lets all reopening. Pubs and restaurants will also reopen for outside dining with no curfews, as will zoos, theme parks, libraries and community centres.
The third step is currently scheduled for 17 May, which will enable the lifting on outdoor meeting restrictions – subject to a limit of 30 people. In addition you will be able to meet friends and family indoors (subject to the rule of six) and pubs and restaurants will start to serve indoors. At this point hotels, cinemas and venues such as theatres and stadiums will also open.
The final stage of the unlocking will happen no earlier than 21 June, at which point the Government will look to "remove all legal limits on social contact".
The Prime Minister added that "our journey to normality will be subject to resolving a number of key questions" via four reviews:
Will look at how long we need to maintain social distancing and facemasks
The resumption of international travel – with a report due by 12 April
Consideration of Covid status certificates to support venues opening safely but mindful of concerns around exclusion, discrimination and privacy
Look at major events
The Prime Minister added that throughout the unlocking the country will benefit from the combined protection of the vaccine programme and continued expansion of rapid testing
Johnson also explained that the Government would not "pull the rug out" from under businesses that are utilising its support schemes "for the duration of the pandemic". Promising to protect job and livelihoods across the country and that the Chancellor will set out further details in next Wednesday's Budget.
Despite this there was no ruling out reimposing local and regional restrictions, but a hope from the Prime Minister that these measures to unlock lockdown become "irreversible".
He ended by saying: "A wretched year will give way to a spring and a summer that will be very different and incomparably better than the picture we see around us today!"
Responding,  Richard Butler, CBI West Midlands director, said: "The Prime Minister's roadmap offers hope that the country can get back to business in the coming months.
"The roadmap is a good starting point to the hard yards ahead and caution is rightly the watchword. Businesses in the West Midlands back the step-by-step approach to re-opening and an end to damaging stop-start restrictions. And getting children back into the classroom first is as much a priority for business as it is for families across the country.
"We now need to turn this roadmap into genuine economic momentum. The Budget is the second half of this announcement – extending business support in parallel to restrictions will give firms a bridge to the other side. This is particularly needed for sectors who will have to wait for up to three months to re-open and have an anxious 10 days ahead before the Budget."
Meanwhile, Warwickshire County Cricket Club chief executive Stuart Cain, said: "This announcement gives much welcomed clarity on the way forward, both for cricket and Edgbaston's conference business."
"It means that limited crowds can start enjoying cricket from May with a full return in June."
"However, if people can shop at the Bullring and Alton Towers can accommodate thrill-seekers from April 12, why could we not stage spectator pilots at our LV= Insurance County Championship matches at Edgbaston at the same time? This would help the wider professional sports industry to be equipped for welcoming more spectators in the following months.
"In early to mid-June we could then work with Government to host increased capacity pilots at the LV= Insurance men's Test matches between England and New Zealand, at Lord's and Edgbaston, ahead of a full return a few weeks later. It is a big leap to go from 25 per cent to 100 per cent capacity, without pilots in between, to make sure that sport is operationally ready for large crowds.
"Cricket is an open-air sport, and we have the technology, space and operational experience at Edgbaston to deliver a socially distanced experience. So why not get the venues match-fit before letting large scale crowds back?"