Automotive component company picks up Queen's Award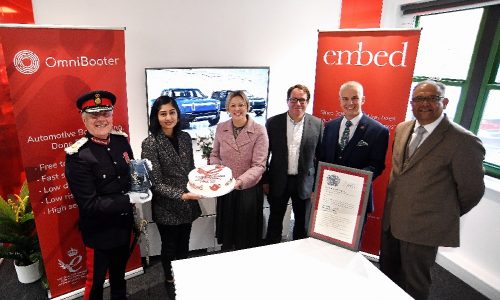 A high-tech Coventry company has been presented with its Queen's Award for Enterprise in International Trade.
Lord Lieutenant of the West Midlands John Crabtree presented the accolade to Embed at its offices at the University of Warwick Science Park.
The company designs original electronic components and software for a variety of automotive manufacturers – including the likes of Jaguar, Gordon Murray Automotive, and McLaren – and, more recently, for companies in the electric vehicle market such as Volta Trucks and Rivian, which is backed by Ford and Amazon.
Exports make up 66% of the company's overall turnover.
Embed designs products known as 'embedded systems' to control a range of vehicle functions, from improving the interface of a console in a family car through to the development of 'self-driving' autonomous vehicles.
It currently employs 35 people at its site in Viscount Centre.
The company has been supported in its growth by the Science Park from the outset when it was founded after the collapse of MG Rover.
It has also been assisted by the CWLEP Growth Hub, which helped Embed access funding for a recent office extension and has also provided support with skills and recruitment.
And its overseas trade growth has been backed by the Department of International Trade team at the Coventry and Warwickshire Chamber of Commerce.
Co-owner Ivan Wilson said: "We are proud and honoured to be handed the Queen's Award for Enterprise. It's been a real team effort and reflects the hard work of everyone in the business.
"We have exciting plans to grow even further and will need more people to do that, which is positive news for the local economy.
"We are also very grateful for the support we've had from the CWLEP and the Growth Hub, the Chamber and the Science Park, where we've been based since we started."
Sarah Windrum, chair of CWLEP, said: "Embed is a great example of our globally innovative businesses who are proud to call Coventry and Warwickshire home and whose products are in vehicles all over the world.
"I'm thrilled that they've received well-deserved recognition with the Queen's Award and that the team at the Growth Hub has been able to support the company's growth."
Ajay Desai, international trade director at the Chamber, said: "Overseas trade is crucial to the economy of Coventry and Warwickshire and Embed has shown what can be achieved. They are very deserving winners."