Host of businesses fly flag for West Midlands in 2022 Queen's Awards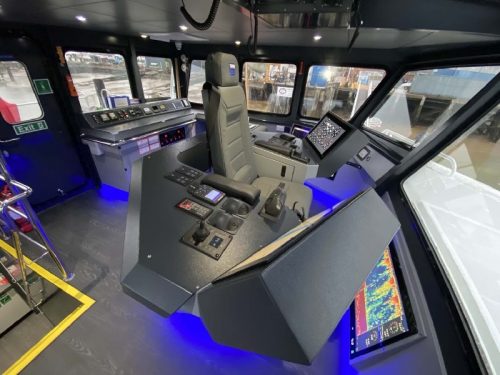 A string of West Midlands businesses are celebrating after winning a 2022 Queen's Award for Enterprise.
The region boasted 14 winners in the International Trade category while seven companies picked up a Queen's Award for Innovation.
There were also two winners in the sustainable development section as well as the promoting opportunity category.
Small Business Minister Paul Scully said: "This country is renowned for its entrepreneurial achievements and there is no greater showcase for it than The Queen's Awards. It's vital we celebrate the success of our businesses and recognise the contributions they make to communities across the country.
"I congratulate this year's winners for their hard work and commitment over the last year and I wish them every success for the future."
Applications for the 2023 Queen's Awards for Enterprise will open on 1 May.
The full list of winners from the West Midlands:
Innovation
I2r Packaging – Telford, Shropshire
i2r Packaging Solutions was founded in 2007 and received a 2020 Queen's Award for International Trade. The company manufactures a comprehensive range of aluminium foil wrinklewall and smoothwall containers used throughout the food industry. Working with the University of Wolverhampton, the company has developed and patented a novel design of aluminium food tray named i2r Ultra. The unique design includes an embossed hexagonal pattern in the base and additional structural features in the walls and sealing flange. The result is a food tray which is stronger, lighter and uses less material than a standard tray, making it a more environmentally friendly choice. Independent external testing demonstrated the superior performance of the packaging which is produced from 10% less material than a standard tray and is 100% recyclable.
Stallion AI
Stallion AI Services Ltd was established in 2000. The company has developed an endangered animal regenerative cryopreservation conservation tool to help prevent extinction, called Nature's SAFE. Facing multiple pressures, high numbers of animal species are being lost or are at risk of extinction. The company has developed a charitable living biobank with an ambition similar to the Millennium Seed Bank but for animal species. This service is unique to both the UK and Europe, and except for San Diego Zoo, only this service innovation has the capability of reawakening live cells.
Biocomposites, Staffordshire
Established in 1997, Biocomposites (UK) Ltd are manufacturers of specialist medical products. The number of hip and knee replacements undertaken has been rising rapidly over the last twenty years. This rise, and increasing numbers of patients with comorbidities (obesity, diabetes, etc), has meant that complex infected hip and knee revision procedures are also increasing. The company identified a significant need to reduce the infection rates from hip replacement surgery. In response they developed STIMULAN Rapid Cure, the first and only calcium sulphate antibiotic carrier that is approved for use in infected bone and soft tissue. The beads in the product deliver an increased level of antibiotics direct to the site of infection and because they dissolve as the antibiotic elutes there is no need for further follow-up procedures for the patient.
KPM Marine Birmingham
Formed in 2015, KPM Marine Ltd specialises in designing and manufacturing safety critical products for the marine and automotive industries. The company has developed a range of affordable shock mitigating seating to protect mariners from spinal and brain injury whilst improving passenger comfort. Previously, such safety seating was only available at a high cost and was adapted from lorry seating. There is increasing pressure, particularly in the offshore wind generation industry, to ensure passengers arrive at their destination capable of working. The novel seat design ensures individuals reach their destination safely and in a condition to complete the task at hand. They are designed with a 20-year life and are 95% recyclable. The seats are half the weight of a comparable truck seat. Installation of the seats on a 24-passenger wind farm vessel delivered a 7% drop in fuel consumption.
Staeger Clear Packaging Coventry
Established in 2000, Staeger Clear Packaging Ltd manufactures food-grade packaging for the retail industry. Typically clear food packaging is made from PVC, the only viable material. The company wanted to improve their environmental impact whilst maintaining the quality of packaging that its customers expected. To achieve this, they worked with UK extruders of recycled PET to change their product to meet the standards required. The company then developed a novel post extrusion heated sheeting machine to transform rolls into sheets. The innovation has raised the quality of the extruder's product and enabled the use of UK recycled PET in food packaging. Previously, such recycled materials had to be imported from Europe. By manufacturing the materials in the UK, the company has secured raw materials with a 20% cost reduction, ready supply, and reduced carbon footprint.
The Little Soap Company
The Little Soap Company, Coventry has been in operation since 2008, but in 2018, they identified a gap in the market for job-specific soaps to replace the generic soaps currently available. Moreover, the company wanted a product that played to its ethical strengths. It thus developed a range of bars that are entirely plastic free, ocean-friendly, and biodegradable (soap and packaging). They also eradicate the need for bottles by formulating traditionally bottled liquids into bar form. The bars were launched under the Eco Warrior brand, covering all aspects of a personal hygiene regime. The development is unique because each bar replaced a product traditionally packaged in plastic bottles or pressurised cans. The bars eliminate unnecessary plastics in bathrooms and are produced in a plastic free supply chain. The affordable range makes it possible for consumers to make simple eco-switches.
Proteus Instruments
Worcestershire-based Proteus Instruments Ltd is a subsidiary of RS Hydro, formed in 2018. It was set up after developing, in conjunction with the University of Birmingham, a measuring device that detects harmful bacterial coliforms and Biochemical Oxygen Demand (among a range of other contaminants) in real-time. Improving on the existing, slower methods allows customers to constantly monitor supply and wastewater, leading to better purification, reduced waste and more efficient use of resources. Much can happen between traditional sampling and analysis, so this system allows the user to receive more consistently monitored water, significant globally, but particularly in developing countries with a less well established water treatment infrastructure. In developing countries, the company works with aid agencies and NGOs to improve water supplies, which also helps protect the environment. The technology utilised in the product is patent protected.
International Trade
Established in 2015 and based in Hereford, Momentum- Pharma Ltd provides outsourcing services to the clinical trial industry. Its clients are Pharmaceutical, BioTechnology and Medical Device Companies, and it focuses on Oncology and Rare, Genetic Diseases for adults and children. It focuses on expanding treatment options through clinical trials to patients with life threatening illnesses, often with no other treatment options: providing clients with experienced consultants globally to assist with running clinical trials in their region. The business is entirely international with overseas earnings growing by 2,200% over six years. Clients by number are largely based in the USA but the company also works in the EU and Switzerland. The actual consultants the company source clinical trials to are based in 34 countries worldwide. Over 70% of business currently comes from the USA but business is growing in the EU and Far East. The company wins the Queen's Award for International Trade for Outstanding Continuous Growth in overseas sales over the last six years.
Jesmonite
Jesmonite, established in 1984, is based in Bishops Castle, Shropshire, UK. It develops and manufactures a versatile range of water-based composite materials ideally suited to the creation of moulded glass reinforced laminates and decorative mouldings. Its product is a two-part kit which is made up of liquid and powder. It is developing a range of bespoke products and the company's specialist engineers constantly seek to improve durability, resilience, and sustainability. Over three years to June 2021, overseas sales have grown by 108% and now make up 45.7% of all sales. Its top five markets are South Korea, Bahrain, Netherlands, Spain and Japan. It is seeking to develop its International Distributor network as its next phase of growth. The company wins the Queen's Award for International Trade for Outstanding Short Term Growth in overseas sales over the last three years.
Biocomposites (UK)
Biocomposites (UK) Limited, trading as Biocomposites, is based in Keele, Staffordshire and has been trading since 1997. It is an international medical device company that engineers, manufactures and markets world leading products for use in infection management in bone and soft tissue. It specialises in the development of innovative calcium compounds for surgical use, targeting infection risks across musculoskeletal infection, orthopaedics, trauma, spine, foot and ankle and podiatry. Its products are used in over 120,000 procedures every year and is the only supplier providing calcium sulfate antibiotic carriers for use in bone and soft tissue to the NHS. Overseas sales grew by over 200% in the six-year period from sales into 40 countries including the United States, the Netherlands, China, Canada and India. The regulatory requirements for its products in different countries are increasingly challenging, requiring it to demonstrate compliance of safety and effectiveness. The company wins the Queen's Award for International Trade for Outstanding Continuous Growth in overseas sales over the last six years.
Instarmac Group
Instarmac Group Plc is based in Tamworth, Staffordshire and has been trading since 1977. It is a specialist, fast growing, manufacturer of cement and bitumen based products to the world for over 40 years. It has a reputation for research, development and production of innovative materials for use in highway maintenance, urban regeneration, tilling, commercial flooring and internal finishing sectors. Customers include local authorities, utility companies, contractors, merchants, distributors, retailers and end users. Overseas sales grew by 28.16% in the three-year period and top markets include Japan, Germany, Malaysia, Romania and Canada. It invests in people, plant, buildings and R&D to continually grow the business to strive for excellence in domestic and overseas markets. Bulk finished goods do not travel economically or environmentally, therefore it develops trade through licensee/franchise manufacturing with its magic bitumen binder formula across the world. The company wins the Queen's Award for International Trade for Outstanding Short Term Growth in overseas sales over the last three years.
Longvale
Longvale in Burton-upon-Trent, Staffordshire has been trading since 1986. The fastest growing Hazardous and Harsh Area sensor manufacturer in the UK; designing and supplying the FerroProx™ & MagnaProx™ electrical sensors under the Euroswitch™ brand.
Overseas sales grew by 167% over three-years with top markets United States, Italy, Romania, Canada and Singapore.
EuroSwitch™ product growth was achieved using patented technology with global Hazardous area certification, providing unique benefits.
Longvale plans to double in size through innovation and product development. Customers select Euroswitch™ for infrastructure projects and maintenance replacement within segments as energy, hydrogen, automotive, chemical, pharmaceutical, mining, oil and gas, & armed services/aerospace; Euroswitch™ products perform well in extremes of temperature, environment, & vibration providing users with safety and reliability. Over 90% of Longvale's supplier spend is in the UK, reducing carbon emissions from transport & logistics, with further environmental benefits from FerroProx™ product, capable of operating with zero power, benefiting users and the environment.
The company wins for Outstanding Short-Term Growth over three years.
Top Online Partners Group
Founded in 2005 and based in Stafford, Top Online Partners Group Ltd, t/a TopCashback is a Group headquartered in the UK with operating subsidiaries in the UK, USA, Hong Kong and Germany. It operates cashback reward websites in the UK and internationally. Consumers sign up and create an account and are then able to click through making a purchase from a brand. The company is then paid a commission by the brand which it passes on to that member. Globally, the company collaborates with around 10,000 companies who look to market their products to its approximately 15 million members. Overseas sales have grown by 751% over six years. The company's primary export market is the USA, but other new regions of focus are China and Germany. In all of these regions it has launched a local version of its branded website. The company wins the Queen's Award for International Trade for Outstanding Continuous Growth in overseas sales over the last six years.
MNB Precision
MNB Precision is based in Coventry, Warwickshire and has been trading since 1980. It is a third-generation, family-owned business providing high quality precision engineering solutions to customers in the oil and gas sectors. It works in a range of other sectors operating in safety-critical environments such as rail, power generation, defence and metro. MNB manufactures complete to customers exacting specifications which are typically high complexity, high value, robust components that are designed to perform within the harshest environments, whilst meeting strict safety standards. These components are typically produced in exotic materials such as inconel, beryllium, copper and non-magnetic stainless steels. Overseas sales grew by over 500% in the six-year period with top markets including Norway, the United States, UAE, Kingdom of Saudi Arabia and Romania. The company wins the Queen's Award for International Trade for Outstanding Continuous Growth in overseas sales over the last six years.
Armac Manufacturing
Armac Manufacturing (Brassfounders) Limited who trade as "Armac Martin" was originally founded as 'Armac' in 1929, by Harold McGrail and is a fourth-generation family business. Based in Birmingham, Armac Martin is a luxury brass hardware company, designing and manufacturing brass fixtures and fittings for high-end interiors. The strategy was based around increasing its network of dealer showrooms, with a high level of focus on North America. During the three-year application period Armac Martin doubled the countries to which it exports to 48 countries across five continents, with key markets in the USA, Canada, Australia, China, Norway and New Zealand. Overseas sales have grown by 42% over the three-year application period and the proportion of sales exported has increased to 49% of total sales. The company wins the Queen's Award for International Trade for Outstanding Short-Term Growth in overseas sales over the last three years.
Celebrating this milestone, Commercial Director Richard McGrail said: "We are thrilled that Armac Martin has been honoured with a Queen's Award for Enterprise in International Trade. As the most renowned British business award a company can receive, this is an incredible accolade for the whole team and is a real testament to the skilled work and dedication of each and every individual."
"Despite the challenges presented by the pandemic, we are delighted to have successfully scaled the business to now ship over 50% of our orders overseas. Having developed our international trade significantly over the past few years and we feel both humbled and proud to be recognised for this sustained growth and commercial success. Looking to the future, I'm confident that we'll continue to grow and thrive".
BOXRAW
BOXRAW started trading in 2016 and is based in Coventry. BOWRAX produces sportswear and equipment for boxing and has developed the world's most comprehensive machine learning model for boxing training, based on the largest data set of boxers ever captured. BOXRAW sells to 120 countries worldwide spread over six continents. To access beyond BOXRAW's top-selling markets of US, UK, France, Germany and Australia, and where e-commerce is less trusted or utilised, the company uses distributors and independent retailers. The company demonstrated exceptional innovation in response to the challenges presented by COVID, focusing on people in isolation, providing free mindfulness and boxing workouts. Overseas sales have grown by 335% over the three-year application period and in the final year of application 66% of total sales was exported. The company wins the Queen's Award for International Trade for Outstanding Short-Term Growth in overseas sales over the last three years.
Coventry University
With a heritage stretching back more than 175 years, Coventry University is part of a dynamic and forward-thinking global education group. The university delivered undergraduate and postgraduate education to 38,430 students in 2019/2020, making it the 4th largest HE provider overall in the UK and the 2nd largest provider of undergraduate education. With 13,445 international students they were the 5th largest HE recruiter of international students in the UK; and overseas sales have grown 91% overall across the last six years. Their top markets include China, India, Nigeria, Pakistan, and Hong Kong. Their push to innovate in digital teaching meant they were well placed to deliver teaching and learning remotely when forced to close their campuses in March 2020. In 2020/21 they were named as the world's best university for the provision of Massive Open Online Courses. The university wins the Queen's Award for International Trade for Outstanding Continuous Growth in overseas sales over the last six years.
Premier Health Products
Premier Health Products  was formed in 2012 and is based in Coventry, manufacturing and exporting food supplements. Premier Health Products also provides order fulfilment and customer services for over 70,000 e-commerce consignments worldwide annually. There are three product ranges their own brand Basic Nutrition; private label services and a customisable range for chains to brand with their name and logo. The company exports to Middle East, Africa, Europe and South East Asia. The export strategy is based on establishing a global network of trusted distributors (sometimes facilitated by an agent) and winning international Hospital Tender contracts for food-supplements. Overseas sales have grown by 158% over the six-year application period and sales exported has increased to 50% of total sales. The company wins the Queen's Award for International Trade for Outstanding Continuous Growth in overseas sales over the last six years.
Whitefurze
Whitefurze started trading in 1978 and is based in Coventry. Whitefurze supplies high quality injection moulded plastic consumer goods for storage, housewares, food storage and garden products. The strategy involves establishing product ranges with large multi-national enterprises that have European and global offices, so each range has potential to reach multiple countries. Main markets are Ireland, Canada, and Europe. Export activities are managed by employed personnel based near the market and a Belgium-based Head of International Sales covers Europe, and locally based Territory Manager covers the Republic and Northern Ireland. 'The company demonstrated agility and innovation in response to the challenges presented by COVID, seeing increased demand across all sectors including national accounts, independent and export customers. Overseas sales have grown by 151% over the three year application period. The company wins the Queen's Award for International Trade for Outstanding Short Term Growth in overseas sales over the last three years.
Excool
Based in Bromsgrove, Worcestershire, Excool was incorporated in 2010 to supply cooling equipment to the emerging and rapidly growing data centre market. It developed as a technology and service-led company which manufactures and services large-scale energy and water efficient cooling equipment for data centres worldwide. It developed a superior technology which uses up to 50% less energy and 65% less water than comparable technologies. Over six years to March 2021, its overseas sales have grown 740%, and now make up 70% of all sales. Its main markets are Germany, Switzerland, Norway, France, and China. It has set up a division in North America and also entered into a joint venture with a Chinese partner in Beijing. The company wins the Queen's Award for International Trade for Outstanding Continuous Growth in overseas sales over the last six years.
Pharma Packaging Systems
Pharma Packaging Systems is based in Pershore, Worcestershire and has been trading since 2002. It specialises in the custom design and manufacture of standalone or integrated turnkey pharmaceutical tablet counting machinery and provides high-tech, reliable packaging solutions. Innovative high-speed counting technology uses specially-designed infra-red sensors to count multiple products such as tablets, capsules or chewable vitamins at speed as they are dispensed into bottles or sachets. It installs, maintains and services the machines, allowing it to build a close working relationship with its customers, many of whom are the biggest names in the pharmaceutical industry. Overseas sales grew by over 60% in the three-year period with top markets including the United States, Germany, Jordan, the Netherlands and Turkey. The company wins the Queen's Award for International Trade for Outstanding Short Term Growth in overseas sales over the last three years.
Promoting Opportunity
Derwen College
Shropshire-based Derwen College was established in 1927, and provides education and vocational training for young people aged 16 to 25 with special educational needs and disabilities (SEND). The College operates several businesses at its on-site 'Marketplace'. Students learn work skills in a garden centre, café, restaurant, print shop, charity shop and a small hotel developed in conjunction with Premier Inn. They are then supported to progress to external work placements where appropriate. Additionally, the College embraces technology, such as developing a CV Builder app which allows students to showcase their work skills to potential employers in an accessible way. The College currently supports 143 students and interns with SEND to achieve their aspirations. Derwen College is proud to achieve outcomes that far exceed the national average for people with SEND – including progression into paid employment, voluntary work, further training, increased independence and supported living.
Clean Sheet
Clean Sheet is a national organisation and has been part of the Langley House Trust Group since 2019. It provides employment support to broaden job opportunities for people with convictions across the UK. Each Clean Sheet Member has a dedicated employment team advisor, and the organisation puts them in touch with a list of employers prepared to open up their vacancies to people with convictions. Once employment is secured, there is a 12-month period of support and check-in. The organisation directly engages with over 100 willing employers, which helps Members to access job opportunities. Over the five years reported for this award, 976 people with convictions secured a job outcome. Another significant outcome is that 85 have progressed into Further Education and two into Higher Education, whilst 58 have started their own businesses.
Sustainable Development
The Wool Packaging Company
The Wool Packaging Company Ltd, (Woolcool) was launched in 2009 in Stone, Staffordshire by Angela Morris. It has 49 employees. It is an award winning, design led, UK manufacturing business based around the creation of a ground-breaking and innovative insulated packaging concept, using 100% pure, genuinely sustainable sheep's wool, that outperforms manmade plastic equivalents used for the transportation of temperature sensitive food and pharmaceutical products. Since 2009 Woolcool has used approximately 20m Kg of coarse wool that would have gone to waste, and customers switching to Woolcool saved 40 million polystyrene boxes from landfill. Enough to stretch from Lands End to John O'Groats and back 5 times.
This is an exemplary example of an organisation that has stayed true to its beliefs for two generations and been pioneering and flexible – demonstrating genuine thought leadership and achieving strong results.
DRPG
DRPG was established in 1980 and is based in Hartlebury, Worcestershire. It has 342 employees. It is an integrated communication and production specialist. It creates internal, external and experiential communications solutions, producing award-winning campaigns. Its CSR Charter is the culmination of a 15-year journey and the launch of a long-term ambition to achieve a number of goals by 2030, such as carbon neutrality. The strategy focuses on material issues, and is aligned to its values. The culture appears to have sustainability embedded within it and there is evidence of significant staff engagement in activities and initiatives. DRPG is awarded the Queen's Award for Enterprise in Sustainable Development because it can clearly demonstrate its sustainability journey over 15 years with a range of positive impacts.