Former Ferrari CEO to take the helm of Aston Martin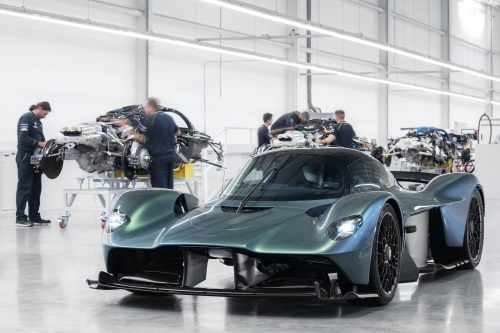 Aston Martin has announced Tobias Moers will stand down from his role as chief executive officer.
The firm has revealed the appointment of Amedeo Felisa as his replacement. A former CEO of Ferrari, Felisa is a highly regarded leader and engineering professional in the high-performance luxury sports car sector.
Currently a non-executive director of the company, Felisa will be appointed an executive director with immediate effect.
Moers will leave the board of the company with immediate effect and support the leadership team with a smooth transition until the end of July.
Felisa has spent his entire career in automotive and engineering with over 26 years in leadership roles at Ferrari, including eight as CEO, guiding the Italian-based luxury automotive OEM through its turnaround and growth phase as the engineering and product-development force behind every new model.
The announcement comes as Aston Martin says its revenue increased by 4% to £233m in Q1, thanks to strong pricing dynamics and the delivery of 14 vehicles as part of its Valkyrie programme. However, losses widened from £42.2m last year to over £111m this time around
The company has also appointed the highly experienced engineer Roberto Fedeli as its chief technical officer. Fedeli is considered the creator of Ferrari LaFerrari, the Italian company's first hybrid supercar as well as some of its most iconic models during his 26-year tenure.
Lawrence Stroll, Aston Martin Lagonda executive chairman, said: "Firstly, I would like to extend my thanks and appreciation for all that Tobias has achieved. He joined Aston Martin at a critical time for the company and brought significant discipline to its operations.
"Now, there is a need for the business to enter a new phase of growth with a new leadership team and structure to ensure we deliver on our goals.
"Amedeo… has extensive knowledge of both Aston Martin's business and the wider automotive industry with an excellent track record and previous experience of leading a major ultra-luxury car manufacturer. His technical acumen and charisma will be inspirational for the entire Company.
"With the appointment of Roberto, we add another world class name to our team. He will help us deliver our future strategy, with a particular focus on technology advancements, and our in-house engineering capabilities, as we move towards electrification.
"We believe these changes will bring significant long-term benefits to everyone involved with Aston Martin. We are poised to deliver good growth in 2022 and remain extremely confident in the medium and long-term prospects for the Company as we transform Aston Martin into the world's most desirable ultra-luxury British performance brand."
Felisa added: "Over the past year, through my work as a Non-Executive Director and Chairman of the Product Strategy Committee, I have come to know Aston Martin and its senior leadership team very well. I know there is an impressive pool of talent inside the company, as well as an extraordinary technological ecosystem in the UK, made up of innovators, universities, automotive and racing specialists, with whom we want to deepen our relationships.
"We have a clear objective to continue the transformation of Aston Martin into an ultra-luxury, high-performance brand and become a leader in our sector. We have a tremendous opportunity to shape and enhance the uniqueness of Aston Martin's future products, and to further grow our appeal with new customers by harnessing the introduction of new technologies, electrification, connectivity and innovative materials."