Sky Blues forced to move cup fixture to Burton over pitch concerns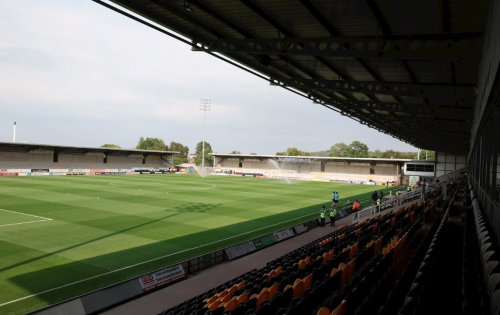 Coventry City has been forced to move Wednesday's Carabao Cup game against Bristol City to Burton Albion's Pirelli Stadium after ongoing concerns over the playing surface at the Coventry Building Society Arena which led to Saturday's Championship fixture with Rotherham United being postponed.
The pitch at the Arena was deemed unplayable and unsafe on Saturday and it has been decided, following discussions with the Arena on Monday, that there will not be sufficient improvement of the playing surface for the game to be played on Wednesday at the Arena.
Coventry City will play at the Pirelli Stadium for one game only, with the club hoping that the Arena and Wasps will have time to make the required improvements to the pitch by the time of the next home league game on Tuesday 16th August against Wigan Athletic.
Sky Blues says they explored other options, including EFL and non-league clubs locally as well as reversing the fixture, but this was not possible.
Dave Boddy, Coventry City chief executive, said: "It is with regret we have had to do this, but there was no way that it can be guaranteed the pitch could be playable or safe on Wednesday and it was important this decision was taken sooner rather than later.
"Over the weekend, we have seen questions from fans about the situation and about why we did not ask for our first two games to be played away, but this was not possible under EFL fixture sequencing rules which apply equally to all Clubs.
"Regardless, this does not change the fact that the pitch at the Arena is not currently playable or safe for our games last Sunday or this Wednesday.
"Following the usage at the Commonwealth Games, our first opportunity to survey the pitch in person was on Thursday due to the stadium lockdown, at which point we put the wheels in motion with the EFL and with the Arena to address this issue.
"We are in dialogue with the Arena about the situation regarding the pitch and will keep fans updated as soon as we are able to regarding the pitch."
Speaking about playing at Burton Albion's Pirelli Stadium, Boddy added: "We are grateful to Ben Robinson and Burton Albion for their assistance in helping us to fulfil this fixture.
"It is vital for us that we fulfil our obligations to take part in the Carabao Cup, and for the team to get back to playing games.
"We appreciate this will be more upheaval for supporters and I'm sure they will understand this is beyond our control.
"We will be communicating shortly regarding ticket information for the match on Wednesday, as well as details for fans who had bought a ticket for the game to be played at the Coventry Building Society Arena but are no longer able to attend or no longer wish to."
In a statement, the EFL said: "The EFL continues discussions with Coventry City regarding the fulfilment of its upcoming League fixtures and has requested observations from the club regarding the circumstances that led to the postponement of Sunday's Sky Bet Championship fixture against Rotherham United."