Round table report: Good growth – what it takes to scale a business in the Midlands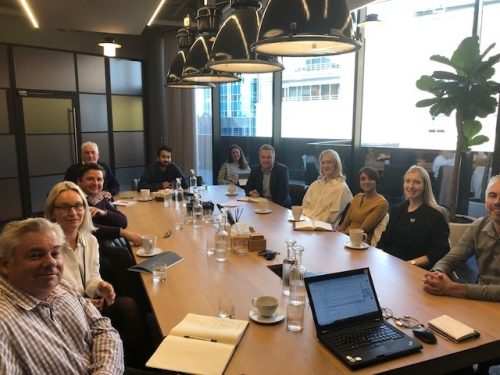 Our latest roundtable event brought together  people and sectors which have made the Midlands the UK's economic engine and a hub for innovation.
This was an event about looking ahead – which businesses are putting the region on the map and what do the scaleups of today need to drive future growth?
The roundtable took place in partnership with BGF and during Scaleup Week 2022, a week-long series of in-person and digital events curated by BGF and the Scaleup Institute.
Scaleup Week is the UK's largest gathering of growing businesses, and it returned at a crucial time for scaleups and the economy.
Aaron Baker of BGF opened the discussion by highlighting the opportunities in the Midlands for businesses wanting to scale-up.
He said: "The Midlands has a lot going for it; from its great location and infrastructure supporting domestic and overseas growth, through to its world-class universities at the forefront of innovation driving opportunities in the region.
"There are still obstacles, however. These include funding to support ambition and, in the present market, people to fill vacant roles to support growth. There is also a lot of uncertainty coming over the next 6-12 months and many business owners are delaying making larger decisions which may also inhibit opportunity."
HR and people are Sarah Dowzell of Natural HR's speciality. She said: "We've got 53 employees now and we've ventured further than the Midlands to find them – more are now actually home-based. The last 12-18 months has seen us bringing youth through to try and retain them in the business after we went through a mass exodus. To mitigate against this we're now looking at how we can start working with universities and are starting work on our own training programmes.
Andrew Jackson of InterCity was also worried about retaining staff – and the associated costs. He added: "Good growth has to be sustainable. We've had talent leaving us for 30-40% pay rises, which is something we simply can't counter against.
Andy Moss of Cube was worried that the Midlands struggled from a lack of identity – and that this was impacting on keeping the best talent in the region.
He said: "The West Midlands has struggled with a lack of identity and we probably haven't told the story about what Birmingham is about. Young people would rather get on a train to London, but what's happening in Birmingham will hopefully change all that. Digbeth is a really exciting area, for example, and it could easily become a brand or a destination.
Runish Gudhka of Batfast had a different view. He said his East Midlands based company had always found recruiting relatively simple. He said the workforce in the region is much more flexible.
Rosie Ginday of Miss Macaroon, meanwhile, was upbeat. She said: "Birmingham is the Second City and is knocking on the door to be first. It's really about making sure we're building for the long term. We're in a good position."
The conversation moved onto diversity – and how this was an important part of the growth story.
Jody Webb of Shakespeare Martineau was proud of how her company is leading the way in this area.
She said: "If you have a good split of gender or ethnicity then that is good for your business. Having Sarah [Walker-Smith] as CEO was really important to me when it came to choosing my next role."
Jackson admitted that the tech industry is "very male dominated" and that InterCity were having to "go the extra mile" to meet the diversity challenge.
Rob Darby of 200 Degrees Coffee pointed out how important diversity is to younger staff. He said: "It couldn't be more vital to them – and to us as a company. We have a massively diverse workforce. There's a commonly-held idea that if you have a woman on the board, then you're doing something – it's far more than that. Diversity in your business is invaluable – and our business benefits massively from it."
Baker pointed out that everything is much more visible and transparent these days, and thus the importance of a wider positive approach to ESG is critical. He said: "People are buying on more than just price these days – companies need to be doing the 'right' things as well.
"But it is more than just a paper exercise. The most important thing about diversity, as an example, is the diversity of thought. This leads to better decision making, innovation, and supports a positive culture. Embracing all of this also then drives improvement in wider areas, such as employee retention."
Daniel Walton of Olpro said that workforce planning is the most important aspect of his business. He added: "My team wants to have a say and be involved in the business. Like a lot of firms, we've appointed a member of staff to the board and, more often than not, they've brought with them the best ideas. They've been invaluable."
Baker said that the Covid period brought a wholesale change in values from staff at all levels within a business.
Ginday agreed: "Everyone was a lot more open – a lot of things changed during that time."
The subject moved to how growth can affect the planet. Darby was asked whether regular visits to Brazil were seen as warranted.
He countered with an argument that it was better to see first-hand that his supply chain was ethical than to assume it was sitting at his desk.
He said: "You can worry about the quality of coffee, but the only way to understand what's going on at source is by visiting the farmers and flying out there and making sure our product is as sustainable as possible. Workers' welfare is also incredibly important to us. There's so much value in going out there and seeing these things first hand.
Fran Nolan of Tribera: "This is a huge area of work for us. We have to ensure that we're absolutely on the right side of the line all the time. We can destroy our own reputation with one bad decision. It works both ways, though – Generation Z is very savvy at calling out greenwashing and can see very quickly when a company or brand doesn't really mean it."
Jackson agreed. He said: "Looking under the bonnet is in their DNA."
Gudkha added: "Embedding this commitment into the culture of your business is such a huge piece of work – but so important on an ongoing basis. When we're pitching, for example, we need to be speaking the same language to a prospective client."
Baker finished by giving the investors' perspective: "There is an increasing expectation from investors that a company should be transparent on sustainability, because that is what the entirety of a business' stakeholders want. As an investor, we are well placed to encourage this. A lot of businesses we back take it seriously – it's a must – and they need to see it all the way through."
For more information, contact: