People: GeoSmart Information; Claritas Tax; and more
Environmental consultancy GeoSmart Information has expanded its team.
Wajid Wastakaran joins the Shrewsbury-based consultancy, which produces proprietary flood and sustainable drainage data, as a senior drainage engineer.
An experienced civil engineer, Wastakaran has worked with national engineering companies for seven years and has led a number of major commercial and residential projects.
At GeoSmart, he will bring a wealth of knowledge and experience to the drainage design team.
Wastakaran is especially experienced in detailed drainage design of systems for adoption and will help to train and mentor other team members of both surface and foul drainage systems, giving the team strength and resilience to take on more varied projects.
Dr Paul Ellis, managing director of GeoSmart Information, said Wastakaran's appointment comes at a pivotal time for the business, which is seeing a rise in demand across all its services, including contaminated land reports, sustainable drainage system (SuDS) reports, and flood risk assessments.
"Wajid is a specialist in his field, and he joins a fantastic team of experts in this niche sector," he said.
"This past year has seen the most rapid expansion of GeoSmart since the business was first launched in 2013, with 10 new members of staff, including senior and director posts.
"It's been a hugely successful year and we are looking forward to developing the business further in the short and medium term."
:::
Claritas Tax has made a trio of hires.
Bringing a number of years of collective experience from across the field of tax, the three recruits include Rachael Brown, as manager in Claritas' Private Client team, Jack Moore, joining as assistant manager in Claritas' Corporate and Transaction Tax teams; and Zahra Davda, assistant manager, will focus on our Valuations and Transactional Tax service lines.
Iain Wright, partner at Claritas, said: "By continuing to strengthen our team with key recruits, we are enhancing our ability to provide a dependable and thorough service to our clients. All three new recruits bring a wealth of experience, talent and expertise to the firm, and we are excited to have them on board. Rachael, Jack and Zahra are relatively early in their careers and so their appointments are an investment in their futures and in the future of the Claritas business as a whole."
Matt Hodgson, partner at Claritas added: "Our business is expanding at an incredible rate, improving and strengthening all our existing service lines. In an extremely competitive recruitment landscape, to be able to announce three new high-calibre recruits is evidence of how Claritas is continuing to expand its brand and reputation in the tax marketplace."
:::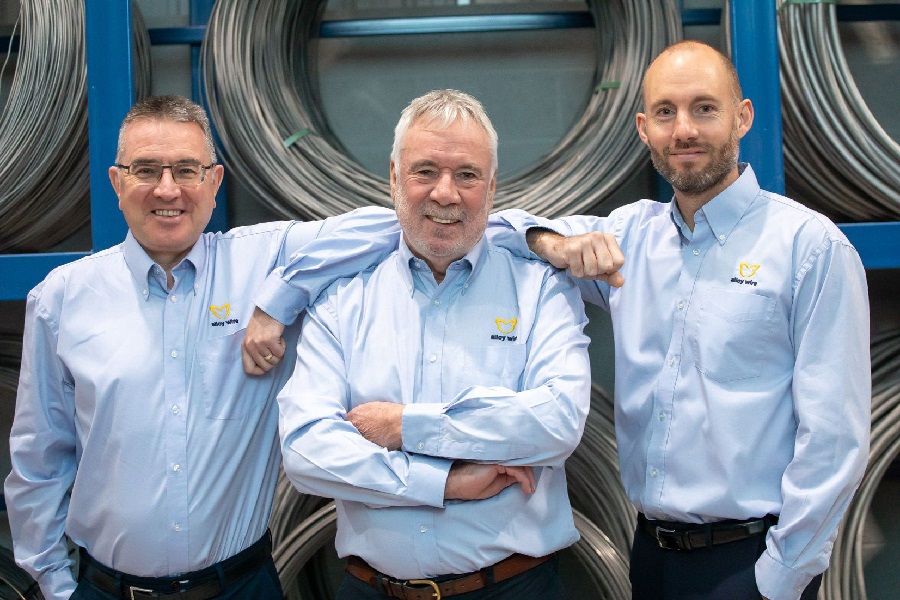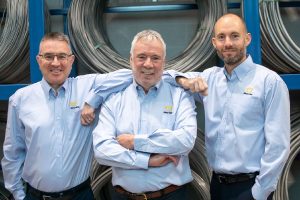 A major contributor to Alloy Wire International's growth has decided to call it a day after clocking up more than five decades of service.
Bill Graham will retire this month after a career that saw him start as a maintenance engineer before leading an MBO, overseeing a sale and then bringing the company back into his ownership.
The former Machine Tool Engineering apprentice was also instrumental in growing the firm's international presence, travelling the globe to build export sales from nothing to over half of its annual turnover.
He has been chairman for the last nine years, providing strategic guidance on growth opportunities, industry developments and supporting the management team in the firm's rapid expansion from £8m in 2013 to £13m at the start of 2022.
"When I joined the business in 1972, I never expected to still be involved 50 years later…Alloy Wire International gets you like that," he said.
"There's just something really special about the business and what we do, especially since we took the decision to be employee-owned. That was really the moment we put the marker in the sand and created the unique culture that has seen AWI become a globally trusted supplier of 60+ strong range of alloys to more than 7000 customers."
He continued: "After five decades of involvement, I felt the time was right to call it a day and focus on retirement. What will that look like? Travelling and spending much more time with my wife Sandra, who I first met at AWI in 1974."
Alloy Wire International has recently promoted Tom Mander to managing director, with previous MD Mark Venables moving to the position of chairman.
Venables said: "Bill Graham is Alloy Wire International and has had an unbelievable 50 years with the business.
"I was invited to lead the company in 2010 and have had the honour of guiding it through some major growth and some really difficult times, including the current Covid-19 pandemic.
"As I was always told, we need to protect the core values that make AWI so special, so we took the decision last year to make Tom Mander, Adam Shaw and Andrew Du Plessis, MD Designate, Finance Director and Technical Director respectively.
"This was paving the way for the next generation to take over and Tom's promotion to MD recently is the next step in that process, meaning I can oversee things from the position of chairman with Bill continuing to be on hand to offer us his experience and advice when required."