Social enterprise secures £9m WMCA to help families at risk of homelessness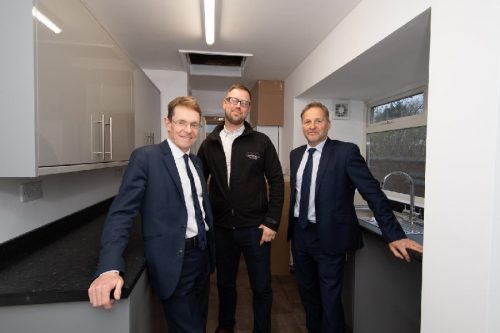 Hundreds more families and individuals at risk of homelessness are to get a safe and comfortable place to call home thanks to a £9m investment by the West Midlands Combined Authority (WMCA).
The funding will enable Tamworth-based social enterprise Cornerstone to nearly double the number of properties it owns and uses to help families and others in desperate need of accommodation.
Cornerstone currently operates 224 properties and since starting in 2018 it has housed more than 500 families and individuals including homeless veterans, victims of domestic violence, families with disabled children and those brought to the UK under the Afghanistan Resettlement Scheme.
It works with the region's councils to provide a more stable, cost-effective alternative for those who would otherwise be placed in emergency accommodation in nearby hotels.
This is helps councils to provide a roof over the heads of some of the region's most vulnerable and reduces pressure on their housing waiting lists by providing a wider choice of emergency or temporary accommodation.
With WMCA's investment, Cornerstone will be able to acquire a further 55 properties.
Andy Street, Mayor of the West Midlands and chair of the WMCA, said: "If we are serious about levelling up society, then guaranteeing a safe home for everyone is the only place to start.
"Homelessness scars our society but every person we prevent from ending up on the street is another step closer to the goal of a fairer society with opportunities for all – the true definition of levelling up.
"This WMCA funding for Cornerstone demonstrates our commitment to tackling homelessness by ensuring no one, especially our most vulnerable citizens, are left behind.
"The work that Cornerstone does is incredibly important – not just for those people who are, or at risk of becoming homeless but also for our local councils by providing them with a high quality but cheaper alternative to using local hotels."
Cornerstone was set up by Dean Starr and Gavin Mullaley. They started by supporting the Salvation Army in Coventry with an initial 78 family homes for temporary accommodation but since then Cornerstone's reputation and scale of operation has grown significantly.
It now plays a key strategic role in supporting the region through partnerships with Birmingham City Council, Coventry Council, Nuneaton & Bedworth Council, North Warwickshire Council and other councils alongside housing charities St Basils, Valley House, Spring Housing Association and others.
Starr said: "We're really pleased to have secured the backing of the WMCA to assist us in continuing our mission to bring more affordable and suitable accommodation to homeless residents across the West Midlands and Warwickshire.
"We know first-hand the challenges that lie ahead for many families in the region, but by directly partnering with local councils we're delighted, as a homegrown West Midlands business, to be able to play our part in deploying investment into local properties and supporting families.
"Cornerstone will be working hard to continue delivering high impact housing solutions against a backdrop of challenging economic times ahead. A special thank you must go to the property team at Frontier Development Capital for their foresight and vision in understanding the impact we can have together."
"The vast majority of that money has been invested in the transformation of derelict industrial land for new housing and commercial spaces. This has provided good quality, affordable homes for local people and modern workspaces for businesses to grow and prosper. This brownfield first approach is also helping to relieve pressure to build in the green belt.
"But as this latest investment shows, we can also use that money in other ways that provide affordable, energy efficient housing for people and in this case those most in need of it.
"I'm particularly pleased that Cornerstone chooses to support homeless veterans. This builds on support councils offer via the Armed Forces Covenant."
Access to the WMCA funding was provided by the Property Team at Frontier Development Capital Ltd (FDC).
Gerald Gannaway, FDC's investment director – property, said: "We are delighted to establish a relationship with Cornerstone. The need for such housing is increasing and Cornerstone are a proven successful operator with a strong track record of meeting this key regional need. Despite challenging times, FDC continue to be able to arrange flexible funding packages for both residential and commercial transactions providing strong economic and social returns for our region."