Commonwealth Games adds momentum to NEC Group's recovery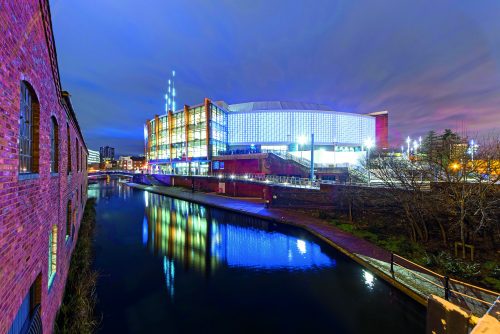 Events giant NEC Group is focused on "building the business back" after its long closures during the pandemic and has revealed a returning to operating profitability.
The success of the Commonwealth Games and the launch of Peter Kay's three-year tour have boosted momentum while concert-goers and exhibition attenders have returned in ever-greater numbers to NEC's venues throughout this year.
The Birmingham-based group was one of the worst-affected large businesses in the region, as it lost 85% of its £160m annual revenues and was forced to make 400 staff redundant in January 2021.
Year two of the pandemic, the 12 months to March 2022, was also badly affected, including the return of restrictions last Christmas because of the Omicron variant.
The NEC Group's chief financial officer Richard Ashton told TheBusinessDesk.com: "In FY22, we got a reasonable batch of events going but only about half the level we would normally do because we were only really open for about half of the year.
"We've gone from a loss-making position when we were closed back to a break-even operating position and positive EBITDAE performance, which is the right direction."
The NEC Group includes the National Exhibition Centre and Resorts World Arena, the city-centre Utilita Arena Birmingham and ICC, as well as catering business Amadeus, hospitality provider Amplify, and its box office brand The Ticket Factory.
Revenues were £92.1m in the financial year, with its statutory pre-tax loss of £21.1m the result of interest payments due on loans accruing to parent companies.
An unsecured loan of £71m from its American private equity owners Blackstone was put in as additional equity at the end of 2020 to support the company through the pandemic, which added to existing financing of £237m from its parent company.
The NEC Group had taken a £30m CLBILS loan "as a backstop" which it has now repaid in full since the year-end – a result of its strong cash position and its confidence in its post-pandemic recovery.
Ashton said: "We got back to a small profit last year and we expect to make a much more significant profit in the current financial year.
"But we'll still be another year or so before we're back to the profitability levels that we had pre-pandemic."
The NEC is "slightly ahead" of forecasts for this financial year, which Ashton acknowledged was a combination of "caution" in their expectations given the uncertainty coming out of the pandemic and a positive return to a busy schedule.
"Month by month we're just slightly beating that performance and getting some momentum back to the business because 18 months to be closed for a business of our size was was a tough place to be," he said.
"We're not quite back yet to shows, like-for-like, being the same size, but we're a lot nearer now to that being the case than it was at the start of the financial year."
The Commonwealth Games events were a big success and brought in 400,000 visitors to its venues, making it "the biggest event that we've ever run on our campus".
The Utilita Arena Birmingham hosted gymnastics and the NEC campus hosted netball, weightlifting and para powerlifting, table tennis and para table tennis, boxing and badminton.
The recent launch of a long-awaited tour from comedian Peter Kay has also provided a boost, with nearly 200,000 tickets already sold for 18 shows across its two arenas in 2023-25.
"We don't think we've ever had a batch of shows that big over such a sustained period of time," said Ashton. "Those are positive signs."