'Every business is a technology business'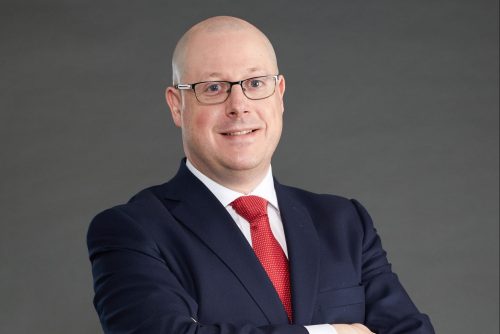 After taking up the helm as Head of DLA Piper's UK Technology Sector, Gareth Stokes discussed the future of tech and how the West Midlands can cement itself as a hub of innovation with TheBusinessDesk.com.
Stokes, who has been a part of DLA Piper for 15 years, had led its Birmingham tech team as a partner for the last eight. Working across local, national and international transactions for a wide variety of businesses, Stokes has always assisted with cutting-edge technology deals.
He says that the greatest thing about his role is that, "I get to work with people across various practice groups, and can bring together the very best of DLA; whether that's across corporate litigation, tax, employment, tech, data.
"The tech sector itself is a real high energy sector, where great things are happening all the time.
"Every business now is something plus tech. Once upon a time however, we would have been talking about major players, now we're looking at other companies who traditionally may have been just considered as banks, insurance or life sciences firms, now have just as relevant roles as pure tech providers".
For DLA Piper, Stokes says it's imperative for the firm to offer more than the law. It recently appointed Bennett Borden as its Chief Data Scientist of the newly-created Artificial Intelligence and Data Analytics Practice in the US. Borden has visited the UK to offer his insight to the team.
Stokes says that the firm is presenting to its clients that, "we're not just law experts, we've also got experts with incredible tech experience. When we're advising a client that there's a regulation and the regulation says your algorithm needs to be fair, we've got experts who can take the algorithm, break it down and do data science and statistical analysis on it.
"We're not just providing what the law says, we're helping provide the real answer".
He says that, "more recently, deals have gone from being sometimes about AI to almost always being about AI.
"We're in a very fortunate position of advising a lot of the very biggest players in the space at the moment and we've been able to bring together a collection of people who are lawyers and technical experts in this space.
"Some people are looking at AI and feel threatened by it, but one of the great stories that I think plays out in this space is that these tools are fantastic at taking away a lot of the things that have not necessarily been the greatest part of any given job.
"These tools are showing very narrow instances of superintelligence already. You can get to a point where a computer on its own can be better than any single human being at a given task. The best chess player in the world has been for more than 20 years now a supercomputer. But a combination of the very best computer and the best humans will beat either any human or any AI. It is actually the strongest combination of all".
As the sector continues to rapidly evolve, Stokes says it's the pace of adoption and people's ability to absorb change that will be one of the sector's biggest challenges.
He said: "People's ability to make investments in an uncertain environment is always difficult. We are in a place where we've got some regulation coming down the tracks at a European level. We don't have a great deal of certainty about where the UK is going.
"The lack of certainty tends to lead to a slight stagnation and a whole new nervousness. One of the things that we've been very keen to do is help people navigate that uncertainty".
For the West Midlands, Stokes believes there is an "enormous" local appetite to see how the world can be brought to Birmingham.
He said however that whilst, "we've got great opportunities in education, it inevitably ends up pushing people out of the region. The US seems to be better at seizing commercial opportunities and believing in young people and betting on them. We need to get better at that.
"Technology is a great connector and that is something we saw with Birmingham celebrating itself during the Commonwealth Games.
"There is a world of opportunity out there and DLA Piper is here to help you take advantage of those opportunities".