City briefs: Aurrigo; Mitchells & Butlers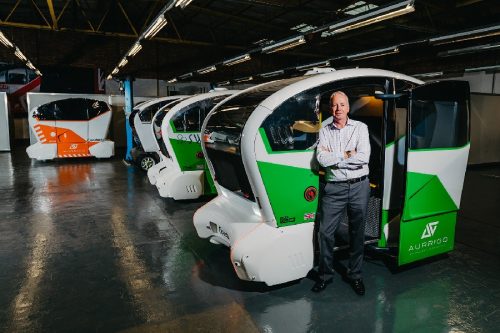 International provider of transport technology solutions, Aurrigo, has said it's biggest achievement of the year was its successful IPA and fundraise during very challenging market conditions.
The Coventry-headquartered firm reported revenues for 2022 of £5.3m, with an adjusted EBITDA loss of £900k.
With the IPO having raised gross proceeds of £8m in total, at 31 December 2022, the company's cash balance stood at £5.4m, an increase of 317% at end 2021. CEO David Keene said Aurrigo is now "well funded to continue to take advantage of the opportunities that we are currently seeing".
Since its IPO, Aurrigo says it's been able to grow its team from 50, to 78 as at the end of April 2023, with the aim and need of reaching around 100 staff by the end of 2023.
A formal partnership was agreed with Changi Airport Group for the continued joint development and testing of the company's autonomous vehicles in February, with a full-time team being implemented in Singapore as well as North America.
David Keene, CEO of Aurrigo said: "We have created nearly 30 new jobs since the IPO, with a large proportion of them at our Advanced Engineering Centre in Coventry. Importantly, with the opportunities we've got in the pipeline – across both automotive and aviation – this is just the start of the recruitment drive and we expect to be close to 100 by the end of 2023.
"Over 125 years on from when the first British motorcar was built in Coventry, Aurrigo International plc is in a perfect position to put the city on the global map again, this time when it comes to autonomous vehicles and their increasingly varied application."
Birmingham pubco Mitchells & Butlers has reported a fall in profit in its first-half of 2023 results, as costs remain a challenge.
The pub giant revealed a profit before tax of £40m, a 30% decrease on its £57m profit before tax in H1 2022. 
It said however it was encouraged by the strength of trading volumes, as workers returned to the office, city centres became stronger and tourist numbers are recovering.
The firm, which operates 1,700 restaurants and pubs under 17 brands including All Bar One, Miller & Carter, Harvester and Toby Carvery, saw a like-for-like sales growth of 8.5% vs 2022, built of growth in both food and drink. 
Mitchells & Butlers reported a total revenue of £1.28bn (HY 2022 £1.15bn) and an perating profit of £99m (HY 2022 £121m).
Phil Urban, Chief Executive, commented: "We are pleased to report a strong first half performance delivering continued like-for-like sales growth and outperformance against the market.
"The trading environment for the hospitality sector remains challenging with inflationary costs putting pressure both on the industry's margins and disposable income of our guests. However, we are encouraged by the resilience of trade to date, including the most recent six weeks at 8.9% like-for-like sales growth, and also by early signs of the medium-term cost outlook improving.
"We remain focused on our Ignite programme of initiatives and our successful capital investment programme, driving cost efficiencies and increased sales. Combined with our diverse portfolio of established brands, value proposition, enviable estate locations and talented people, we believe we are well positioned to continue to outperform the sector".