Fresh focus for cleaning solutions manufacturer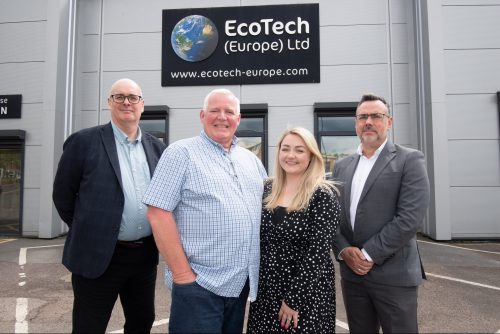 One of Europe's largest manufacturers of cleaning solutions has completed a share purchase agreement as it looks to double in size.
Coventry-based EcoTech (Europe), has a new leadership team, with Ashleigh Brownhill, Andy Gregory and Jason Lippitt becoming directors and majority shareholders in the business.
The company says it's committed to helping its customers eliminate unnecessary materials, whilst prioritising an ethical supply chain to reduce its carbon footprint.
Brownhill will lead EcoTech's commercial operations, carrying forward the torch of innovation and sustainability from her father Paul Brownhill who is retiring from the business but will retain a minority shareholding.
She said: "This transition marks an exciting chapter for EcoTech as we embark on a journey to redefine our industry with a strong focus on ethics, sustainability, and customer-centric solutions.
"We are dedicated to providing alternatives to plastic and empowering customers to make a positive impact on the environment. I am honoured to take over the reins from my father, Paul, who has been at the helm of EcoTech for over 25years and to lead the business into a new era of innovation."
Andy Gregory, newly appointed CFO of EcoTech, said: "We are thrilled to join EcoTech in this exciting phase of its evolution. The board has access to significant capital to invest into R&D and potential acquisitions.
"In an environment where hygiene and cleaning is more important than ever before, post covid, and with the planet needing us to produce more sustainable and ethical products, this new board is ready to for the challenge that others are ignoring."